Cmmsrs. Besore, Merz, Zodrow sworn in, Scott Long says farewell to public office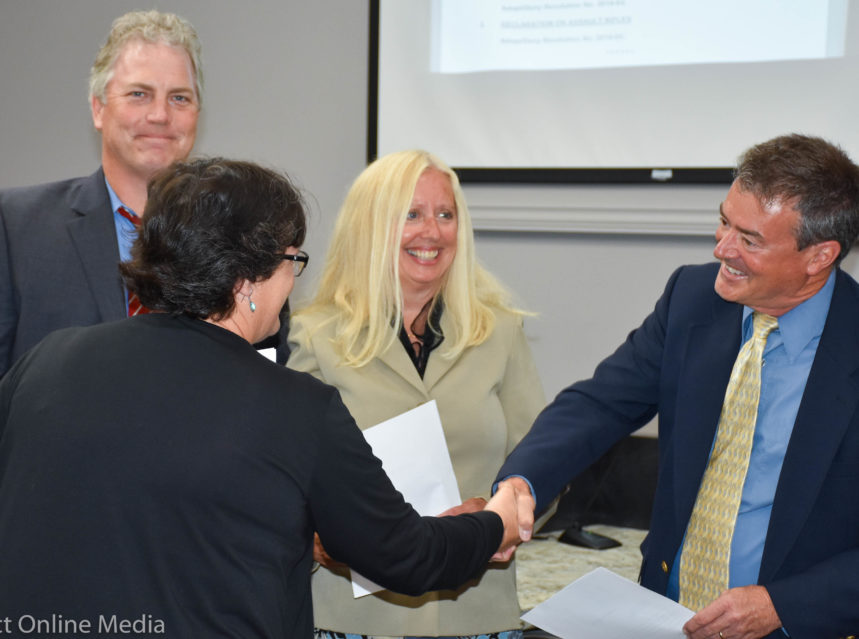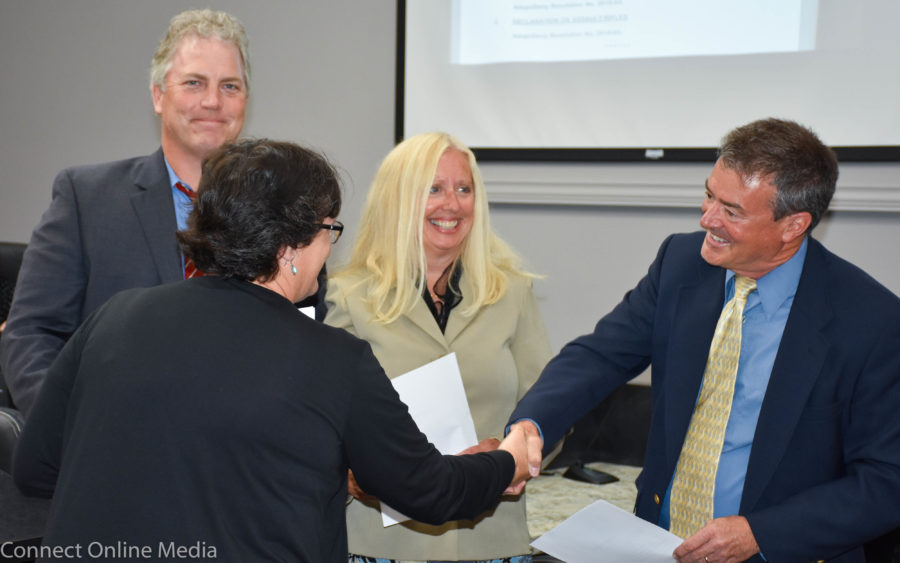 The swearing-in ceremonies that follow Election Day are typically emotional affairs, with the joy and excitement of the incoming legislators and the wistful sorrow of departing officials on full display.
Monday night in Safety Harbor was no exception, as six days after the 2018 municipal election the three City Commission-race winners—Nancy Besore, Cliff Merz and Andy Zodrow—were sworn into office shortly after Seat 1 incumbent Scott Long exited the dais to be replaced by Besore.
The ceremonies were filled with laughter and tears, none more so than Long's sendoff, which included comments from his fellow local lawmakers and city officials plus the presentation of a street sign and a key to the city.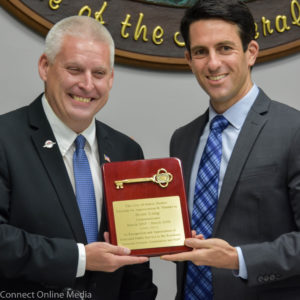 "This has been one heck of a year, I gotta say. It seems like yesterday that you were just sworn in," Mayor Joe Ayoub told Long, who was elected to finish the final year of Janet Hooper's term when he narrowly defeated Besore in the 2017 election.
"But time really does fly when you're accomplishing a heck of a lot of things. And my gosh, you've got your fingerprints on a heck of a lot of things in just one short year."
Ayoub then went on to list several accomplishments that took place during Long's tenure, which included everything from the serious (improving race relations and promoting affordable housing) to the sublime (his love of colorful costumes and having fun, often in the service of helping others).
"You brought an abundance of positive energy to this city and an intense focus on citizens' concerns, all in just one year," the mayor concluded.
"So, thank you very much for your service to the City of Safety Harbor. On behalf of all the residents, it's much appreciated."
Long's colleagues continued the praise, with Seat 3 winner Zodrow calling him "a great asset to the city"; Merz encouraging Long to continue to serve the city is some capacity; Vice Mayor Carlos Diaz saying he "learned a lot" from Long; and City Manager Matt Spoor stating, " you did make costumes cool again," noting Long had been nicknamed the 'Costumed Commissioner.'
Following the tributes, Long spoke about his brief term, calling it "the most incredible year of my life."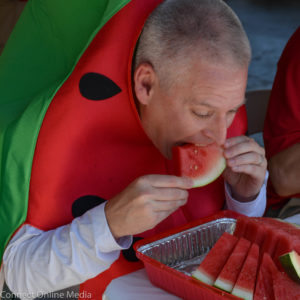 "I'm very proud of everything I accomplished, and I want to thank everyone for recognizing that," he said.
After urging the commission to remain focused on providing more affordable housing in town, Long, a former journalist and co-founder of an online poker magazine, used his trademark candor to explain why he believed he was exiting office.
"I'm very aware that my position on economic development is what got me elected last year, and I'm very aware that my position on economic development is what got me fired last week," he said.
"I've always been honest with people who have actually taken the time to get to know me and talk to me…about what I was trying to accomplish with economic development.
"We can talk about trees and buildings all we want, but what makes Safety Harbor Safety Harbor are the people that live here."
Long then returned the compliments to everyone on the dais and noted he still plans to have the community break the Guinness World Record for watermelon eating this summer, and he concluded his speech with a quote often attributed to Dr. Seuss, fitting for someone who once wore a Cat in the Hat costume.
"Don't cry because it's over. Smile because it happened," he said, adding "I've done a lot of crying since Tuesday, but I've done a lot more smiling, and I'm gonna walk out of here with tears in my eyes but one really big simile in my face because I just love the hell out of Safety Harbor."
Following a brief recess, the incoming commissioners were sworn in; later in the meeting, the trio spoke about the election.
"I'd like to express my extreme humbleness and thankfulness for those that provided me the opportunity to serve this city for a third term," Merz, who handily defeated newcomer Spencer Bell last week, said during his Commission Report.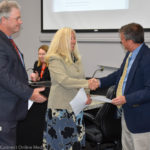 "I can't tell you how much that means to me and I appreciate the confidence and of course the benefit of the doubt that was extended to me and afforded me the opportunity."
Zodrow, who was elected to his second full term last week, also expressed gratitude to his supporters before voicing what most everyone in the city felt last Wednesday.
"I'm glad the election season is over and the campaign season is over," Zodrow said following another contentious campaign season, littered with accusations and social media sniping, in Safety Harbor.
"All the candidates that run for local government, they all care about the city," he added. "We don't do it to get rich. We do it because we care about this city….and I think sometimes people forget that."
Besore, the resilient former school teacher who has now won one and lost one election since "retiring" from public office following her failed mayoral run in 2014, thanked those who stayed with her throughout her journey back to office.
"There are some of you who hung with me from the get-go, and I am just so appreciative," she said.
"I can't promise you costumes, but I can promise that I will work so hard for you and you can call me…at 799-1490. I still have a landline. I'm old fashioned!"
After the meeting, Besore spoke about returning to the commission after a four-year absence.
"It felt good," she told Safety Harbor Connect.
"I love preparing and reading the details and being ready. It felt very comfortable to me."
Related content: