Zodrow, Besore and Merz win 2018 Safety Harbor municipal election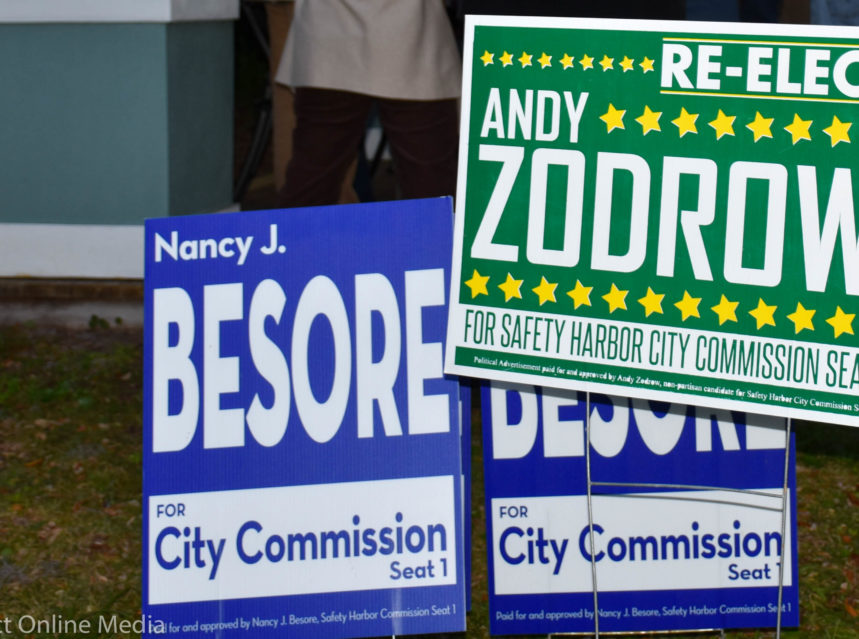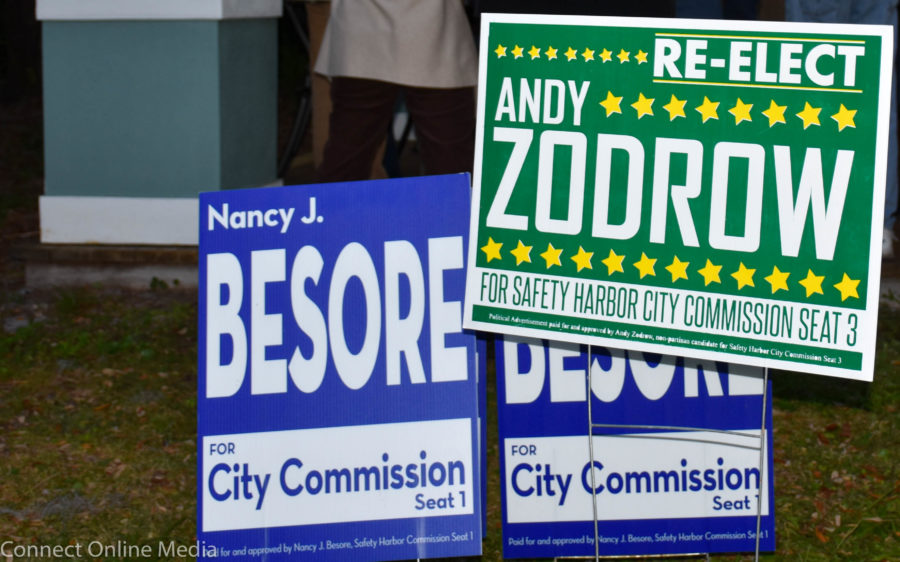 Incumbents Andy Zodrow and Cliff Merz and former commissioner Nancy Besore claimed the three open City Commission seats in Safety Harbor's 2018 municipal election held on Tuesday, Mar. 13.
The results were revealed shortly after the polls closed at 7:00 p.m., with Besore and Zodrow winning Seats 1 and 3, respectively, and Merz handily earning his third straight term on Seat 2.
Here's a look at the voting breakdown, according to the Pinellas County Supervisor of Elections website:

The results were surprising to some considering Besore narrowly failed in her attempt to reenter local government last year following her "retirement" from public office after losing a mayoral race in 2014, and Zodrow had been embroiled in a heated and often contentious campaign battle centered on downtown development against opponent Damon Lister.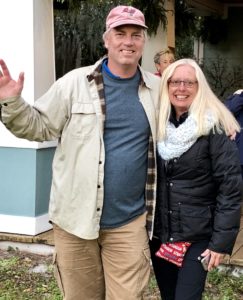 But after being reelected to a second full term, Zodrow said the results spoke volumes about the direction residents want the city to go in.
"I think it's a referendum on how people are reviewing development in the city, that they're concerned that there's too much going on too fast," the environmental attorney said from his post-election party at the Safety Harbor Museum and Cultural Center.
"Everybody recognizes that there's gonna be change. It's really about the speed of the change and the quality of change. There will be change. But I think it's a referendum for the residents of Safety Harbor that they came out and showed that they're concerned about what's going on in town."
"I'm just glad that the election campaign season is over and that we can move on and everybody can work together to make the town a better place. My focus is going to be on preserving the nature of the town as a quaint community."
Besore, a retired schoolteacher, spent six years on the commission before losing a three-way mayoral race in 2014. At the time she said she was done with public office.
Yet she returned to run for Seat 1 last year, and after losing to Scott Long by fewer than 50 votes in 2017, Besore turned around and defeated the popular incumbent by 74 votes on Tuesday, and she said the win was especially gratifying.
"It just feels very hopeful. I feel very hopeful," she said, also from the museum.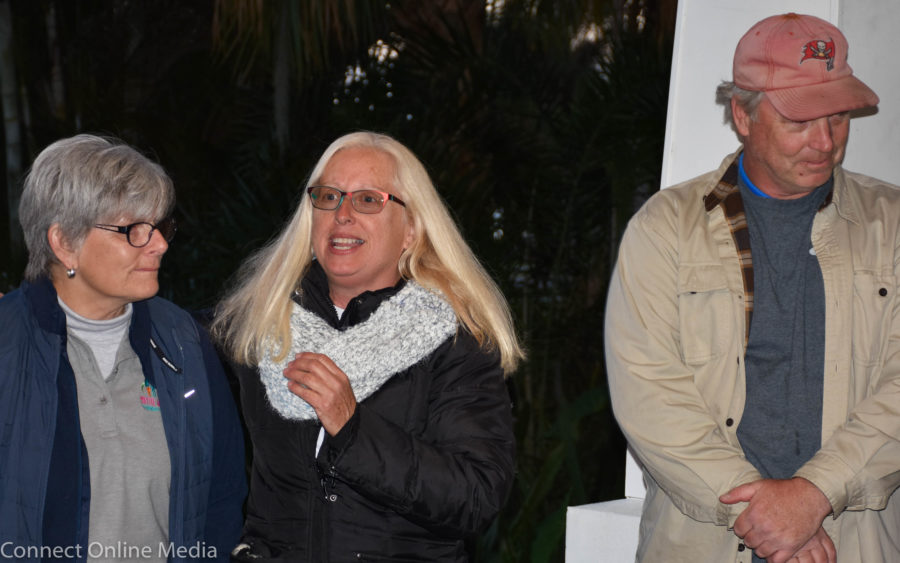 "Because after last year's events I had really become discouraged, that we went into it thinking this was the year of the woman and everybody is just going to be for keeping a woman on the commission. And then to have that switch up on us so drastically, it was just hard. And with the national politics as well, some of us were just devastated. And so, I just have a sense of hope. A very strong sense of hope."
A few blocks away from the joyous victors' celebration, Long and Lister tried to remain positive despite the devastating results.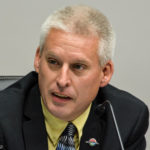 "This has been the most incredible year of my life, and the results tonight don't change that," Long said outside Café Vino Tinto on Main Street. "I'm incredibly proud of the positive campaign that I ran and how well I responded to the citizens. My love for Safety Harbor has not diminished one bit."
The former newspaper journalist and cofounder of an online poker magazine became well-known in the community over the last 12-plus months for taking a strong stance on several key issues as well as his penchant for dressing in colorful costumes and keeping the residents informed about everything happening in the city via social media.
Long said despite losing the election, he would remain involved in local organizations and activities, including his upcoming planned attempt to break a Guinness World Record for watermelon eating this summer.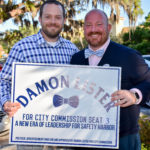 "I plan to serve Safety Harbor in many capacities now that I'll have about 40 hours of free time on my hands every week," he said with a slight smile, adding "now I have a lot more time to focus on setting a world record!"
Over at the Barfly Saltwater Grill, an emotional Lister was still attempting to process the loss.
"I appreciate all the volunteers and people who put a bunch of effort into this," the former economic development liaison said as his supporters consoled him.
"It's hard to…it's disheartening. I thought we reached ample people and I did a lot of campaigning. I got out early, knocked on more than 1,200 doors. I felt really good going into tonight. So this stings. It really stings. It's a tough loss because we expected to win."
Perhaps the least surprising result of the night was Merz's decisive win over Spencer Bell.
While Merz has served on the commission for the past six years and ran unopposed during his last campaign in 2015, Bell was a relative unknown locally despite his extensive political experience at the state level.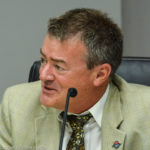 Afterwards, Merz expressed his thoughts on his latest victory.
"It's been a great honor and pleasure to serve as City Commissioner the last six years, and I'm thankful and humble to continue for another term," he said by phone on Wednesday.
"I take the position seriously, and I look forward to working with my fellow commissioners in addressing the ever-changing needs of the city using a proven balanced and pragmatic approach. I also want to say thanks to my opponent and fellow candidates for their willingness to serve their community."
(*Note: A call to Bell was not returned prior to the publication of this article.)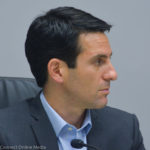 The three winners will be sworn into office during the next City Commission meeting on Monday, Mar. 19.
On Tuesday night, Mayor Joe Ayoub spoke about the conclusion of another campaign season.
"I want to congratulate all the candidates who threw their hat in the ring for their courage to go through a rigorous campaign and their desire to make Safety Harbor an even better city," he told Safety Harbor Connect.
"For those who came up short, you're still winners in my book. And for the winners, I congratulate you and I look forward to working with you and moving the city in a positive direction."
Related content: