Andy Steingold Re-elected Mayor of Safety Harbor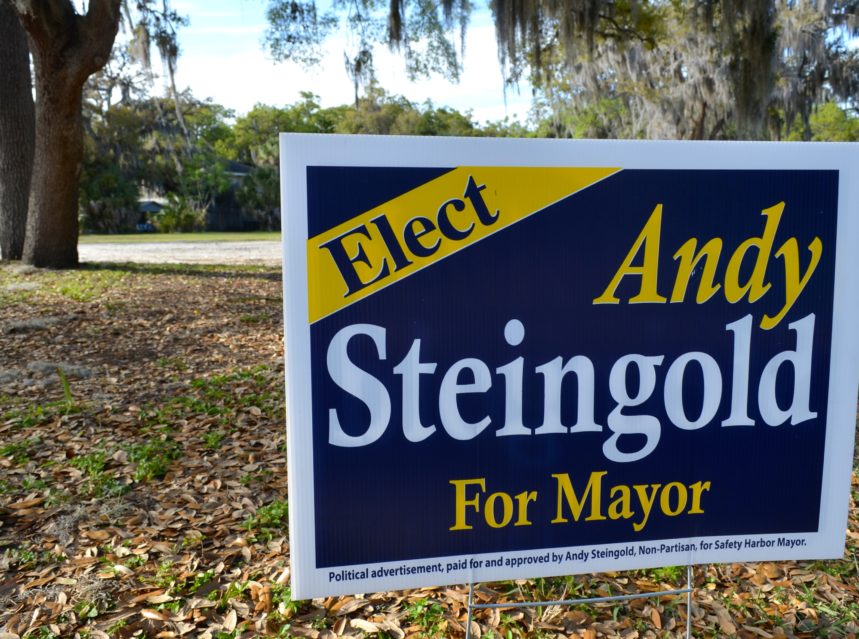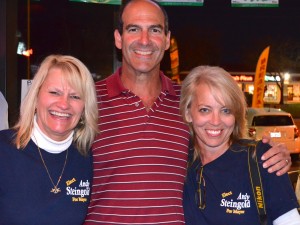 Andy Steingold was re-elected as mayor of Safety Harbor Tuesday night, winning a tightly contested race by a slim margin over incumbent Joe Ayoub.
Although the results will not be official for another ten days or so, the Pinellas County Supervisor of Elections is reporting these as the final numbers following a busy day at the polls:
Joe Ayoub – 2,609 (43.3 percent)
Nancy Besore – 717 (11.9 percent)
Andy Steingold – 2,699 (44.8 percent)
"This was probably the most contentious race I've ever been involved with, and I'm humbled to win by a very slim margin," Steingold said from his victory party at Beef 'O' Brady's in Safety Harbor. 
"I know my job will include earning the people's confidence in my leadership," he added. "My intentions are noble. I have no ulterior motives other than to serve the will of the people and ensure Safety Harbor's small town charm is preserved."
The mayoral race was contentious right from the start, with Steingold and Ayoub trading barbs at a candidate forum in January, and the animosity continued right up until election eve, when a news report showing an Ayoub supporter stealing Steingold's campaign signs aired.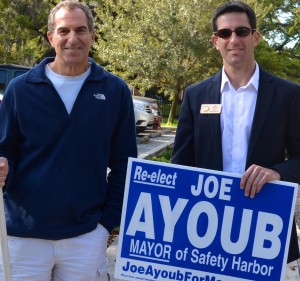 After the election, Steingold complimented his opponent and shrugged off the "sign-gate" controversy.
"It was a very, very contentious race," Steingold said. "But sign wars go on in every campaign, and sometimes you have overzealous supporters that the candidates are not responsible for."
"I thank Joe for a tough race, and I wish him all the best," he added. "I respect Joe and the campaign he ran."
Steingold said he is eager to get started on his new term in office and pick up where he left off.
He was forced to step down as mayor in July of 2012 when he decided to run for circuit court judge.
After losing that race, he waited until the last minute to enter this special election to fill the vacant congressional seat held by the late CW Bill Young.
Regarding the eleventh hour entry, he said it was the urging of his supporters and his desire to guide the city into the future that made him jump back in to the political arena.
"I had no intention of running for mayor except for the fact that there was a number of people who called and asked me to run because they were dissatisfied with the direction of the city," he said. "It was a 60 day rush to get here, and I'm ready to get back to work."
"I've got a lot of people to thank, because this campaign was not about me," he added. "It was about the people of Safety Harbor, whom I look forward to serving again."
In addition to the mayoral race, two new city commissioners were elected on Tuesday: Andy Zodrow for Seat 3, and Carlos Diaz for Seat 4.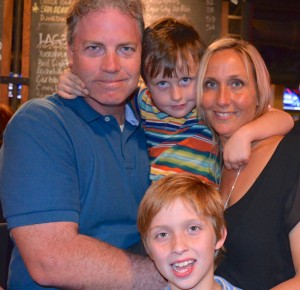 These are the final numbers for those races:
Seat 3:
Dean Harmeson – 2,217 (40.4 percent)
Andy Zodrow – 3,268 (59.6 percent)
Seat 4:
Carlos Diaz – 2,880 (51.3 percent)
Ray R. Irvin – 2,732 (48.7 percent)
Zodrow, an environmental lawyer and relative unknown in city government circles, said he wasn't surprised by his overwhelming victory over Planning and Zoning board member Dean Harmeson.
"I was pretty confident, but you never know," he said afterwards at the Beef 'O' Brady's gathering. "I walked and talked to a lot of people, and it's really profound to see that people care so much about the city."
Besore, meanwhile, said she had no regrets about stepping down as commissioner to run for mayor, even though she "got clobbered," as she put it.
"I wanted a referendum, and I got a referendum," she said. "The voters have spoken, and they resoundingly said they don't want me."
"But that's ok. I enjoyed my service, the voters spoke, and I don't have any regrets."
Stay with Safety Harbor Connect for continued coverage of the 2014 municipal election this week.