Safety Harbor commissioner aiming for Guinness World Record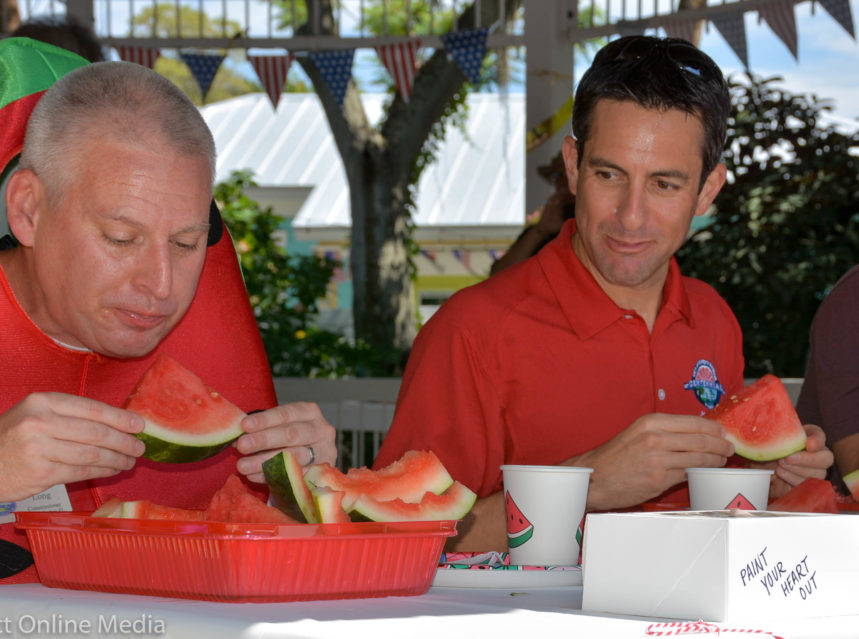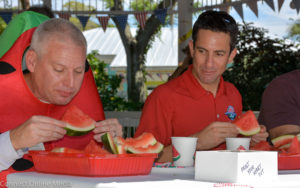 Most everyone is familiar with the phrase "go big or go home."
After announcing the newest plan for his competitive eating fundraiser, Melons for Moolah, it's safe to say Safety Harbor Commissioner Scott Long is a big fan of the slogan.
Long announced Monday night that he wants the second installment of last summer's charitable watermelon-eating contest to be a record-breaker, and he has the biggest book of records in the world in mind.
"Immediately after that event, a bunch of people started asking me whether they could participate next year," Long said during his Commission Report, noting the inaugural event in July 2017 raised more than $8,000 for nine local charities.
"I started thinking about what I could do to make it bigger, and of course, I went a little too crazy."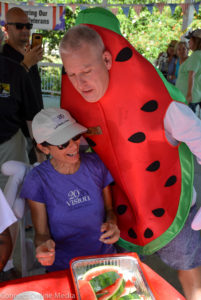 Long, a 2018 Seat 1 candidate and admitted lover of colorful costumes, said he reached out to officials from Guinness, which was founded in London in 1955 and is recognized as "the primary international authority on the cataloguing and verification of a huge number of world records," roughly seven months ago to see if a world-record for watermelon-eating might be within reach.
Last week he finally heard back, and he said Guinness gave the green-light to his record-breaking idea.
"The current record is only 200 participants, and I think we are gonna be able to crush that pretty badly," he proclaimed.
He then detailed the tentative plans for the event, which he is planning with MOSH chair and Market on Main founder Mercedes Locke.
The contest will be held on Sunday, July 1, and will be moved from the Gazebo to the Waterfront Park to accommodate the potential record-busting crowd. The market will be held at the park that weekend, also.
Long noted anyone is eligible to enter and raise money for their favorite charitable cause, and he said they are seeking the community's involvement in every aspect of the event.
"We certainly hope to have a lot of members of the community join us," he said, adding, they are seeking "a lot" of volunteers.
"It's pretty rigorous to be approved for a Guinness Book of World Record. We have a lot of 't's to cross and 'i's to dot and we're gonna need a lot of people for that."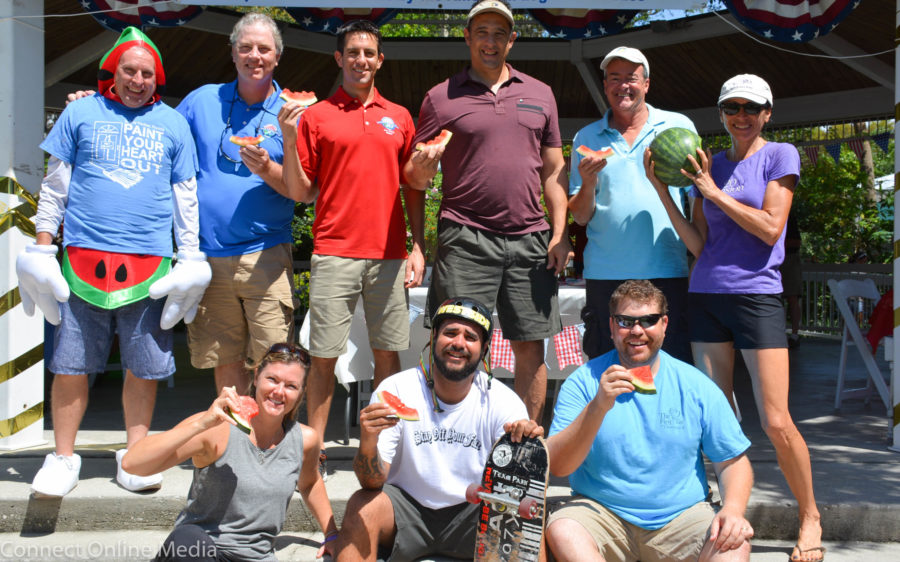 After the meeting, Long elaborated on his plans for Melons for Moolah II.
"Our most immediate need is to line up a sponsor to provide all of the watermelon to the specifications that Guinness requires," he said via email. "So we're hopeful that a local grocery store will step up to be the top sponsor of this Guinness World Record attempt, which we anticipate will get a lot of exposure.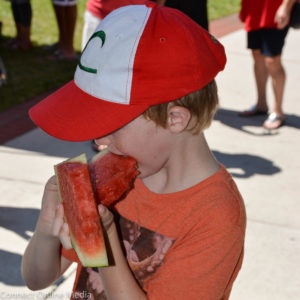 "We'll also need plenty of volunteers, so if people want to be involved but don't want to eat watermelon, we'll need and appreciate them.
Long added the contest "will be quick and easy, and per Guinness rules, we do need to declare a winner, but we're really just looking for fun, good-hearted people to come out and be part of a unique community event.
"If we get more than 200 participants, and properly submit all the detailed and lengthy evidence the attempt requires, all participants will get a certificate from Guinness certifying that they are a world-record holder. How neat is that?!"
Long said he hopes to have all the details ironed out by April 1, and he believes the event will be a fun way to unify the community while shining a spotlight on the city.
"I don't want to dream too big, but I really hope this event attracts families, companies, school groups, or even elected officials from other cities, all who will see this as a great bonding event," Long wrote.
"As a City Commissioner, I have an obligation to strengthen this community in every possible way I can, and if we are able to showcase how wonderful and generous Safety Harbor is, get plenty of media attention for our city, raise a lot of moolah for lots of great causes and just have a really fun time, I'll be happy that together we doing a lot of good for Safety Harbor."
Oh, and he said costumes are not required, but are always recommended!
To learn more about Melons for Moolah 2018, visit the event's Facebook page.
Related content: