Safety Harbor to invest nearly $40K in public art projects
Safety Harbor has long been known as the City of Trees.
But if the current upswing in the city's public art movement keeps up, it soon could be known as Art Central.
Safety Harbor's recent surge in promoting public art has been well documented here, and earlier this week, city officials approved nearly $40,000 worth of public art projects, and also agreed to simplify the grant application process while instituting a $1,000 flat grant system.
The developments haven't gone unnoticed by members of the area arts community; during a monthly meeting of the North Pinellas Cultural Alliance held at City Hall on Wednesday, Safety Harbor Mayor Andy Steingold received high praise for the city's commitment to public art.
"You're the leader in North Pinellas County," former Oldsmar City Council member and NPCA vice chair Linda Norris told Steingold after he outlined his city's recent art history.
"You guys are way ahead of everybody when it comes to public art."
The kudos are highly deserved in the wake of Tuesday's approval of nine public art projects worth upwards of $40,000.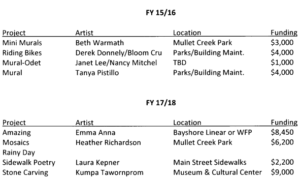 After receiving 16 submissions from 14 artists during a Public Art Committee workshop in June, PAC and city staff worked to whittle the list down to nine projects, including murals and mosaics, paintings as well as a stone wall complete with historic carvings in honor of the city's centennial celebration in 2017.
City commissioners approved the nine recommended projects during a workshop on Tuesday; all of the money will come from public art CRA funds, including $12,000 in unused funds from FY 15/16.
"Public Art helps to identify, beautify and celebrate the heritage of our community," recreation superintendent and PAC liaison Shannon Schafer said via email.
"In addition to the approved arts in the city budget kudos to all the artists, residents and businesses that work so hard to support and celebrate the arts in our community!"
During the commission meeting that followed the work session, the five city commissioners approved a measure designed to simplify the bidding process for artists looking for grant money, and they established a maximum flat fund in the amount of $1,000 for qualifying mural installations.
"The decision was made to simplify the grant application process for artists seeking money for certain projects, as well as to put a $1,000 cap on murals that meet certain requirements," City Manager Matt Spoor said.
"The point is to make it so the artists don't have to jump through hoops to get the funding for future projects."
The moves were applauded by local artist Heather Richardson.
"It's a great start," she said.
"Hopefully they will eventually increase the amount, because $1,000 barely covers materials for a big mural project, never mind paying the artists. But it's better than nothing. We'll take it!"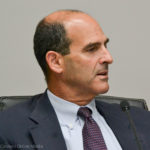 With all the recent attention being paid to promoting public art, Mayor Steingold said is happy Safety Harbor is finally being recognized for its contributions.
"This city has always been committed to the arts," Steingold said following his first NPCA board meeting, noting his history of supporting such projects in the city as well as the county.
"I'm a firm believer that a city without art and culture is out of society. Art adds to our quality of life."
Asked how he felt about being called a leader in public art in this part of the county, Steingold expressed his appreciation for the recognition.
"It's pretty awesome to hear others say Safety Harbor is leading the charge," he said.
"It proves we must be doing something right!"
Related content: