There's an art "revolution" taking place in Safety Harbor
The concepts varied in size, scope and medium, from towering metal sculptures and massive, colorful murals to historically themed posters and sidewalks adorned with paint that only appears when it rains.
The bids, which ranged from a few hundred dollars to as much as $10,000, were submitted by artists as far away as Australia and as nearby as right here in town.
And while the differences between the more than a dozen public art projects that were presented at the Safety Harbor Museum and Cultural Center on Monday night were obvious, so was the one common theme that ran through all of them: making Safety Harbor a more vibrant community using the powerful appeal of art.
"What's cool about Safety Harbor is they're embracing professional artists," St. Pete muralist Derek Donelly, who has created some of the most buzzed about pieces in the Tampa Bay area, told Safety Harbor Connect. "I think it's awesome."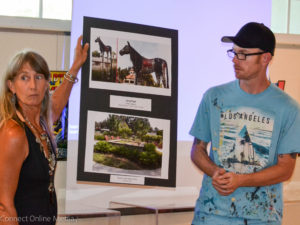 "When it comes to public art in the community, I think Safety Harbor is pretty far along," he added. "All they need are a few more sculptures and a few more murals, and they'll be right there with other communities in the area."
Adding more sculptures, murals, etc…in town was the precise purpose of Monday's meeting, according to Safety Harbor recreation superintendent and Public Art Committee staff liaison Shannon Schafer.
Schafer explained that last year the committee decided to open up the bidding process in hope of receiving enough proposals to utilize their entire budget allotment, which for fiscal year 2015-16 was $30,000.
"We used to put out a call to artists, but last year, we decided to open it up," Schafer said at the start of Monday's meeting, during which the participating artists had three minutes to present their proposals.
"We put up a map of where the art can go, and we want to see how the artists can bring public art to these spaces."
The revamped bidding process certainly achieved the desired effect, as no fewer than 15 projects were submitted by artists from across the greater Tampa Bay area, the country, and the world.
The submissions included proposals by area artists Kumpa Tawornprom, Stu Dwork and Tanya Pistillo that were centered on Safety Harbor's history and the city's upcoming centennial anniversary in 2017
Other projects were whimsical, eye-catching examples of freeform creativity, such as Matt Sunderman's 14-foot tall kinetic pinwheels, a giant, interactive Scrabble sculpture by Australian artist Emma Anna, and local author Laura Kepner's rainy day poetry-painted sidewalks.
After the artists presented their proposals, those in attendance got to vote for their favorites; Schafer later revealed that Kepner's poetry project received the most votes, with Kumpa's massive limestone carving featuring Tocabaga Indians receiving the second highest total.
"It's such a tough decision this year, because there are so many projects to choose from, in a wide variety of prices and mediums," Safety Harbor mosaic artist Heather Richardson, who recently launched her own public art initiative, said.
But thanks to the quantity, quality and variety of the proposals that were presented, plus the amount of funding available, choosing the winners wasn't as hard as expected.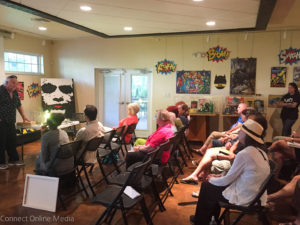 "The committee is recommending all of the proposals to city staff with the exception of three," Schafer told Safety Harbor Connect on Tuesday.
"To get that many artist submissions this year was phenomenal. It's exactly what we hoped for when we decided to open up the bidding process last year."
Schafer said the next step is to sit down with city staff to discuss the proposals in detail, and to figure out how viable they are based on maintenance and other costs as well as which projects will be the first to get the greenlight.
"We're going to see if any of them can be put through this year, since we haven't used all the available funding for 2015-16 yet," she said.
With more than a dozen public art projects making it through the initial bidding process, combined with the handful of projects already in the works, including a mural on the side of the Harbor Bar, a postcard-like painting outside the Safety Harbor Spa and Resort, and a mosaic slated for City Hall, it's clear Safety Harbor is in the middle of a major art movement.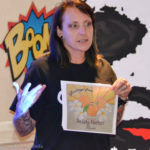 "It is great to see a municipality taking steps to engage the value of public art and to give an open call to artists to share their visions," Pistillo, who recently completed the first mural in the city of Largo, said after the meeting.
"Artists come together and collaborate, the community comes together through art, and when things like this take place, something far greater happens."
Richardson, who also had a project approved on Monday and is collaborating with Pistillo on other murals in the area, said her colleague is absolutely correct.
"What's going on right now in the city is pretty awesome," she said.
"There's an art revolution taking place right here in Safety Harbor!"
Related content: