The Dean of Safety Harbor artists
You could say Safety Harbor is in the midst of a public art renaissance.
Over the past several months, murals have been popping up all around town as part of Heather Richardson's countywide Public Art Intervention; officials have provided financial backing to the North Pinellas Cultural Alliance; and more eclectic pieces are coming soon, thanks to the Public Art Committee's vow to use all of the roughly $35,000 in grant money it receives annually.
But despite the city's obvious commitment to public art, one acclaimed artist who lives in town believes more could be done in order for Safety Harbor to be recognized as a community that truly embraces and supports the arts.
In a city full of talented artists, Dino Kotopoulis, an icon whose work spans many decades and a wide variety of mediums, could be considered the dean of Safety Harbor artists.
The Brooklyn native was accepted to the city's renowned Pratt Institute when he was eight years old, and the young prodigy would go on to have a lengthy and illustrious career as a graphic artist, animator, designer and sculptor. He worked with the likes of Walt Disney and Hanna-Barbera, and he won a prestigious Clio award for his work on Starkist's famed Charlie the Tuna ad campaign.
After "retiring" to Safety Harbor in 1985, Kotopoulis turned his attention to metal sculpting, creating unique creatures and oversized pieces from his home near the city's downtown district. He also illustrated a children's book last year that he donated, along with all of its proceeds, to the Clearwater Marine Aquarium.
Safety Harbor Connect recently sat down with the 84-year-old, who has battled numerous health issues over the last few years, following a rare public appearance at the PAC workshop, and the always outspoken artist took some time to share his thoughts on the state of the arts in the Harbor.
The following is an excerpted and edited version of the conversation with Kotopoulis.
What are your thoughts about the current state of the arts in Safety Harbor?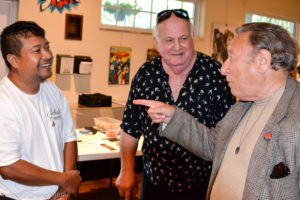 First let me start with diplomacy: there are a lot of artists in Safety Harbor, and they're all very good artists. Some are better than others, but they're all good.
We have so much talent here. I think Kumpa (Tawornprom) is one the best pure artists I've ever met. Stu Dwork is incredibly talented in a variety of mediums. And I especially want to praise Heather not only for her mosaic work, but for her commitment in raising money and making Safety Harbor and the City Commission aware of the importance of art.
But the city is settling. There's a saying you can buy cheap clothing and get more of it, but if you buy expensive clothing, it will last longer. It's the same with art. The powers that be in the city are ignorant of what it takes to put up a lasting sculpture with the proper safeguards. Every piece of sculpture they've had, they've had to throw it out after a few years because of rust and wear. But whatever is done—sculptures, murals—is subject to vandalism and decay. It will happen, and they have to be ready to provide for that. They have to be willing to spend the kind of money that it takes to produce long-lasting pieces of art. They have to decide what they want. Right now, they don't want to be a city of art, they want to be a city of arts and crafts.
What steps would you take to improve the art scene in Safety Harbor?
A lot of the artists talk about doing murals, using the walls as canvases. That's fine. However, I think in some cases, the subjects are wrong for the locations. For example, if they do the (proposed) mural on the public works building, they need to use a public works theme. Not a heart and flowers. Have an old truck hanging off the roof, do a painting of workers welding, make it have a 3D aspect to it. Murals are like billboards, they have to be site appropriate. You don't buy a Picasso and put it in the guest bathroom. You have to put it where it belongs.
The city is very proud of having $35,000 to spend, but I would like to see Heather do a couple of things with the money—use $5,000 for the little murals, and take $30,000 and use it to make something unique, a signature piece, something that will make people want to come to Safety Harbor. I'd also like to see people match the $30,000 and make it $60,000. And let the money accumulate. It shouldn't have to be used in a year or you lose it. Get the artists to argue and kill each other and come up with a solution. We need to think bigger.
They need a consultant, if not me, someone like me, to help work on it, because one thing I can do is tell them how to make it work. If you don't powder coat, it won't work. You have to bury the base deep in the ground, or it won't work. It costs money to do it right. It's not that I'm smarter, but I know how to do things. What good is $35,000 if you don't use it right?
Over the years you've made numerous public art proposals for the city. What types of works would you like to see in Safety Harbor?
I'd like to see a low, divided wall built along Bayshore Boulevard, covered with art with pedestals for sculptures in between. The sculptures could be rotated out on a regular basis, because once you see something in the same place for a while, you don't notice it anymore and it loses its impact. And I would put Kumpa's (proposed historical) piece on a wall outside of the museum. That way, everyone driving or bicycling into town would notice the art on the way in. And Heather likes to do mosaics, how about a nice one on the pathway leading up to the Gazebo? That place is screaming for some color.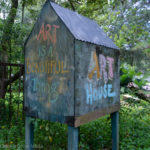 In the past I proposed having colorful fish "floating" on poles in the water just off the marina pier. But they told me I'd have to get approval from the state and the county and (SWIFTMUD). I don't have time for that stuff. I also designed some 3D metal sculptured trees that play on Safety Harbor's "City of Trees" theme. I thought a giant metal tree at the entrance to the city would be a perfect way to show that Safety Harbor is a serious art community. But they went with a giant brick wall instead (shrugs).
I stayed away for a long time, but what brought me back again was when they redid the (Safety Harbor Museum and Cultural Center). But they still have the same mentality, which turned me off again. Don't waste the time and money if you're not going to do it right.
As a lifelong veteran of the art world, what advice would you give to up-and-coming artists?
I think it was Picasso who once said this—if you do something and you say it's art, it's art. It doesn't have to be good. It's a true fact. Anybody can do anything and call it art, and it's art. But don't do art for the sake of art. Do it for a reason. The point is, art should transform a place.
And make sure you get paid for your work. People don't want to pay artists because everyone thinks it's your hobby. I always like to say, it's not my (bleeping) hobby, it's my job!
Related content: