Mayor Steingold volunteers to serve on Pinellas art council board
The public art movement that's been taking Safety Harbor by storm over the last several months has been well- documented, and now Mayor Andy Steingold is joining the city's burgeoning cultural revolution.
The mayor volunteered to serve on the board of the recently formed North Pinellas Cultural Alliance last week after learning the nonprofit organization was looking for official representation from each of its six contributing communities.
Citing his longtime love and support of the arts, plus a fairly open schedule, Steingold said he would be more than happy to contribute his time to the organization.
"I don't mind serving, because I think I'm on one board…other than the Mayor's Council," the mayor said during the Commission Reports portion of the July 18 commission meeting.
"I've been a big supporter of the arts, quite frankly, and I'd love to be able to serve."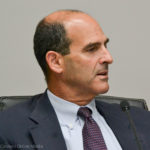 After being informed by a current NPCA board member that they are looking for elected officials, not local art committee members or artists, to represent their communities at the present time, the mayor's offer was unanimously accepted.
"They'll be happy to have you, mayor," City Manager Matt Spoor said.
"And I'm happy to serve," Mayor Steingold replied.
Following the meeting, Steingold elaborated on his reasons for joining the NPCA.
"I've been a big supporter of art for a long time, always making sure the Public Art Committee has money in the coffers to spend on public art," the mayor told Safety Harbor Connect. "And I'm not really serving on any committees right now, so I have some free time in my schedule."
"My feeling is, we're trying to be a well-rounded community, and art is a big part of that, so I am happy to contribute in any way I can."
The NPCA was founded by former Mahaffey Theater and Largo Cultural Center director Colin Bissett late last year; the organization, which is dedicated to promoting art, culture and history in north Pinellas County, raised $20,000 from six area municipalities—Clearwater, Largo, Dunedin, Tarpon Springs, Safety Harbor and Oldsmar—during its initial round of fundraising.
During a meeting held at Ruth Eckerd Hall in April, NPCA board members outlined their plans for the immediate future to a roomful of local artists supporters of art and culture.
The plans included unifying all the participating communities in support of art, culture and history; designing and creating colorful PSTA bus shelters; and hosting an art festival that ties into the history of Pinellas Trail.
"The meeting was a huge success, with great ideas and great participation," Bissett said at the time. "This is by far the most exciting arts council meeting I've ever been to, and the best part was our main initiatives had tremendous support."
"Now we all have to work together to make this organization even bigger and better."
For more information on the North Pinellas Cultural Alliance, visit the organization's Facebook page.
For complete coverage of the state of the arts in Safety Harbor, stay with Safety Harbor Connect.com: