New art installations popping up all over Safety Harbor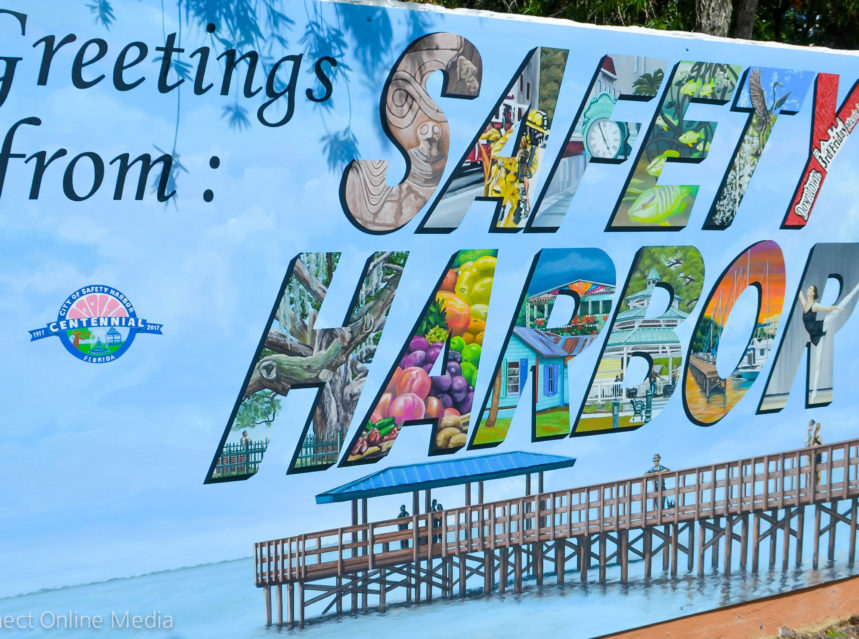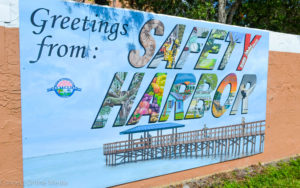 The City of Safety Harbor's well-documented public art renaissance is in full effect, as two new projects were installed this week, and at least a half dozen more will be popping up around town in the near future.
The two latest projects—a "postcard" style mural by Dunedin artist Matt Sunderman at the Safety Harbor Marina, and a mini-mural panel created by Clearwater's Beth Warmath and others at the Safety Harbor Public Library—are just the latest examples of the city's renewed dedication to promoting art and culture.
In addition to the new murals as well as others that have been painted on downtown buildings over the last eighteen months, there are three more projects scheduled to begin in the coming weeks.
"Nancy Mitchell will be painting a mural honoring Odet Philippe, one of our city's first pioneers and known for bringing grapefruits to the Tampa Bay area," recreation superintendent and Public Art Committee liaison Shannon Schafer said via email.
"And coming soon are Mini Murals at Mullet Creek Park and a mural on the Parks and Building Maintenance facility at 333 9th Avenue North."
Other projects in the works include a mosaic on the outside wall at City Hall by local artist and public art proponent Heather Richardson; a special painting to commemorate the city's centennial celebration in 2017; and a refresh of the colorful mural on the side of Cello's Charhouse in downtown Safety Harbor.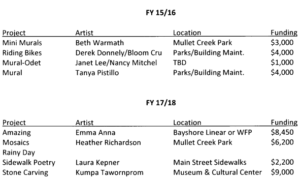 The new installations are a result of the city's recent decision to allocate nearly $40,000 in public art funds to help finance a slew of diverse projects between now and next October.
From spray-painted sidewalk poetry that glows in the rain to a massive stone carving depicting scenes from Safety Harbor's history, there will be an impressive array of new art installations in place as the city celebrates its 100th birthday next year.
With all the projects that have been already been completed, as well as the others sitting in the pipeline, the city's artistic and cultural efforts haven't gone unnoticed.
"You're the leader in north Pinellas County," former Oldsmar City Council member and North Pinellas Cultural Alliance vice chair Linda Norris told Safety Harbor Mayor Andy Steingold at a recent NPCA board meeting.
"You guys are way ahead of everybody when it comes to public art."
Stay with Safety Harbor Connect.com for full coverage of safety Harbor's growing public art scene.
Related content: