Safety Harbor Artist Spotlight: Ben Cardoso
Even in retirement, Ben Cardoso is busy.
The Cuban-born artist retired to his home in Safety Harbor five years ago following a lengthy career in which he lived and worked all over the world as an international executive for the Coca Cola Company.
But just because he left the corporate world behind, that doesn't mean Ben embodies the stereotypical portrait of a Florida retiree.
No, while he isn't globe-trotting anymore, Cardoso has kept plenty busy by devoting much of his time to his true passion — art.
"I'd had enough of the corporate world and wanted to spend more time with my family," Cardoso, who discovered his love of art shortly after his family moved to South Florida in the early 1960s, recently told Safety Harbor Connect.
"So after I retired five years ago, I came here and dedicated myself full-time to my art."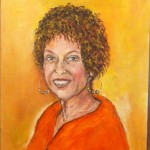 Cardoso, whose preferred media is acrylic on canvas, now keeps himself occupied by doing commissioned portraits of people and pets.
He also has a permanent, rotating exhibit at St. Pete Art Works, where he sits on the jury committee, and he's on the board of TESA (The Exhibiting Society of Artists).
As if that isn't enough to squash the image of retirement altogether, Cardoso is a member of the International Society of Acrylic Painters (ISAP), The Tampa Bay Plein Air Artist Group, and the Art Circuits Association of South Florida.
"What can I say? I like to keep busy!" the affable artist understated. "I just love to paint, and I enjoy being with other artists."
Cardoso has had his colorful works displayed all over the world as well as in Bay area galleries and buildings, including at Ruth Eckerd Hall, Brighthouse Networks headquarters and Safety Harbor City Hall.
He currently has an exhibit on display at the Safety Harbor Library, one which allowed him to showcase his love for his surroundings.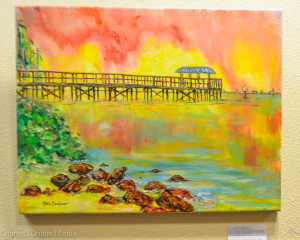 "As an artist I always want to learn more, to expose myself to different things," he said of the collection of landscapes and portraits that make up the exhibit, which runs through the end of the week.
"I've been painting landscapes since I moved here," he added. "There's just so much beauty that surrounds us here in Safety Harbor."
If you think all of this activity paints a picture of a man who has been almost as busy in his post-retirement life as when he was a continent-hopping corporate executive, you would not be wrong.
But according to Cardoso, he is enjoying the opportunity to finally have the chance to devote himself to art and helping other artists.
"When I retired and moved here I got a lot of support from other artists, and when you get, you have to give back," he said.
"I feel very fortunate, but I'm busy as all hell!"
Ben Cardoso's work will be on display at the Safety Harbor Public Library through the first week of December. He will also be the guest for a radio interview with local author and film producer Janet Lee tonight at 7:00 p.m. Visit this link for more information.
To learn more about Safety Harbor artist Ben Cardoso, visit his website at bencardosoartist.com.