Local artist bringing public art to Safety Harbor and beyond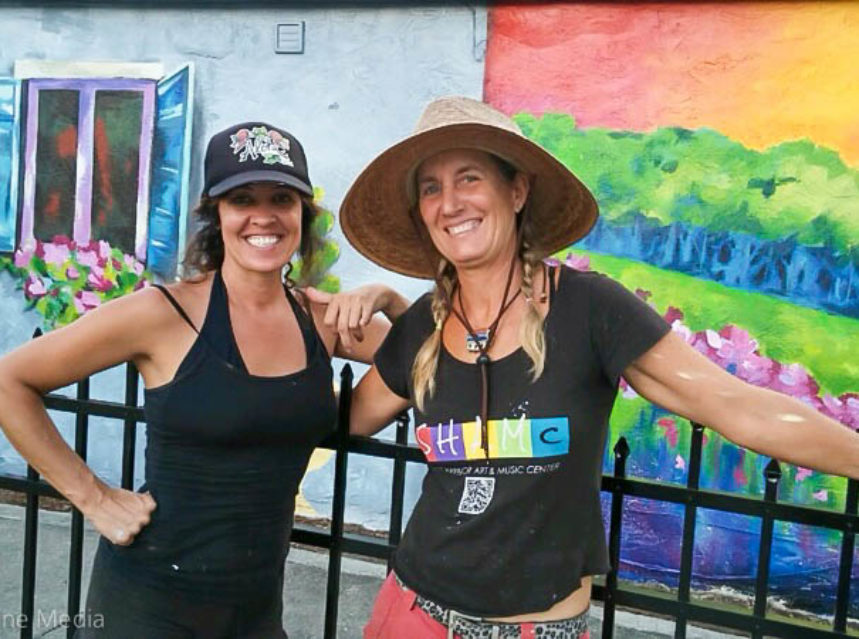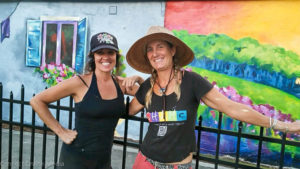 Safety Harbor has been home to numerous public art installations over the years, from murals and mosaics to sculptures and memorials.
But much like candy and birthday presents, some people believe you can never have too much public art, and one local artist in particular is taking that concept to heart.
Heather Richardson, a mosaic artist who is part of the Safety Harbor Art and Music Center (SHAMc) Collective, recently embarked on a "public art intervention," an ambitious project designed to spread public art throughout Pinellas County, and after starting with a small fence painting in St. Pete, she just completed her first big job, a mural on the side of the Joey Biscotti building in downtown Safety Harbor.
"I stole the idea from Isidora Paz Lopez, an artist who has done murals all over Santiago, Chile," Richardson told Safety Harbor Connect while working on the Biscotti project last weekend.
"She did a mosaic intervention there, and I was inspired by her and by what's going on in St. Pete," she said, adding, "Our goal is to put Safety Harbor on the map as far as public art."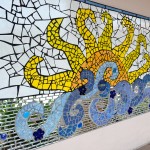 Richardson, who worked on the city's Mullet Creek Park as well as the mosaics at the Safety Harbor Public Library, started a GoFund Me account to help her accomplish two main goals.
"My goals are to create beautiful art, and to have artists get paid for creating the beautiful art," she said
So far, after a few short weeks, the intervention project has been considered a success.
In addition to collecting more than $1,500 in donations so far, Richardson's campaign has been bolstered by contributions from a local paint store as well as grant money from the city's public art funds.
"Greg Brewer from First Choice Paints in Clearwater has been donating paint or giving it to us at cost, and I've been working with the city to receive available grant funds to be used for public art," she said.
City officials said they were more than happy to work with Richardson in order to get the word out about the available grant money.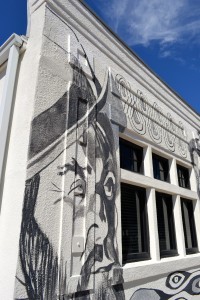 "The downtown CRA has grant dollars, and public art committee dollars, geared towards promoting artwork in the public realm, and we are working  with Heather to help spread the word that these funds are available," City Manager Matt Spoor said. "We talked about how we can go about getting her funding, and about the hurdles artists faced with trying to get these types of projects funded."
"The City of Safety Harbor has been doing public art projects for years, and we want to make the process as simple as possible because we want to promote public art in Safety Harbor."
After being approached by Joey Biscotti owner Steven Wright about painting the side of his Main Street bakery several months ago, Richardson sought permission from property owner Guy Gannaway to get started before applying for $1,000 in matching grant money from the city.
With the permission and financing secured, she enlisted the help of Clearwater artist and art teacher Beth Warmath, who worked on the Safety Harbor Songfest mural downtown last spring.
Last weekend, Warmath, Richardson and a small crew of helpers, including fellow local artist Kumpa Tawornprom, to transform the Biscotti building's plain white walls into a colorful, picturesque Italian landscape.
After initially expressing some skepticism, Gannaway was ultimately blown away by the finished product.
"Heather Richardson, what an awesome job you did with my building. The mural turned out great," he wrote Richardson via text. "What a talented group of artists you are affiliated with."
"Thank you for all your time and effort," the text continued. "I look forward to seeing more of your beautiful work in downtown Safety Harbor."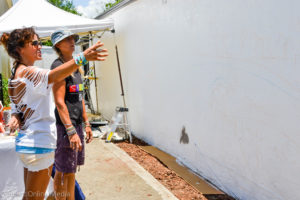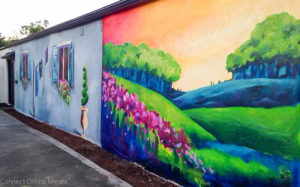 With that project quickly completed, Richardson is ready to move forward with her public art intervention.
In addition to adding a mosaic nature scene on the side of City Hall later this summer, she has plans to paint a mural on the walls of the Harbor Bar as well as to help teach art to homeschooled and other area children.
And the amazing thing is, Richardson isn't doing it for the money; it's all part of her master plan.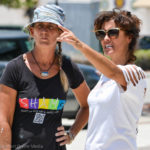 "I'm not making money on this. I'm doing it to beautify the community," the energetic artist explained.
"What they're doing in St. Pete has opened the awareness for public art in Pinellas County, and made it easier to do elsewhere," she added. "There are so many talented artists in Safety Harbor and Pinellas County, and I just want to connect the whole Tampa Bay community through art."
Richardson can count at least one artist who has been converted to her cause.
"When she contacted me and told me her plan, I was so excited, because I always wanted to be a traveling mural artist," Warmath said as she sketched the details for her design on the blank white wall.
"As artists we do so much, but we receive so little back because we love to do it. But we also like to get paid," she added. "So what Heather, and SHAMc, is doing is nothing short of amazing."
To contribute to Heather Richardson's Public Art Intervention, visit her Go Fund Me account.
Related content: