Songfest Mural Brightens Building In Downtown Safety Harbor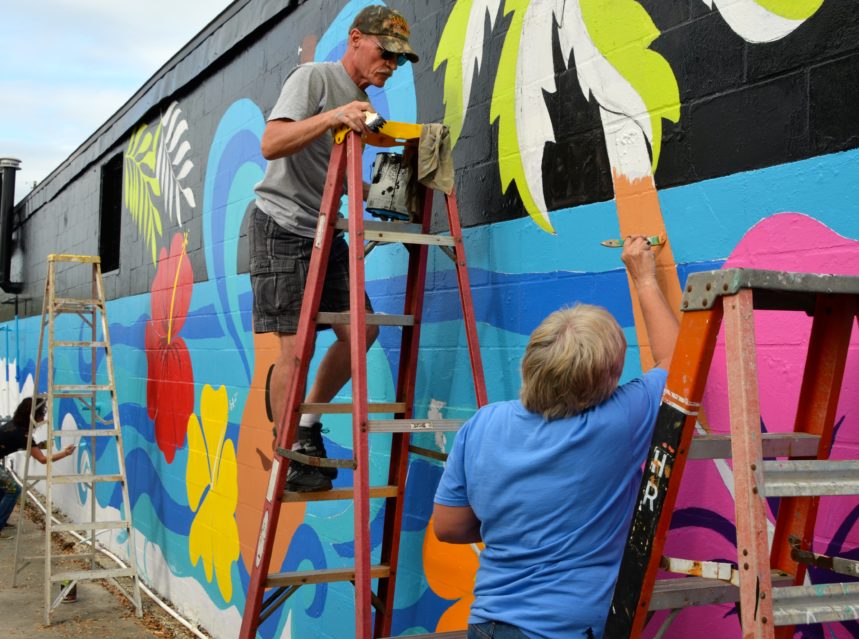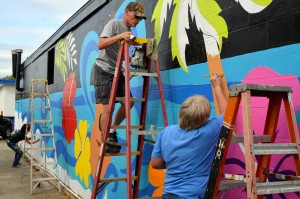 Visitors to downtown Safety Harbor will discover the entrance to the district got a little brighter over the weekend, thanks to a colorful new mural that was painted on the side of the Cox Cleaners building at 855 Main Street on Saturday.
The mural is a "heart wave" design featuring flowers, trees, a guitar and flowing blue waves; it was created by Clearwater artist Beth Warmath for the upcoming Safety Harbor Songfest 2015 on March 27 & 28.
Originally, Warmath's design was just going to be used on sarongs and other items to be sold at the second annual Safety Harbor Art & Music Center benefit concert.
But creative thinking by festival organizers, plus cooperation from other parties, led to the design being reproduced on the wall of the cleaners, which sits in a lot next to the railroad tracks at the intersection of 9th Avenue North.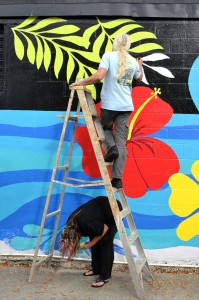 "We asked the owner of the cleaners if we could paint the mural on the wall, and he said as long as the City told us it was okay, and he didn't have to pay anything for it, we could," local artist and Songfest cofounder Kiaralinda told Safety Harbor Connect.
"After the City said they had no problem with it, we got Beth, and a small army of SHAMc volunteers, to come out here today to paint her beautiful design on the wall!"
Warmath, a professional artist and art teacher who has created a number of public art displays in the Tampa Bay area, said she thought the offer to transfer her design from a wearable piece of fabric to a permanent place in downtown Safety Harbor was a terrific idea.
"I've always been active with public art in the city," Warmath said on Saturday. "I am all about spreading color all over the community."
"So when Kiaralinda and Todd (Ramquist) approached me about doing the sarong design on the wall here in Safety Harbor, I was all for it. I thought it was a perfect fit for the area."
Indeed, the fact that the design is unrelated to the official poster that has been commissioned for Songfest and has no obvious direct connection to the event means the mural will look at home in the Harbor all year round.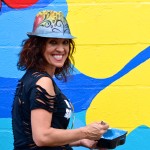 "This design isn't just for Songfest," Kiaralinda said. "It represents what the community of Safety Harbor is all about."
After being asked if they would be willing to reproduce similar works on other buildings in town, the artists said as long as it is approved by the city and is appropriate for the community, they would be willing to take on more projects like this one.
"We've already had some people stop and ask us if we'd be interested in working on their place," Kiaralinda said. "So we'll see what happens."
"I will paint any building in Safety Harbor, as long as I have these guys for helpers!" Warmath added.
Related: