Safety Harbor Artist Starts Custom Paddleboard Business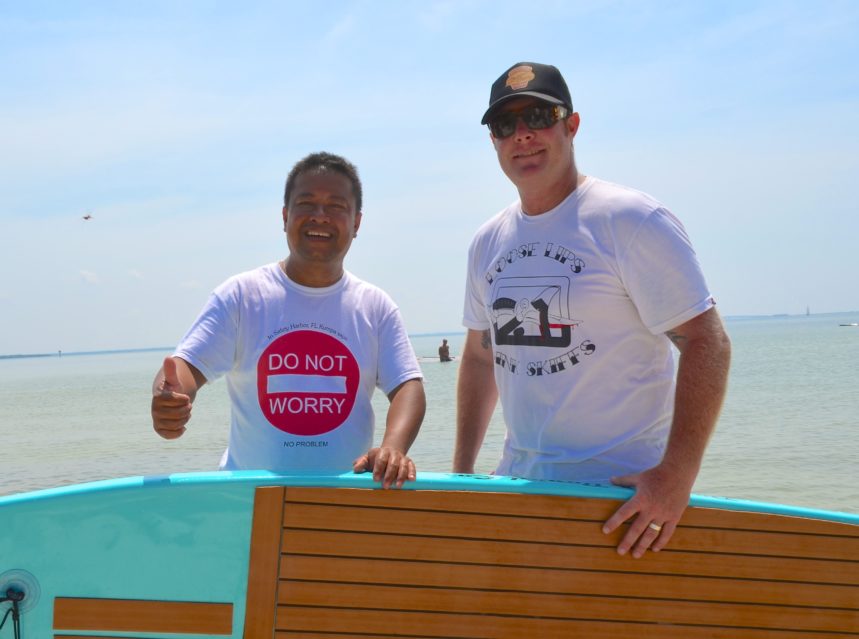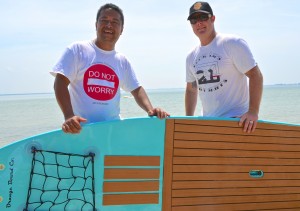 Kumpa Tawornprom likes challenges.
The Safety Harbor artist uses a wide variety of materials in his work, including wood, metal, stone and Styrofoam, and his three-dimensional chalk art has been a fixture at the Sarasota Chalk Festival for years.
The desire to expand his talents led Kumpa, as he's known, to his latest, and possibly his biggest, project – the Orange Board Company, a custom paddleboard business he started with local businessman Chad Fisher.
"I like to try different things," the Thai native recently told Safety Harbor Connect. "I have an engineering background so I am always thinking, how can I improve this?"
"After I learned how to make paddleboards and met Chad, we decided to combine our skills," he added.  "I do the creating and he handles the business end, and Orange Board Company was born."
From the studio to the water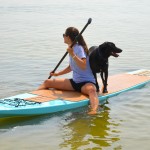 Kumpa began carving boards at his Seventh Street studio a few years ago using Styrofoam pieces left over from his art projects; at the time, he didn't know a thing about the standup paddleboard culture or industry.
"I had no idea what SUP was, I just wanted to be in the water," he admitted with a laugh.
"I took a big board to Philippe Park to experiment with it, and then I came back to the shop and modified it."
After learning more about the sport, including the ideal shapes, sizes and lengths for boards, Kumpa honed his craft until he came up with a product that was not only seaworthy, but also attractive and multi-functional as well.
In fact, the board was so unique it caught the eye of local paddleboard enthusiast Dario Negrini; after watching Kumpa perfect his board from start to finish, Negrini insisted Tawornprom make one for him.
"Kumpa and I talked about making a board that was fast enough to be enjoyed solo but stable enough to carry friends," Negrini said via email. "The result was perfect."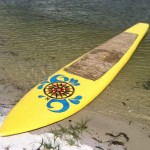 "What I love the most about my board is that it was made just for me," he added. "Kumpa was amazing to work with and I am proud to own his first SUP creation."
Spurred by Negrini's endorsement, Kumpa started wading deeper into the paddleboard scene; he met Fisher, a business owner and avid paddler, and the two decided to get into the custom paddleboard business together.
"This started as a hobby for us and then people started asking us to do boards for them," Fisher said during the Paddle For Kids charity event in May.
"Kumpa and I saw a need for a board made in the US, so we formed Orange Board Company to try to fill that need."
Boards made to order
Orange Board produces two different styles of paddleboards, one built mainly for comfort, the other designed to generate a bit more speed. They also create special order designs, such as a turtle, a stingray and a snail.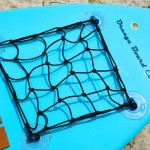 The process begins at Tawornprom's studio, where he crafts the boards according to specific dimensions while adding his "own personal touch" to each one.
After the board is finished, Fisher applies a custom paint job at his Palm Harbor garage.
"We make them look like a car, with Lamborghini paint and a clear coat on top," Kumpa explained. "The color is beautiful because that's what Chad does."
The entire process takes about two weeks from start to finish, and according to Tawornprom and Fisher, the end result is well worth the wait.
"These are unique boards that nobody else has," Kumpa said. "They are all custom boards made for speed and comfort."
"They have a huge appeal," Fisher said. "So far there's not one person who doesn't like them."
The future of the Orange Board Company
Tawornprom and Fisher have been steadily growing the business since they started it over a year ago.
They estimate they have created around two-dozen boards already using just social media marketing and large word of mouth.
But despite the company's growing popularity, Kumpa emphatically stated that Orange Boards will never become mass-produced products.
"I don't want this to be a production line," he said. "I want us to have the most unique, original and expensive boards out there."
"There is no limit to what we can do. The only question is, how much do you want to spend!"
For more information on the Orange Board Company, visit their Facebook page.
Related: