Rainy Day Sidewalk Poetry project complete in Downtown Safety Harbor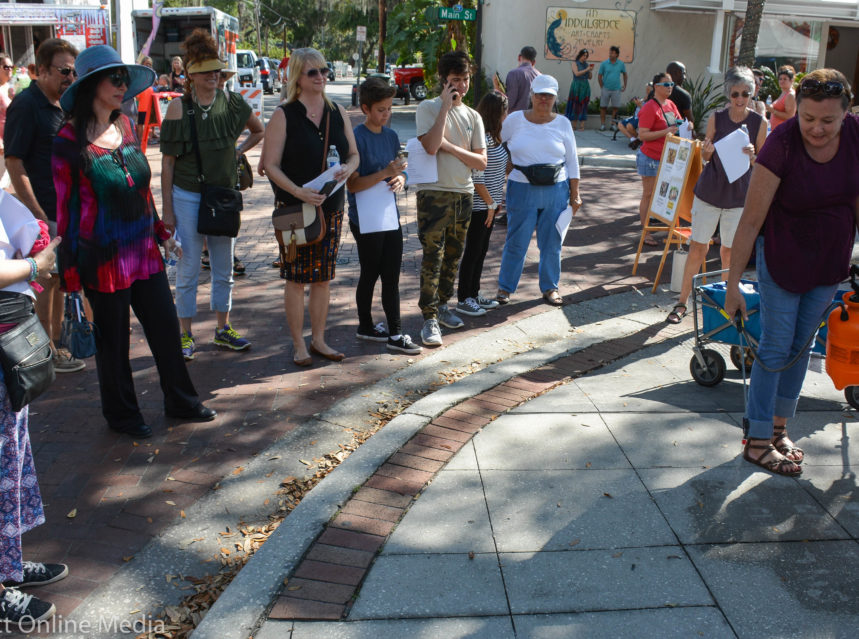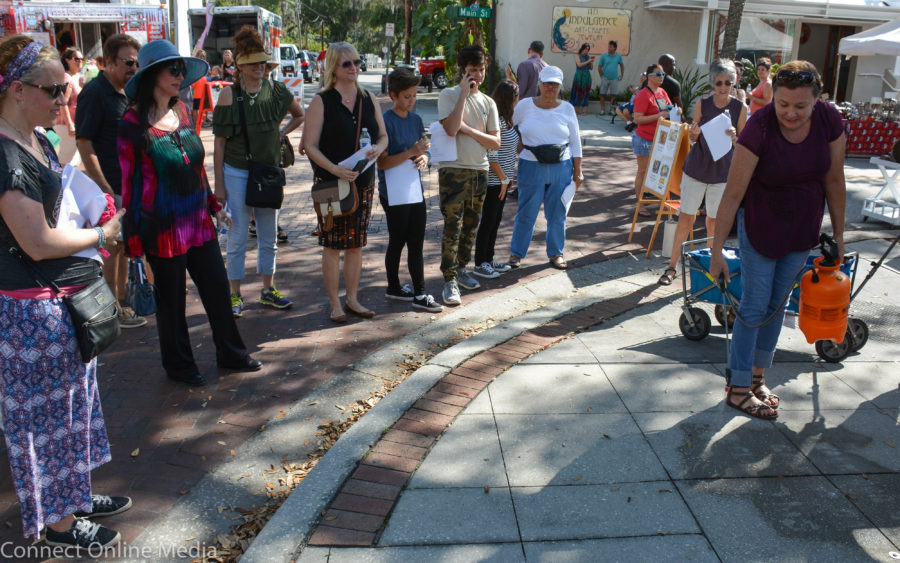 Local author Laura Kepner revealed her completed Rainy Day Sidewalk Poetry public art project last week, as many of the participating poets and onlookers watched the results of their works transferred onto downtown Safety Harbor sidewalks.
As a group of volunteers concluded a walking assessment of the city nearby, Kepner led her own tour from SHAMC through the downtown district, spraying sections of sidewalk with water from a garden sprayer (in lieu of raindrops), making the poets' words "magically" appear.
The 30 works are spread out along Main Street from Ninth Avenue to Philippe Parkway and deal with themes of life and love and, of course, weather and rain, providing inspiration to the readers and a point of pride for the poets.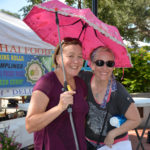 "I am so honored to be included as a Safety Harbor rainy day sidewalk poet," teacher, community activist and filmmaker Janet Lee said after the event.
"My haiku reminds passersby to notice all the beauty in our community and breathe."
Walk our small town streets.

Gaze at oaks soaked in wisdom

Feel this moment, breathe

~ Janet Lee
"Maybe I wrote these words as a gentle reminder to myself!" she added. "If you ever see me pouring a bottle of water on the sidewalk at the corner of 4th (Avenue North) and Main (Street), I must need a reminder!"
The poem walk is the latest word-related project created by Kepner, co-author of A Brief History of Safety Harbor, Florida and moderator of a local writers and poets group. The project was one of several funded through the city's Public Art Committee grant program in 2016.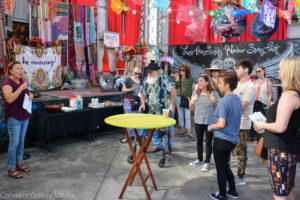 After months of collecting the poems, researching the correct application procedures and materials and physically transcribing the words onto the street—oh, and weathering a hurricane delay—she officially unveiled the finished project on Sunday, October 15.
Following the tour Kepner, spoke about the talented people who participated in the project.
"I had approximately 30 poets contribute—some new to writing and some known in the Bay area for their words," Kepner wrote via email.
"Many came out to go on the walk with us and as we unveiled the lines, many spoke about what had inspired their poems.
"That's always the best part of this kind of project—the people who participate and hearing what made them go for it," she added. "If no one had submitted a poem I'm not sure what I would have painted on the sidewalks!"
Kepner also praised the city for backing such a unique project.
"The truth is not many cities would have paid a writer to gather public poetry and paint it on the sidewalks," she said.
"I love that Safety Harbor has a Public Arts Committee and such a rich arts community. Basically, that means any resident can be an artist and get the community involved in their art. I've had so many people remind me how lucky I am to live in Safety Harbor. But I know that."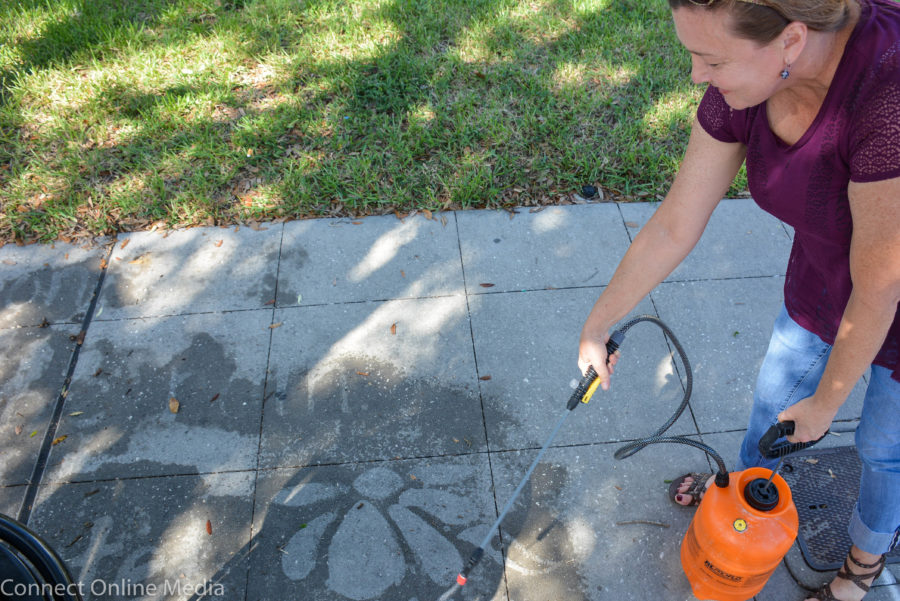 City officials were quick to return the love.
"Rainy Day Poetry was a unique piece of temporary Public Art brought to Safety Harbor by artist Laura Kepner," Shannon Schafer, Safety Harbor's recreation superintendent and liaison for the PAC, said via email.
"Laura's art installation has engaged the local community through workshops and development. Words are art and we thank her for sharing this project with Safety Harbor."
Enjoy this photo gallery from the Rain Day Sidewalk Poetry project unveiling:
Related content: