Rainy Day Poetry project brightens gloomy days in Safety Harbor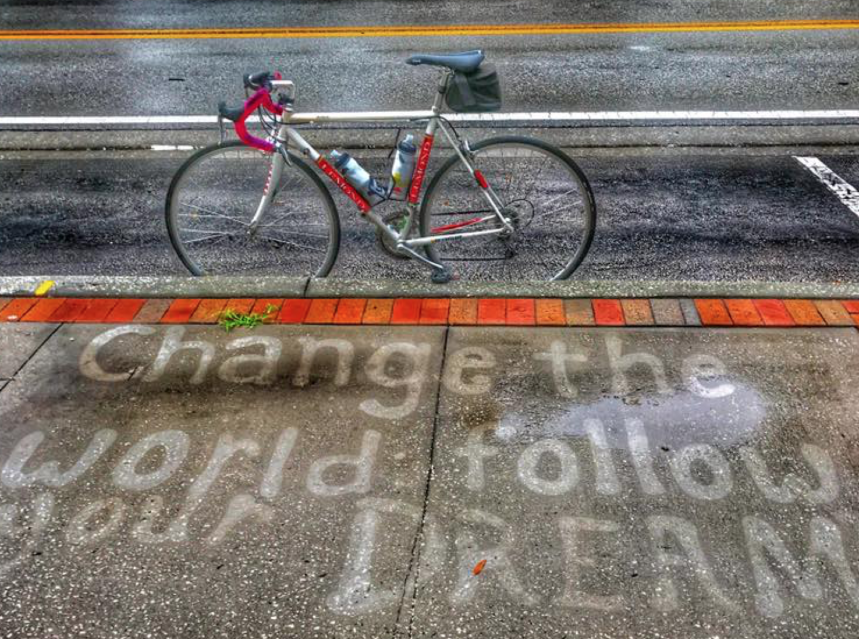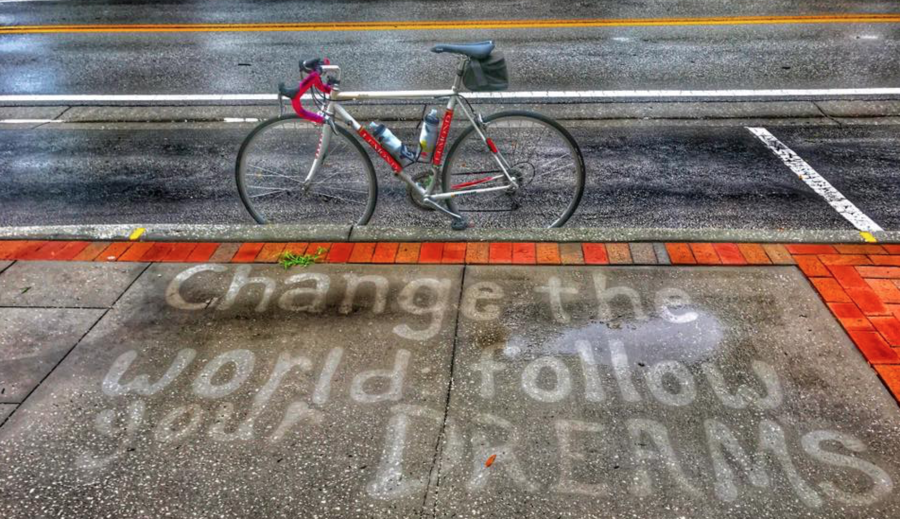 Rainy weather is typically the bane of outdoor art projects.
But a new public art project in Safety Harbor uses the prospect of soggy showers to its advantage.
Laura Kepner's Rainy Day Sidewalk Poetry Art Project, which was approved by the City's Public Art Committee last September, uses oversaturated nimbus clouds to reveal inspirational messages that "magically' appear when the weather is the wettest.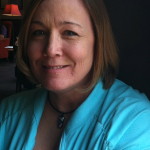 "I applied for a public art grant after several friends showed me videos of rainy day poetry projects in Boston and Seattle," Kepner, author of a Brief History of Safety Harbor, Florida and moderator of the Safety Harbor Writers and Poets group, told Safety Harbor Connect via email.
"But I decided to do it a little differently: to use the words of local poets instead of famous ones."
After learning her project had been approved, and checking with ChalkFest organizers Bobbie Wheeler and Stacy Roth, no strangers to wet weather, to make sure it wouldn't interfere with their event, Kepner began soliciting submissions.
"After being notified that I received the go ahead for the project, I taught a free poetry workshop at the Safety Harbor Art and Music Center," she explained. "One of the women in the workshop is a teacher at the Safety Harbor Montessori and she asked me to visit the school and teach a similar workshop to her students, which was really fun."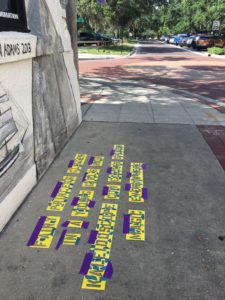 "I also received several poems from the community right off the bat. The poems range from about six words to five lines and most have something to do with weather, community, hope, or friendship."
With fresh ideas and materials in hand, Kepner recently started the process of applying the painted words on sidewalks in and around the downtown district.
"I use a waterproofing spray to stencil or paint the words on the concrete," she said.
"When it rains, the waterproofed words stay dry and the sidewalk surrounding them gets wet, so the words appear seemingly out of nowhere."
While Kepner said has been able to install a few poems so far, in an ironic twist, the usual midsummer Florida showers have hampered the project's progress.
"It dries quickly and needs about 24 hours in dry weather to set. That's been difficult this time of year," she said. "But I'm finding days here and there to rush downtown with my materials."
Kepner said roughly 25 poems will be scattered around the downtown district, and she plans to produce a map to each of them when the project is finished.
"They will cover random Main Street or side street sidewalks, and I also plan to put some along South Bayshore for the rainy-day runners and cyclists."
Kepner said she hopes the project will be finished around the first of September, but she would "need a lot of sunshine between now and then" to meet her goal.
A tropical storm that rolled through the Tampa Bay area yesterday certainly didn't help with the timeframe.
When asked what she hoped the project would accomplish, Kepner said her dream about the reactions the work would elicit already came true.
"What I wanted is already happening," she said.
"One of the poets brought her mother out after she heard I'd painted her words. They stopped at Starbucks for iced coffees before crossing the street with a gallon jug of water. The poet poured the water on the sidewalk and her poem started to appear. Her mother got so excited she began to stop people passing by to get them to read the poem. She started conversations and introduced strangers to her daughter."
"I don't know how long the excitement will last but it's great to see that people are connecting because of this," she added.
"Imagine people coming out on a rainy day to get something from a local business then walking through town appreciating their neighbors' thoughts and ideas appearing on the sidewalks."
Related content: