Poetry Benches Enhance Safety Harbor Public Library Grounds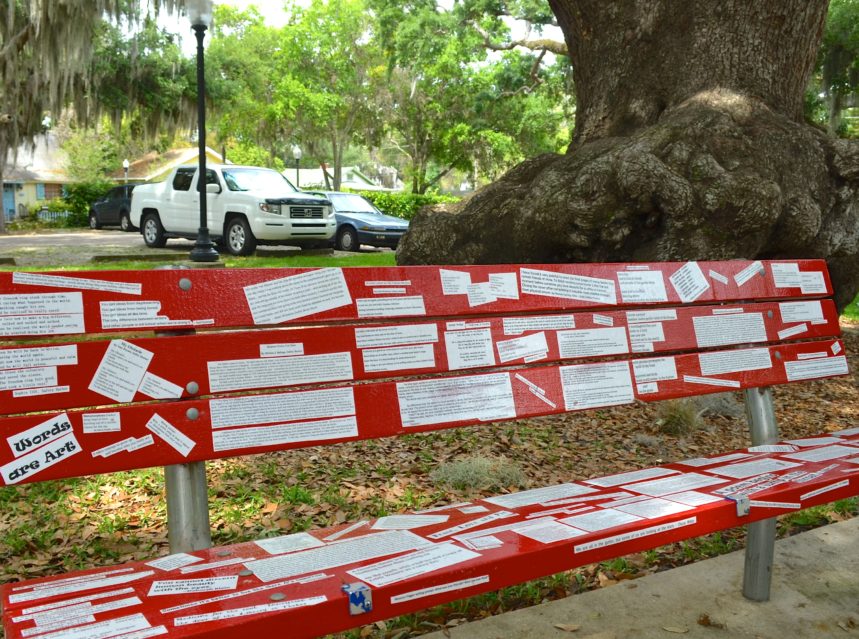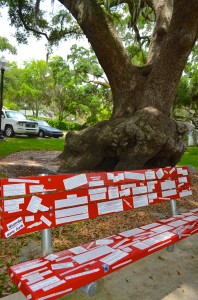 Laura Kepner has undertaken many complex and demanding projects since she's been living in Safety Harbor, including co-authoring a book about the city's history, organizing writing and poetry groups and teaching writing classes to kids at the library and the cultural center.
But of all the things she has been involved with, creating a set of benches overlaid with poetry verses to replace the old benches behind the Safety Harbor Public Library might have been her most trying task to date.
What started out as a simple idea – showcasing the works of local writers and poets using Chrissie Elmore grant funds – turned into a two-year odyssey complete with creative delays, construction snafus and other unforeseen problems.
But a couple of months ago, the fruits of Kepner's labor finally came to bear as the benches were finally installed around the Elf Tree behind the library.
"The bench project started about two years ago when I saw a call for artists from Safety Harbor's Public Art Committee," Kepner told Safety Harbor Connect. "I saw the project as a way to showcase the work of some of our local poets and writers."
"People from Tampa and even Holiday and New Port Richey submitted words," she added. "There are a lot of Safety Harbor writers and poets too, and that's exciting – to see the diverse talents of friends and even strangers who enjoy writing."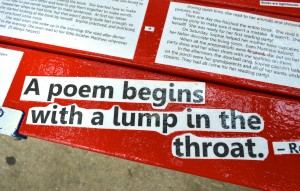 The long road from inspired idea to completed project was fraught with trials and tribulations for Kepner and the people who assisted her.
Early problems stemmed from stacking the boards that were covered with the written verses and coated in resin; the poetry peeled off when the city's maintenance department went to install them.
"I didn't have enough experience with such a project to know that the boards should not be stacked, so I wasn't about to forewarn the people at that department and the boards were stacked," Kepner explained.
After redoing the benches, the next delay came while Kepner and her writing partner, Warren Firschein, worked on their book,  A Brief History of Safety Harbor, Florida.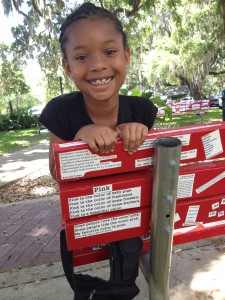 "I was working with Warren to write the book, so there were several months where I wasn't able to do anything with the boards because I was researching and writing from sunup to sundown," Kepner said.
"The 12 boards were all over my house – leaning against a wall, lying across a dining room table … I'm pretty sure my family thought I'd never finish the project. It was sort of a joke with my friends too."
But eventually Kepner did complete the project.
And now that the benches have been installed, she is thrilled with the finished product.
"I'm really proud of them. Proud of the poets and writers who participated too," she said. 
"We had a poet as young as six and one who was 88 when he gave it to us. That was Romeo Lemay, and he has since passed on. I'm glad he knew his words were part of the project."