Commission rejects ordinance amid pressure from concerned residents
To say Safety Harbor City Hall was filled to capacity on Monday night would be a gross understatement—prior to the start of the bimonthly commission meeting, the public safety officer questioned whether the room was over the maximum occupancy limit.
Among those packing the place were former mayors, commissioners and board members, as well as dozens of concerned residents, merchants and property owners.
(Full disclosure: One attendee who fell into the singular category of former commissioner/merchant/property owner/concerned citizen was the owner of Safety Harbor Connect's parent company, Richard Blake.)
The SRO crowd had assembled to hear the commission address a number of proposed amendments to the city's comprehensive zoning and land development code…actually, much of the group was there for one ordinance in particular, 2016-13, which deals with the thorny and complex subject of legal nonconforming lots.
During prior reviews of the Downtown Master Plan, the commission agreed to consider requiring two or more legal nonconforming lots developed with one home straddling the lot lines to be combined into one parcel prior to the issuance of a demolition permit. The planning and zoning board approved the proposal last month.
City staff stated the ordinance would affect just 49 downtown parcels in the R-1, R-2 and TND-2 districts.
But the idea of losing property value, combined with being told how to develop their lots, was enough to get more than two-dozen residents to voice their vehement opposition to the proposal on Monday.
"I own two of those 47 properties…and if I want to sell them as two lots, I think I should be allowed to do that," Diane Turscak said, noting the number of nonconforming lots in the city's R2 district. "You're making two of my properties much less valuable, and I paid property taxes up the ying yang on those properties."
"I also have one of those 49 properties that you have been talking about," Brian LaPointe said. "My grandfather has owned that piece of property…for over 40 years…and this ordinance has no right to tell me that I can't build two houses or one house on it."
"That's what zoning is for," he continued. "You guys don't need to get involved. You've got better things to worry about than worrying about somebody's property."
"A very wise man once lectured me—(he) said you never mess with another man's livelihood. And if you go forward with this vote, that's exactly what you're gonna be doing," resident and occasional Safety Harbor Connect blogger Mick Elliott said.
"A lot of people look at real estate and property as their savings account, their retirement investments," he added. "They've been sitting on these properties knowing that if they need them, there's two lots there. And then out of the blue, you're going to arbitrarily just say we don't want you to build on that?"
The amount of blowback from the public was not lost on the commissioners, who offered their suggestions as to how to handle the issue when the discussion turned back to them.
"I think we should eliminate this ordinance," Commissioner Carlos Diaz quickly said.
"I'd like to change it," added Commissioner Janet Hooper, who earlier floated the idea of giving property owners a choice of replatting the properties as one or two lots when faced with the decision.
Following more back-and-forth, in which the city attorney stated the current situation is an administrative nightmare for staff, and the city manager suggested removing one portion of the ordinance, giving property owners the choice Hooper suggested, Diaz reiterated his desire to flat-out reject the item.
"I think we should just reject 2016-13 and pick it up later on," he said, eliciting a boisterous round of applause from the crowd as the clock approached midnight.
"I would support rejecting it," Commissioner Cliff Merz added.
"I'll vote 'aye' with the hopes of revisiting it," Mayor Andy Steingold said of the replatting issue, and with that, the item passed by a vote of 4-1, with Vice Mayor Andy Zodrow voicing the sole 'nay' vote.
After the meeting, a number of attendees congregated outside the building, rejoicing over the decision in spite of the late hour.
Later, one longtime outspoken critic of the commission emailed Safety Harbor Connect his thoughts.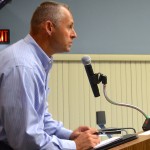 "Just three days prior to the city commission voting on this proposed ordinance, I spoke to many affected home owners. Not a single one was made aware that this was being pushed through," Jim Barge, who recently filed a lawsuit against Mayor Steingold, wrote. "The Commission slips things into law, knowing that most residents don't pay attention to what they are doing. Residents assume that their interests are being looked out for, but this is clearly not always the case."
"Residents finally stood up and said 'enough is enough'," he added. "There are 17,000 residents in Safety Harbor, and all of them need to be taken into consideration and listened to. I'm proud that affected residents came out and spoke up."
"Hopefully all residents will remember this, come election time."
Related content: