Mayor Steingold silences residents following tree ordinance discussion
Did you know that if you planted a sapling when Safety Harbor officials decided to revise the city's grand tree ordinance, today it would be a full-grown oak that would be subjected to the very standards they were looking to set at the time?
Okay, so maybe that's not quite true.
It just seems like it's been a long time since the City Commission began overhauling its existing grand tree ordinance, a process that started last October and has encompassed countless hours of discussion and debate during numerous workshops, town hall meetings, commission meetings and appeal hearings dedicated to the topic.
The City's latest exercise in watching trees grow, and telling people where to plant them, came on Monday night, when the commission held what essentially amounted to a town hall meeting – a single item on the regular meeting agenda – to address a dozen potential changes to an ordinance that is less than nine months old.
However, unlike typical town hall meetings, or any city government meeting, for that matter, Mayor Andy Steingold refused to allow any public comments at the conclusion of the two-hour discussion, a move that infuriated one resident who's been affected by the ordinance.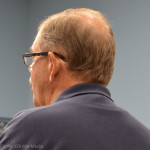 "That's a freaking joke!" Michael Oberacker, who recently lost an appeal for unknowingly violating the tree ordinance, told Safety Harbor Connect after he stormed out of City Hall following Steingold's decision.
"They're being too heavy handed to land owners in this town," he added. "We own the property, we take care of the property, and now not only are they telling us where to plant trees on our property, they won't even allow us to speak up about it. It's wrong."
Oberacker wasn't the only one who was upset with Steingold's decision.
Outspoken Safety Harbor businessman and property owner Jim Barge, who called out the commission at their last meeting on November 2, earning a stern rebuke from Steingold later that night, was also upset he wasn't allowed to speak.
"You have a City Commission that's clearly not resident focused," Barge said.
"There were several residents in attendance at the commission meeting that wanted to speak, and the mayor, even knowing this, did not give residents the opportunity to promote public input."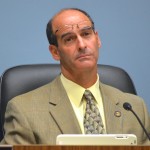 The reason behind Steingold's snub was simple — since the commission was taking no action on the proposed amendments, meaning they weren't voting on anything, they were not required by law to seek public input on the subject.
"I am not going to take public input at this point, only because we did not vote on anything at this time," Steingold said after returning from a five-minute recess he called at the conclusion of the discussion.
"All we did was have a discussion amongst ourselves and it's going to come back on the agenda for changes, at which time I will take extensive public comment from anyone who wishes to be heard at that time."
Steingold then suggested that anyone who did wish to comment send an email to city hall expressing his or her thoughts on the matter.
The move, while legally sound, was definitely curious, since the mayor has been known to allow comments on any agenda item, including presentations and proclamations, over the course of his two terms in office.
Safety Harbor Connect reached out to Mayor Steingold for his comments about the matter, and he reiterated his stance about not being legally required to take public comments in that situation.
"Due to Sunshine laws all dialogue between commissioners on a matter that may be voted on must occur at a public meeting," he wrote via email. "Last night there was merely dialogue amongst the commission and no action was taken. Thus, we did not take public comment."
"However, the commission will and always has taken public comment prior to action items on the agenda. The commission values the input of its citizens which is how we improve the operation of city government."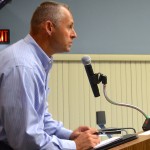 According to Barge, the move was directly aimed at silencing them.
"It was absolutely aimed at two people that wanted to speak, myself and Mr. Oberacker, that wanted to make comments that were not of their thinking," Barge said. "If the people that wanted to speak were supporters of his position, he would have opened the meeting to public comment."
"The mayor's lack of taking comment that is contrary to his own thinking shows that he is out of touch with the average citizen who he is elected to represent."
This morning, Mr. Oberacker left a comment directed at the mayor on an article we wrote about the denial of his appeal, and he pulled no punches:
All due respect, the stunt pulled last night if not illegal was truly unethical. At the beginning of the meeting and in the agenda it stated that citizen comments would be heard. Just before your 5 minute break you even stated that citizens would be heard next. Then after you and the commissioners conferred in the back room you came back and would not allow citizens to be heard. You well knew several of us were there to weigh in on this topic. This was a shameful use of power on your part and backed up by the commissioners.
The issue is set to come up again when the Commission votes on the proposed changes to the tree ordinance.
Stay with Safety Harbor Connect for full coverage of this topic.
Related content: