Residents, officials square off over the future of the Safety Harbor
What began as a discussion about home sizes and lot setbacks in the downtown district evolved into another lengthy, impassioned debate about the future of Safety Harbor, as dozens of residents packed City Hall Monday night to voice their thoughts on the subject.
The citizens attended the latest City Commission meeting to speak out about proposed changes to the city's land development code, including combining setback requirements into one category, eliminating the one-story structure maximum lot requirement, and applying a maximum lot coverage requirement for some two-story homes in the R2 district.
But after the commissioners addressed the agenda item and Mayor Andy Steingold opened the floor to audience members, the topic turned into a referendum on the smart growth movement, the viability of the downtown district and the past, present and future of Safety Harbor.
"I moved here because Safety Harbor is a quiet country town," longtime resident Richard Laird said.
"And what you're doing to this town now, with this growth, isn't growth. It's actually going to destroy the city. It's going to turn it into an urban center. It's not going to be Safety Harbor any more."
Laird's comments kicked off a procession to the podium, with many speakers venting their long-held thoughts, and frustrations, about the issue.
"We know that arguing the minutiae of setbacks may seem insignificant, but we feel it's a symptom of misplaced focus," Kevin LaBrie, one of the founder of the Smart Growth Safety Harbor movement, said.
"Our city has been paralyzed by entrenched fighting driven by fear. We want to show our leadership that we want to move forward by using vision and positive change, rather than fear and desperately clinging to the past."
While smart growth supporters are in favor of a variety of home sizes in the downtown district, there are many residents who oppose the influx of larger houses in the area.
"I don't think putting oversized houses on a bunch of lots is going to drive everybody to come to Safety Harbor," Chip Thomas said.
"People come to Safety Harbor for the small quaint atmosphere that it is, and there's people clamoring to get in the city. So any of the people that really aren't satisfied here ought to leave."
One newcomer to town spoke about being situated directly in the crosshairs of this debate.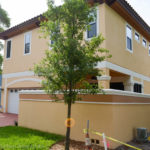 "I am one of those people who is building a big home," Diane Bouida, a former Westchase resident who's moving to Iron Age Street, said.
"I want to tell you, I have never been approached by so many nasty people while sitting on my front porch, telling me how I am ruining their city."
"I have been so saddened by some of the people who have approached me on my front patio, I actually I am thinking of moving," she added. "And it's sad. I am so saddened, I'm ready to sit here and cry in my chair when I hear the hostility of the people, how they are towards us building a home."
After hearing all of the emotional comments from the residents, the commission members followed with equally emotional, and in some cases strongly worded, rebuttals.
"We really should be focused on these ordinances, but I feel compelled to talk about the discussion that happened," Vice Mayor Andy Zodrow said, adding, "Smart growth, that's a great name for you guys. What's the alternative, dumb stagnation?"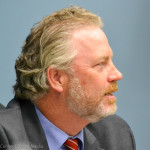 "I'll support Smart Growth's idea for spurring economic development on Main Street, but understand the limitations of local government," he continued. "Local government can't re-create Main Street. It's private. It's private businesses, its private companies, its private buildings…local government can't just go in and wipe everything clean."
Zodrow finished by imploring the Smart Growth group to "come up with a plan" to bring before the commission, adding, "I'm confused about what Smart Growth really wants…I don't even know why you guys are here on this ordinance. I'm really confused about what you expect."
Commissioner Janet Hooper said she was " a little stung by some of the comments," while Commissioner Carlos Diaz admitted the downtown "could get better" and he would like to see residents of the community to come together to discuss the issue without animosity, a thought echoed by Commissioner Cliff Merz.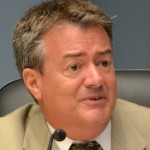 "I don't think Smart growth is bad, per se, and the battle lines isn't good for our community," Merz said. "We need to discuss openly, and rationally, and with a certain degree of respect for each other to be able to understand where you're coming from."
"There's nothing right or wrong here," he added. "Whether we want houses closer together or farther apart, there's not a right and wrong to that. There's just the perception of the community that surrounds it."
Finally, approaching 11:00 p.m., Mayor Steingold addressed the issue, and he also called for unity in the community.
"I'm quite saddened at the divisiveness in our community. I really am," Steingold said.
"I think we each need to respect the others opinion's and philosophy. No one should move into the community and be tormented because they built a house one way or another."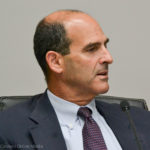 The mayor went on to counter those who are claiming the downtown district is slowly dying by saying they are the ones guilty of fear mongering, and while he also admitted things could be better, he said the high property values and multi-faceted neighborhoods are some examples that the town is doing well.
"We're not trying to stunt or stop or try to reduce (property) values," he stated.
"When you start looking around the county, our values are some of the highest around the county. So when you say it's all falling apart or broken or dying, we must be doing something right here in Safety Harbor."
"The community has been going, I believe, in a pretty good direction," he added. "Can we do better? We can always do better…but we're all up here trying to work together for your benefit."
"I think we're doing pretty good, so the sky isn't falling, everyone. We're keeping your taxes low, we're providing the best possible service we can provide you, and we're up here and each of us is taking this heart."
The commission is scheduled to discuss the ordinances again next month before voting on the proposed changes at a later date.
Related content:
Note: This article has been edited to clarify the next step in the process regarding the ordinances, as well as to reflect the area of the proposed zoning changes.