SHAMC Singer Songwriter Festival Fills Safety Harbor With Sound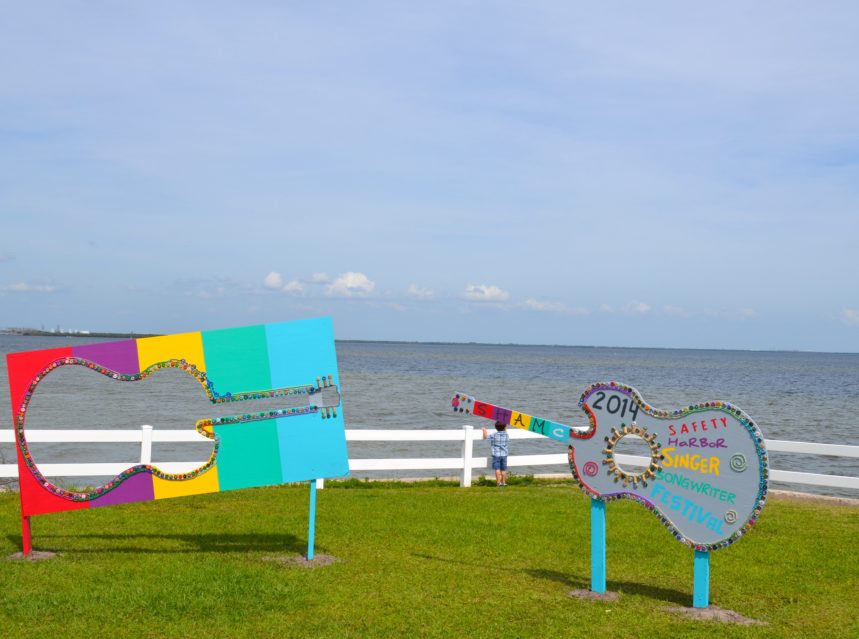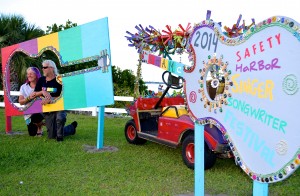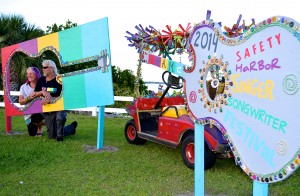 Stilt walkers on Main Street and 'seahorse' people by the shore.
Free concerts at the Gazebo and the Safety Harbor Museum and Cultural Center.
James Taylor's son playing electronica dance music at a jam-packed after hours party.
These were a few components of the just completed Safety Harbor Singer Songwriter Festival, a five-day smorgasbord of sights and sounds that flooded the city with a variety of musicians and their fans and infused a new kind of culture into the community.
"The festival reached its goal – to have a really great experience for the musicians as well as festival goers," festival co-founder Todd Ramquist said on Sunday evening. "We're very happy with how it turned out."
Indeed throughout the event, which kicked off on Wednesday with free lead-up concerts at the Gazebo and concluded on Sunday night, there was nothing but praise for the the city, the festival and Ramquist and his partner Kiaralinda and their legion of dedicated volunteers.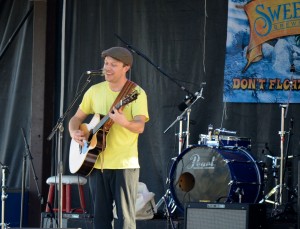 Boston born singer-songwriter Ryan Montbleau, who played the main stage on Saturday afternoon, was thoroughly impressed by the whole scene.
"I got a good feeling as soon as I entered this town. Everybody is so friendly," Montbleau, who has been performing 150+ shows a year for more than 10 years, said after his set. "It's relaxed but not too relaxed. People still seem to be getting stuff done."
"And you can tell Kiaralinda and Todd care so much about what they are doing," he added. "I've played everything from huge amphitheaters to small clubs, and this has been one of the best-run festivals I've ever attended."
That kind of complimentary talk was the norm from musicians who ranged in fame and popularity from up-and-coming to singing/songwriting superstars.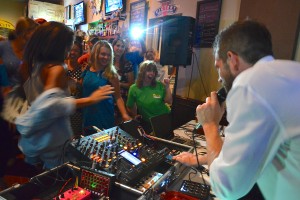 Ben Taylor, son of legendary silk-voiced crooner James and 70s power balladeer Carly Simon, put on perhaps the most dazzling performance of the weekend.
After playing a saucy but soft set at the waterfront park on Saturday night, the always shoeless singer let his eclectic side show with a techno deejay gig at the 8th Avenue Pub afterwards.
While Taylor manned the controls at the mixing board and other bands played out back, patrons packed the pub and danced the night away, making for a memorable end to the first official evening of the festival.
"It was a pretty cool evening in the Harbor," pub owner Mike Kelly said the next day.
Taylor, who was mobbed by (mostly female) fans after the set, put the whole experience into words as only he can.
"Safety Harbor was an interesting shaped glass for me to pour my music into," he said. "I didn't know how it would turn out, but I'm glad it took the shape that it did."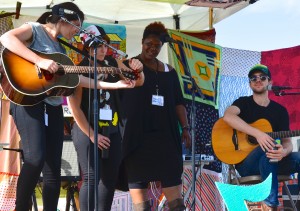 The festival wrapped up on Sunday under crystal clear skies with another batch of memorable performances.
Florida artist Emily Kopp pulled a trio of performers – Daphne Willis, Kyshona Armstrong and David Jacobs-Strain – onto the marina stage for a collaboration that was conceived that day.
"We rehearsed in the green room about an hour before we performed," Kopp admitted after the surprisingly smooth sounding song.
"I definitely believe this event has been a hub for collaborations like this, a great chance to make new musical connections."
Meanwhile, following a visually stunning modeling show featuring a slew of beautiful people dressed in elaborate, recycled-material outfits, Georgia based Randall Bramblett and his band brought the crowd to its feet with a rousing collection of soul-infused tunes.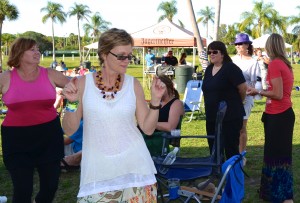 The set had people dancing all around the park grounds and really exemplified the fun-loving nature of the event.
One woman who came out just to see Bramblett perform said she was extremely pleased with the festival.
I think it's a fabulous event – great food, great beer, great location," Denise Moore of Tampa said.
"I liked all the creative aspects of the event, from the spokesman (slam poetry founder Mark Kelly Smith) to the fashion show," she added. "It's been terrific, and I'll definitely come back next year."
Funny Moore should mention that, because even as the inaugural festival was wrapping up, the organizers were already looking towards next year.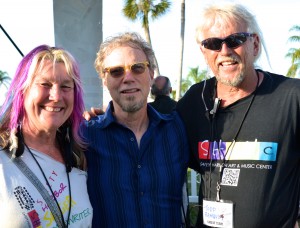 "We were already tweaking things as this one was happening, moving the merchandise tent and other small things," Kiarlinda said.
"We're artists and we go to a lot of festivals, so we're always looking at what we can do to make it better."
"We know we can build on this," Ramquist added.
Check out some of these memorable sights from the 2014 Safety Harbor Singer Songwriter Festival: