Snow Fest returns to Safety Harbor this Saturday, Dec. 5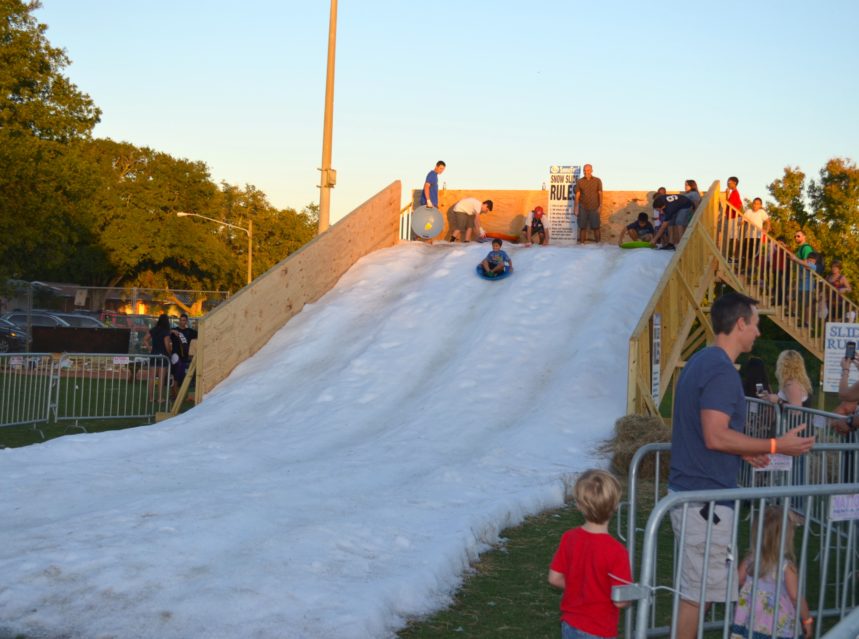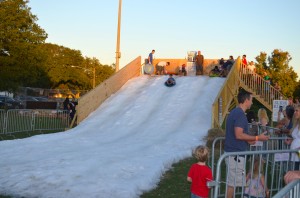 One of the more popular dates on the Safety Harbor special events calendar returns this weekend following a one-year hiatus.
Safety Harbor Snow Fest 2015, featuring a man-made snow ramp and other holiday related activities, takes place this Saturday, Dec. 5, from 4:30 – 8:30 p.m. at Safety Harbor City Park. Admission is free.
The previous Snow Fest organizers cancelled the 2014 event after six years when the nonprofit reportedly went out of business. So this year, longtime Safety Harbor resident Amber Lundgren and her family decided to continue the popular holiday tradition.
"I grew up here and I always knew Snow Fest was a great community event," Lundgren told Safety Harbor Connect. "So I knew if the opportunity ever came up, we'd want to jump in and pick it up."
Lundgren said Snow Fest 2015 will serve as a fundraiser for the Arms Wide Open Childhood Cancer Foundation, a nonprofit organization that raises money and awareness for pediatric cancer research.
Lundrgren, whose young son recently passed away from an aggressive form of cancer, said the purpose of the event is to raise money to fund a pediatric cancer research grant.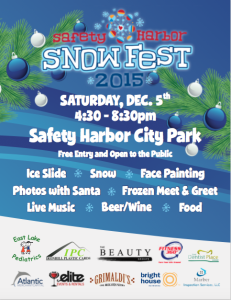 "We hope to raise $20,000 this year and $50,000 next year, when we have more time to organize the event," she explained, noting that while Snow Fest 2016 has already been scheduled with the City, she's only had about six weeks to plan this year's event.
"This is not about us or our family," she added. "This is something we wanted to do for our community and for pediatric cancer research."
In continuing the event's tradition, Lundgren said Snow Fest 2015 will combine some things old and some things new.
In addition to a 10-foot high ice slide with multiple lanes, a play area where it "snows" every 15 minutes, and a snowman building area, Snow Fest 2015 will feature *a Frozen-themed meet & greet, where kids can get their pictures taken with their favorite characters from the hit Disney movie, plus bounce houses, a rock climbing wall, concessions and more. (*Note: These additional attractions charge small fees.)
Beer and wine will be available for purchase this year, as well as food from Brady's Backyard BBQ and other area restaurants. Also, Santa Claus is expected to make an appearance on the back of a Safety Harbor fire truck.
Lundgren said that she hopes the immense support her family has received, both in organizing the festival and during their difficult time, translates to a fun, family friendly event that brings the community together and benefits a great cause.
"Snow Fest 2015 has the potential of not only impacting the lives of those in attendance, but can also impact so many children with pediatric cancer," Lundgren said. "So please join us on December 5."
For more information on the 2015 Safety Harbor Snow Fest, visit Facebook.com/SnowFest2015.
Related content: