Cypress Meadows Holiday Festival approved for Dec 9 at Safety Harbor Waterfront Park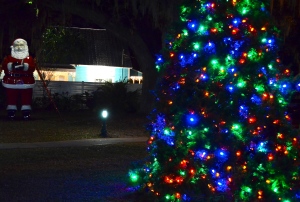 The winter holiday season is always a special time in Safety Harbor, with or without the presence of snow.
From the traditional Christmas tree lighting ceremony at the John Wilson Park Gazebo to the city's annual Holiday Parade, which attracts hundreds of participants and thousands of spectators to Main Street each December, there's no doubt holidays in the Harbor offer small town charm that's hard to replicate in other cities.
This year, a new event will join Safety Harbor's holiday special event schedule, as Cypress Meadows Community Church received approval from the City Commission earlier this week to host a Holiday Concert & Festival on Saturday, December 9, 2017 at the Safety Harbor Waterfront Park.
The free event is scheduled from 5:00 to 8:00 p.m. and is open to the public.
"Special events division received an application from Cypress Meadows Community Church requesting the use of City property to host a holiday concert and festival event to create community holiday spirit at the Waterfront Park venue," Leisure Services Director Andrea Norwood said when the agenda item was addressed Monday night.
"The December 9th event is unique in that it offers a wide variety of holiday entertainment—live entertainment included—arts and crafts and children's activities."
According to the application, the purpose of the event is to "help put folks in the holiday spirit" with a "festive family oriented event offering entertainment for the whole family."
Under the 'descriptions of activities' category, organizers listed a "concert featuring local musicians' renditions of holiday favorites as well as original songs," adding "holiday festivities may include Santa, various crafts, inflatables, mini train ride, ice skating, snow, reindeer, etc…"
Prior to voting on the item, Commissioner Andy Zodrow asked if the event would interfere with access to the boat ramp at the marina.
"No, it's at the Waterfront Park," Norwood noted, reinforcing the City's initiative to relegate events to the spacious park whenever possible to ensure the pier and boat ramp remain open to the public.
After receiving unanimous approval from the four commissioners in attendance, Norwood shared her thoughts on the new holiday event.
"The City is busy planning for the upcoming holiday season, and to add a Holiday Concert to the schedule of activities is very exciting," she said via email.
"This unique free, family oriented holiday event will feature live, local entertainment, arts & crafts, and children's activities. It's a great opportunity to get the community into the spirit of the season with holiday music & activities within our beautiful Waterfront Park setting."
Safety Harbor Connect reached out to representatives of Cypress Meadows Church for comment on the Holiday Festival but did not receive a reply prior to the publication of this article.
Related content: