Organizer responds to Safety Harbor Snow Fest 2015 complaints
High temperatures, inadequate parking and an unexpectedly large turnout were some of the factors that combined to make Safety Harbor Snow Fest 2015 a less-than-enjoyable experience for some patrons on Saturday, according to event organizer Amber Lundgren.
The festival, which returned to Safety Harbor after a one-year hiatus and served as a fundraiser for the Arms Wide Open Childhood Cancer Foundation, attracted more than 12,000 people to City Park, Lundgren said. The huge turnout forced people to park as far as 3 miles away, leading to disgruntled guests who then had to wait in lengthy lines, only to learn that the snow machine had to be shut down due to the heat.
In a statement that she shared with Safety Harbor Connect, Lundgren thanked those who attended Snow Fest, which she said raised more than $25,000 for the cause.
"Thank you to all of you who came out to the Safety Harbor Snow Fest," Lundgren wrote. "Your support was so incredibly overwhelming that it caused high volume and a lot of crowds. While we apologize to those who were disappointed, we are thankful for the incredible support for the Arms Wide Open Childhood Cancer Foundation."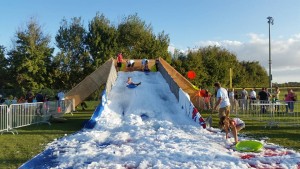 "The struggles some of us felt tonight are nothing in comparison to what the children we are supporting face on a daily basis," the statement continued.
"We have learned many lessons from this year's event. We always welcome your input, ideas, and especially volunteers to help. We wish you and your families a very happy and healthy holiday season."
While some people took to social media to complain about the ordeal they went through on Saturday, others were quick to point out the purpose of the event.
"There may have been a couple unfortunate issues with the event," local restauranteur Aaron Stewart wrote on the Safety Harbor Connect Facebook page. "Number one being the snow machine breaking. This event is for a great cause (Childhood cancer research) coordinated by a great family though. This was their first year heading the event. I am sure they will look at each issue and work to improve those areas for a more efficient festival next year."
"Let's not be so quick to judge someone that is out there investing their time to do great things," Stewart added. "I commend the effort put forward and look forward to seeing the event evolve and grow in the future."
Though Lundgren originally said prior to Snow Fest 2015 that they would be hosting the event again next year, she admitted the circumstances surrounding what transpired on Saturday forced her and her family to rethink that decision.
"I don't think we will be picking up the event next year. Their (sic) are just too many variables," she wrote. "We will do our due diligence and give ourselves enough time to create an event that is more manageable and for a smaller audience."
"We learned a lot from this event," she added. "More importantly, we raised over $25,000 for pediatric cancer research."
Did you attend Safety Harbor Snow Fest 2015? If so, what are your thoughts about the event? Let us know in the comments below.
Related content: