Safety Harbor Merchants Irate Over "Signgate"
Anyone who's ever tried to open a new brick-and-mortar business knows adhering to city and county codes and following proper procedures can be one of the most taxing aspects of the entire process.
For some Safety Harbor merchants, the experience of opening a new business in the city has been nothing short of a nightmare.
The owners of two new businesses that were recently profiled in our Safety Harbor Business Beat appeared before the City Commission last week to voice their concerns over the treatment they have received from certain staff members in regards to signage for their shops, and the trio minced no words when it came to how they felt about the situation.
"When we decided to open our business… we received our first "welcome" from the City, not a handshake or a pleasant hello or even a kind word," Kelli Chickos, who along with her husband, Steve, opened the Dog House of Safety Harbor in July, told the commission. "Instead, several days after we opened, we were rudely visited by a code enforcement officer and blasted with all of our violations, illegal signage and other apparent — except to us — business improprieties."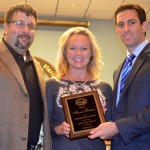 "This shouldn't be a surprise, because as we have been told over and over again, this is typical of the way the City treats new business owners," she added. "There is an unfortunate and quite frankly embarrassing reputation that extends far beyond our city boundaries about the awful treatment the City of Safety Harbor delivers to its new business owners."
While the Chickos', who earned the Mayor's Award of Excellence in 2013 for beautifying their downtown residence, don't dispute the fact that some of their signage was in violation of city code, they do take exception to what they claim is a blatant pattern of selective enforcement in town.
"As new business owners, our intent was not to turn this into 'signgate,'" Steve Chickos said during the meeting on September 7. "Unfortunately, this is where its escalated due to the inconsistent interpretation of the city's sign code, selective enforcement of the city code, and what many believe to be an outdated sign code."
Chickos then went on to display photos of other business in town with signage similar to his, including vinyl banners attached to the building, signs exceeding the maximum height over a roofline, and excessive window decorations.
"The pictures show…that selective enforcement is in fact taking place," he said.
After the Chickos' spoke, Gregory Cilmi, who opened the Organic Goddess Juice Bar and Temple Goddess Dance Studio in July, took the issue one step further.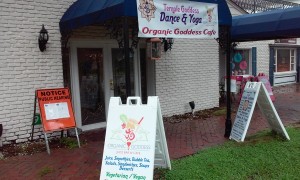 Cilmi said after he was notified by code enforcement of his violations and asked to receive them in writing, he was shocked to find an orange "Public Hearing Notice" sandwich board sign outside his shop listing his violations a few days later.
"Yesterday I found a notice of public hearing posted in front of my store. It had two pages of violations," he said. "This was my first written warning as to what was wrong with what I have."
"Why was it served to me this way? It was almost an embarrassment. That's my main concern."
City Manager Matt Spoor addressed the merchants' concerns, stating that the city isn't perfect and he believes the issues can be corrected, and the commissioners eventually agreed to hold a workshop in order to gather more input and information on the issue.
"I think we should look at the whole sign issue, like we did with the trees," Commissioner Carlos Diaz said in reference to the city's extensive tree ordinance process. "We need to put something comprehensive together and put a moratorium on violators."
"I think it's a great suggestion," Commissioner Janet Hooper added.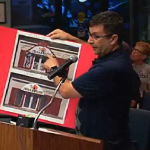 While Cilmi and the Chickos' said they are happy the city is willing to look at revising the sign code, they believe the real problem stems from the enforcement of the code, not so much the code itself.
"The overall problem is selective enforcement and the also it's making up enforcement," Cilmi, who claimed the CE officer slammed his door so hard the glass rattled and then deposited the orange sign in front of his shop days later, told Safety Harbor Connect.
"There's a way to talk to people, and his way is abusive to the point of harassment, he added. He's a loose cannon."
"Addressing it is a step in the right direction, but it's not just about the code, it's about the culture of enforcement," Steve Chickos, who said he's had numerous run-ins with several city officials over the last few weeks, told Safety Harbor Connect.
When asked if he felt the whole situation has put a damper on opening his new business, he was characteristically straightforward.
"In Safety Harbor, oh very much so," he said.
"We love it here. We've invested in this town," he added. "But there's too much gray here in regards to the code enforcement. And I'm not a gray person. I like consistency."
Related content: