Merchants, officials meet to discuss Safety Harbor sign code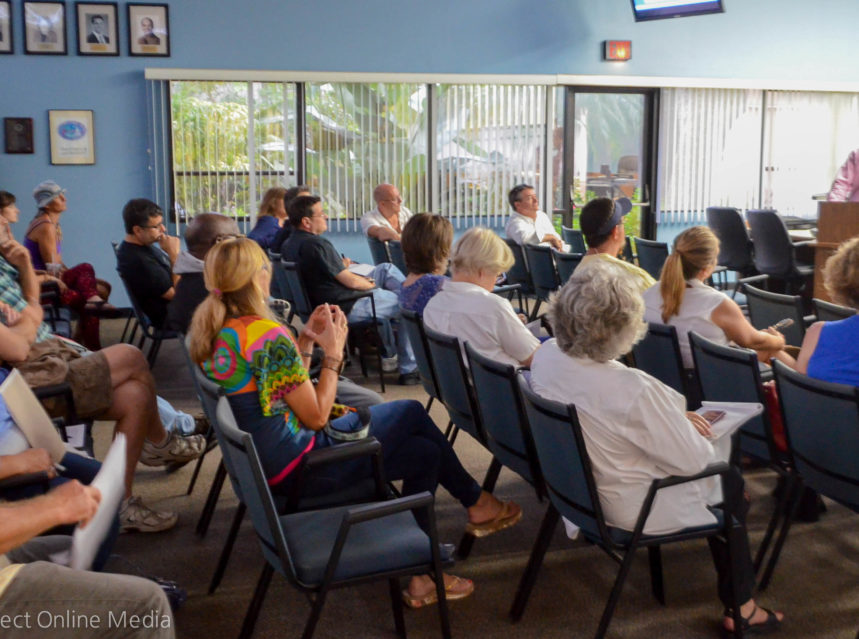 If you're a downtown Safety Harbor business owner, chances are you can't get the classic Five Man Electrical Band song, "Signs," out of your head, you probably rented the M. Night Shyamalan thriller, Signs, from Netflix recently, and you might be reading the Hardy Boys Mystery #15, "The Sinister Signpost," to your kids at night before bed.
More than likely, you never want to hear the word 'sign' again.
Safety Harbor's sign code has been a hot topic in town lately, ever since a couple of new business owners voiced their displeasure with certain aspects of the code before the City Commission last month.
But the issue had been simmering long before Steve Chickos, owner of the Dog House of Safety Harbor, labeled the situation "signgate" after his appearance before the commission in mid-September, as everything from sandwich boards to banners to window signs have been the subject of heated debates over the past several years.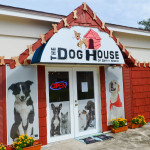 City officials decided to get a handle on the situation by hosting a town hall meeting on Monday night to address the merchants' sign code concerns. And by all accounts, the informal workshop was a success.
"I thought it went well, it was a good turnout," City Manager Matt Spoor, who served as the meeting moderator, told Safety Harbor Connect. "There was a lot of positive dialog between the City and the business owners."
Representatives for the merchants agreed.
"I think the meeting was very positive," Clyde Hutchings, a Merchants of Safety Harbor (MOSH) board member and its sign committee chair, said.
"The City was open to hearing our comments, and we look forward to working with them in order to come to a fair resolution on the sign issues."
Spoor and Safety Harbor Planning Director Marcie Stenmark kicked off the meeting by going over the basics of the City's sign code, including what types of signs are allowed and which ones are prohibited, and after that, they took comments from the crowd, which was made up primarily of downtown merchants.
As Mayor Andy Steingold and City Commissioners Cliff Merz and Janet Hooper listened from the audience, a number of business owners expressed their issues with the code, most of which boiled down to one main thing: sign restrictions are hurting their business.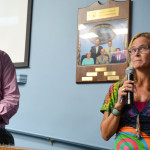 "My business dropped thirty-five percent," Tupelo on 4th owner Melissa Haist said happened after she was told to take down her signs. "And that's a big concern to me."
"If I don't have my A-frame sign out on the corner, I get zero (business)," Francie Rogal, owner of Francie's on 5th, said. "When my sign was out, people say, 'oh it's a good thing you have your sign out…or we never would've found you.' It's a big issue."
Some suggestions made to alleviate the problems included hiring a specialist to oversee issues related to the city's sign code; enacting a temporary moratorium on the prohibited signage; and allowing temporary variances for certain types of signs.
Spoor explained that staff will take all the feedback, including responses to a survey that's been set up on the city's website and a list of suggestions from MOSH, and report the findings to the City Commission.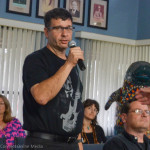 After more than a month filled with bad blood and hard feelings between the two sides, Chickos expressed his pleasure with the city's willingness to address the merchants' concerns.
"I just wanted to thank you for your open-mindedness for having this meeting," he said at the end of the hour-long session.
"Not every city does this, and I wanted to let you know it's appreciated on my end."
Afterwards, Mayor Steingold said he was also pleased with the progress being made on the issue.
"I think it was a constructive meeting with a lot of comments for the commission to consider," the mayor told Safety Harbor Connect. "These things can take a while. It's a process. But in the meantime, we'll have to see if we can take things on a case-by-case basis."
Related content: