Latest topic to rankle Safety Harbor residents? Sidewalks
Over the past year, Safety Harbor has seen a number of disagreements arise over a variety of issues affecting the community.
At times, trees, signs, parking and the recent smart growth movement have all led to acrimonious city meetings and spiteful social media commentary, although many of those once simmering situations have either been resolved or have abated of late.
However, another hot-button topic sprung up recently that has rankled some Safety Harbor residents, and it has the potential to be the next hot-button topic in town: sidewalks.
The latest controversy began at the September 6 city commission meeting during discussions about sidewalk waivers on North Bayshore Drive.
While considering a waiver request for three properties located along Hamilton Avenue and North Bayshore, Mayor Andy Steingold said he would like to see the city begin to acquire more sidewalk space on the east side of North Bayshore in order to create additional biking and walking space along the scenic waterfront drive.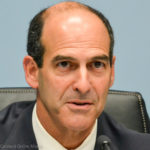 "It would seem appropriate that if there are no sidewalks on the west side of North Bayshore, that when residents seek a vacancy, the city ought to actively seek to get a little more right of way on the existing sidewalk on the east side so we can make it a little wider in the future," Steingold said.
"I'd like to have some sort of condition that would allow the city to try to get a little more right of way on the east side so in the future whether it be five years, 10 years, whatever, the city wants to expand the sidewalks, that we have the ability to expand the road. I think we out to actively be going out to try and expand the right of way."
Later in the meeting, during a discussion on amending the city's sidewalk waiver policy, Vice-Mayor Andy Zodrow said he was in favor of a proposal that would allow property owners to grant the city an easement on the east side of Bayshore in lieu of installing a sidewalk in front of their property on the west side.
"I support that," Zodrow said. 
Commissioner Janet Hooper recommended speaking to the residents before making any decisions, and sure enough, as soon as the floor was opened to the public, the dissenting opinions began to pour in.
"I have a real problem with what you're proposing here," North Bayshore resident Patty Kent said.
"I really do think that you do need to talk to all the neighbors, because for months now and for years, all I've been hearing is (about) personal property rights. But basically what you're all now proposing, if I'm hearing you correctly, is taking our personal property on North Bayshore and expanding it for a sidewalk."
"So before you pursue this, I promise you that this will be a problem if you do not open it up and talk to all the neighbors."
Ironically, Jim Barge, an outspoken businessman and longtime Steingold sparring partner, sided with the city on this issue.
"I'm actually for widening that sidewalk, believe it or not," Barge, who recently dismissed a lawsuit he had filed against the mayor, said.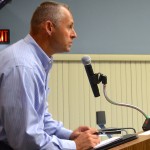 "I knew when I…built the home there, the tradeoff was that essentially, North Bayshore is like a public park, is essentially what it is. It's essentially a public park."
"Do I like the fact that people are just walking essentially in my living room? No. But that was a tradeoff when I built the home."
The discussion pretty much wrapped up after that, but that didn't mean the issue was dead.
During the most recent commission meeting on Monday night, Patty Kent's husband, Chris, appeared during the audience to be heard portion of the agenda, carrying copies of a signed petition with him, and he let it be known in no uncertain terms how the North Bayshore residents feel about their property rights being potentially violated.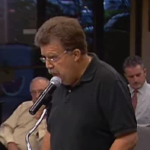 "The people we spoke to on North Bayshore are angry and upset that the city would even begin this discussion without notifying the residents and talking to them," Kent read from a letter penned by his wife, who was unable to attend due to a family emergency.
"Not only are my husband and I upset for that reason, but a disturbing trend seems to be occurring, in which property owners impacted by potential decisions of the city commission are not notified until after the fact."
"When is the city going to learn that transparency is not only necessary, but is expected by the residents?" Kent continued reading. "This type of action, or inaction, creates an environment of anger, frustration and distrust. The North Bayshore residents are asking to be included in the discussions going forward not told what city intends to do after decision has been made."
Kent then used his own three-minute allotment to call out Barge, who was not present at the time.
After the meeting, the mayor spoke to Safety Harbor Connect, and he attempted to quell residents' concerns about the sidewalk subject before it blew up into a bigger issue.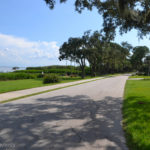 "This all started during a discussion because someone asked for a sidewalk waiver," Steingold said. "There wasn't going to be any adverse taking of the property. I do understand people being upset if that were the case. But it was a discussion only."
"On that street, there are some areas with no sidewalks, and some with sidewalks to nowhere," he continued. "So it may become an issue with foot and bike traffic where it would behoove us to install a sidewalk on that side of Bayshore. But it would be by permission only. We're not saying we're taking your yard or land. If they said no, obviously it wouldn't happen."
Stay with Safety Harbor Connect for any additional coverage of this issue.
Related content: