Baranoff oak lighting draws backlash for Smart Growth group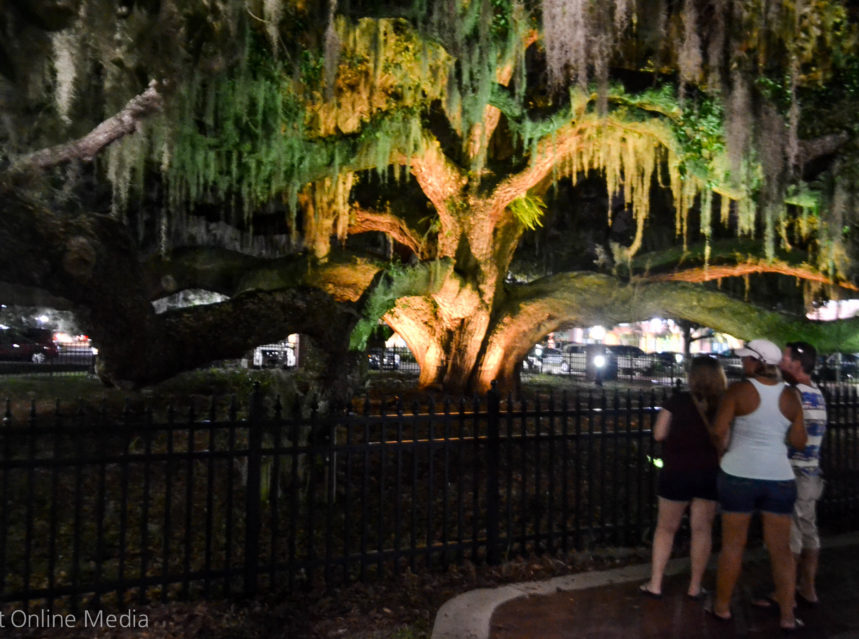 What started out as a simple idea to showcase the historic Baranoff oak tree, and possibly earn some goodwill in the community, has resulted in more backlash for the embattled Smart Growth Safety Harbor group.
Organizers for the group, which is based on a national initiative to promote walkable, vibrant downtowns in communities across the country, hoped that purchasing and installing new lights would not only showcase the historic oak, considered to be the oldest such tree in the county, but also help bridge the wide chasm that was revealed between SGSH advocates and their detractors at the most recent City Commission meeting.
But with a crowd of roughly two dozen on hand on Third Friday to witness the unofficial yet city sanctioned event, no sooner had the 300+-year-old oak been uplit by six low wattage LED lamps, the outcry that the lights could be destroying the iconic tree began.
"Not good for the tree," Laura Dent, an outspoken Safety Harbor resident and founder of ghost and history tours in town, commented on a photo on the group's Facebook page.
"Please do your homework on artificial lighting on this type of oak," she continued. "Unhealthy for the trees. Scientists have proven. I will report to commissioners and mayor. Was this voted on?"
According to SGSH founders Kevin LaBrie and Victor Curti, their plan was approved by city officials.
"It was approved by the city, or it never would have been considered," they replied to the comment.
Indeed a quick check with the city revealed officials have been aware of the group's plan since being approached by LaBrie and Curti last month.
"Kevin and Vic met with me in July and said they wanted to purchase new lights for the tree and did we have a problem with that," City Manager Matt Spoor said on Monday, adding they have received numerous complaints about the issue since Friday.
"I told them we normally don't say no to citizens who want to donate to the city, as long as it's within reason."
Spoor said they then consulted with city arborist Art Finn, who said the lights would not cause any damage to the great oak.
"After I met with them, I asked Art if there would be any negative affect to to tree, and he said no," Spoor said. "He said there's only an issue if you wrap lights around the tree, because it can strangle them."
City staff then removed the old spotlights and set up the wiring for the new LEDs, and the Smart Growth group was given permission to host the lighting ceremony.
"We didn't see it as a city event," Spoor said. "But they're gathering in a public space, they're donating the lights to the city, and it's their Constitutional right to assemble, so we said fine."
LaBrie said they used low-impact LEDs that are lower wattage equivalent (60w) than the spotlights being utilized by the city. The lights are on photocells and will only run for a few hours per night.
"It's a symbol of Safety Harbor, and we were always curious why is was not lighted more," LaBrie said, noting the city had been planning to replace the two existing spotlights in the near future.
"We believe the tree needs to have more focus on it to help celebrate it."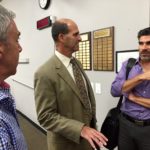 But before the warm glow from their efforts to bring attention to what has largely been on overlooked landmark in town had worn off, he and Curti were lamenting the overwhelming negativity the group has encountered from some residents, and even officials, in the city.
"This is above and beyond what we ever expected when we started this," Curti said from the Baranoff site in front of the Safety Harbor Public Library on Friday.
"I mean we're not getting anything out of this, contrary to public opinion. But the backlash has been much more harsh and nasty and intense than we ever envisioned."
"Nothing about what we're doing is anti-tree," LaBrie said. "We have 21 protected trees on our property, and we were the first ones to get a permit under the new tree ordinance."
"We're trying to show there is common ground if you look," Curti added. "There is common ground. Unfortunately some people are unwilling to meet us there."
The pair said despite the recent setbacks, they are going to meet with city officials in the near future to answer questions about the organization and to develop a plan of action moving forward.
"We came here because we believe Safety Harbor has the perfect structure for a vibrant, walkable downtown," Curti said. "It could be the best in Tampa Bay with the right vision and the commitment to making it work."
Related content: