SHAMc grand opening set for Thanksgiving weekend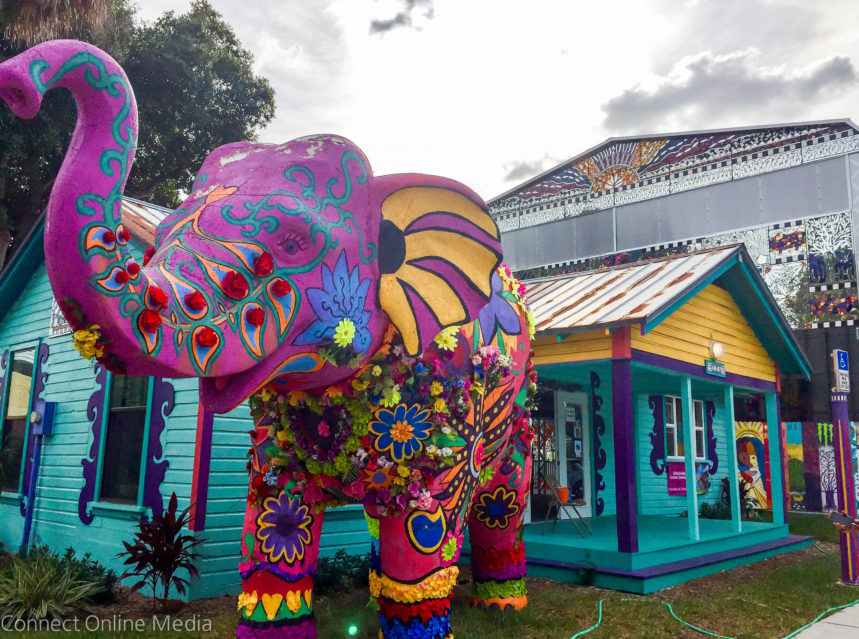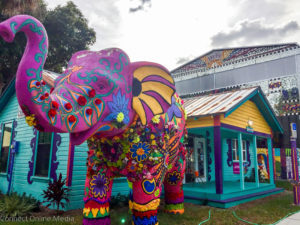 It's been a long time coming, but the Safety Harbor Art and Music Center, or SHAMc, is finally getting its grand opening over Thanksgiving weekend later this month.
The event, dubbed SHAMcGivinG-the Grandest Opening EVER!, kicks off on Friday, November 25 at 4:00 p.m. and has been five years in the making, going back to 2011 when local artists Todd Ramquist and Kiaralinda won a $50,000 grant from Pepsi designed to help fund community projects across the country.
A number of delays on the massive project, which transformed the old Rigsby home on Second Street North into a creative wonderland, complete with a studio/workshop area, a towering, mosaic-mirrored-walled concert space and a giant pink elephant out front, led to the long wait for the opening.
But now that opening day is almost here, the Safety Harbor Songfest founders couldn't be more excited.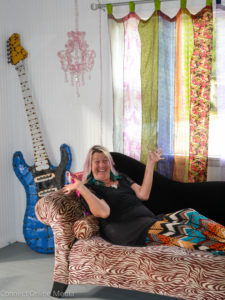 "Finally!" Kiaralinda told Safety Harbor Connect last week.
"It's been a long time coming," Ramquist said. "But we stayed patient, worked with the city and now we're finally going to see the results of everyone's labor."
"It's been five years in the making, but what people don't realize is we've still been running it, just not out of this location," Kiaralinda added.
"We've had concerts at our house, next door at Sideshow, down at the Waterfront Park and other venues around town. But this facility gives us a home base for our SHAMC Collective and other organizations and helps create an art and culture corridor here in downtown Safety Harbor."
Looking at the SHAMsGiving schedule, the opening weekend promises to erase any memories of how long it took to get the venue opened.
The festivities kick off on Friday with a harvest table potluck at 4:00 p.m., followed by a community mural painting, a community mosaic project, and live music featuring Bing Futch.
Saturday's activities start at 10:00 a.m. with a continuation of the mural and mosaic project, plus performances and a People's Parade at dusk, with live music all day long.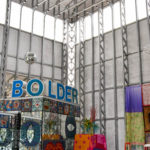 The party wraps up on Sunday beginning at noon with the conclusion of the mural and mosaic projects, followed by readings from members of the Safety Harbor Writers and Poets group, as well as more live music.
"We're going to have at least 10 Songfest artists, including Gareth Asher, Ryan Montbleau, Callaghan and Daphne Willis, plus local musicians as well," Ramquist said during Third Friday last month.
"And Kumpa and Katie Bush are going to help us update the mural on the wall at Cello's, so that should be really cool."
"It's going to be three days of great music, great art, fun and frivolity!" Kiaralinda added. "We can't wait to see everybody there!
If you go:

SHAMcGivinG-the Grandest Opening EVER!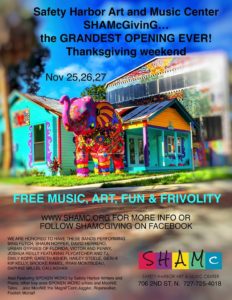 FRIDAY, NOVEMBER 25, 4PM – 10PM
-Harvest Table Potluck: Bring leftovers or a dish to share – make it artful, if you can!
-Community Mural Painting
-Community Mosaic
-Live Music including Bing Futch
SATURDAY, NOVEMBER 26, NOON – 10PM
-Community Mural Painting
-Community Mosaic
-Performers: MooNiE the Magnif'Cent: Juggler. Ropewalker & Foolish Mortal!
-People's Parade (before dusk):
-Before you arrive, decorate a dollar store umbrella, wear your BLINKY headdress (if you own one), come as you are, don some colorful clothes or go come in COSTUME, Then, put on a smiling face and walk or dance with us in our parade thru parts of Safety Harbor.
-Live Music: All Day long including Urban Gypsies of Florida
SUNDAY, NOVEMBER 27, NOON – ???
-Community Mural Painting
-Community Mosaic
-Safety Harbor Writers & Poets, Rhonda J. Nelson and some Tampa Bay Poets with original readings
-More Live Music!
*Note: Times subject to change
MUSICAL ACTS INCLUDE (to date):
Aimee/Kurt, Bing Futch, Brooke Ramel, Callaghan, Daphne Willis, Dave Herraro, Emily Kopp, Gareth Asher, Geri X, Hailey Steele, Joshua Reilly featuring Flycatcher & TJ Weger, Kip Kelly, Ryan Montbleau, Urban Gypsies of Florida, and Victor and Penny.
For more information on the SHAMcGivinG-the Grandest Opening EVER!, visit Safety Harbor Art & Music Center.com or visit the event's Facebook page.
Related content: