Safety Harbor Art and Music Center Gets a Sideshow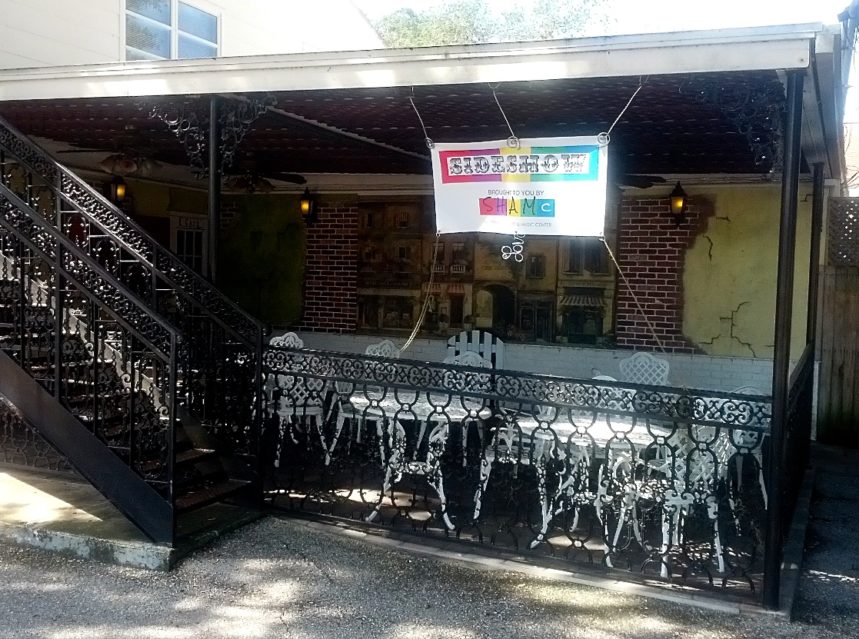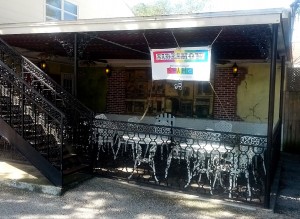 Good news, Harborites: there's a new place in town dedicated to art, music and community gatherings, and it's located in a very familiar spot.
Sideshow, an offshoot of the neighboring Safety Harbor Art and Music Center, occupies the space that was home to the Fleur de Lis patio cafe for the past three years; it's located around the back of Tapping the Vine restaurant at 737 Main St, just a few hundred feet from SHAMc.
For Todd Ramquist and Kiaralinda, the local artists behind SHAMc, the Safety Harbor Singer Songwriter Festival and owners of the famous "bowling ball house", Sideshow gives them an ideal alternate venue.
"When we heard that Regina had vacated that space, we thought, oh, it's right around the corner from SHAMc," Kiaralinda told Safety Harbor Connect, referring to Fleur de Lis owner Regina Aamacha, who recently relocated her business to Clearwater.
"It's going to be an events driven place, for the most part. So while SHAMc's being constructed, we can have a space to host events other than at our house."
"It connects SHAMc to the house next door to the venue," Ramquist added. "It might be a space we end up keeping forever, but for now, it's perfect."
The artists, who are currently in Grand Rapids, Michigan wrapping up their annual summer tour of national art festivals, said the first event to be held at Sideshow will be Oktoberfest this Friday, Oct. 17.
The Halloween-themed party will coincide with Third Friday and feature a pumpkin decorating contest, entertainment such an accordion player and a yodeling contest, beer and wine and, of course, cool costumes.
"What better way to open Sideshow than with a Halloween party?!" Kiaralinda asked. "It's going to be so much fun!"
Following Oktoberfest, Sideshow will ramp up its live music event schedule in November.
"A couple of Songfest artists will play Sideshow in the coming months, including Victoria Vox on November 9 and Charlie Mars on the 16th," Todd said. "Plus we've got some other special things planned."
As if that is enough, the couple is hosting a party at the Tampa Bay Lightning game on Tuesday, Oct. 28 to benefit SHAMc.
There are three different ticket options for the game, some of which include food and drink with the group on the arena's party deck.
"Songfest coordinator Melissa Mabe came up with the idea, and we thought it would be a great way to show people in the Tampa Bay area that SHAMc exists," Kiaralinda explained.
"We're hoping if we get enough people, we'll be able to ride in the Zamboni or get our group on the Jumbotron."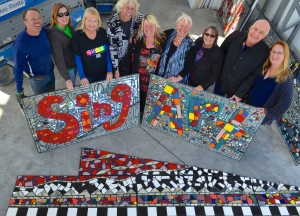 Todd and Kiaralinda said they are not sure when the music center, which has been under construction for more than two years, will finally be finished.
The combination of busy contractors, bad weather and the time consuming process of creating and installing the large mosaic tiles that adorn the outside of the two-story facility, have all had a hand in slowing the project down.
But in the meantime, they are happy they have a new venue like Sideshow that can fulfill their needs while benefitting the community.
"We're super excited about it," Kiaralinda said. "It's a precursor to SHAMc and a perfect place to get the community involved in more things that we are doing."
"It's all about having a way to contribute to the community," Ramquist added.
For more information on Sideshow, the Oktoberfest event and the party at the Tampa Bay Lightning game, visit the Safety Harbor Art and Music Center's website or Facebook page.
Related:
Ed. Note: A correction was made to this article regarding the names of the artists who will be performing at Sideshow in November.