Robin Zander embodies 2016 Songfest's "We Are Family" theme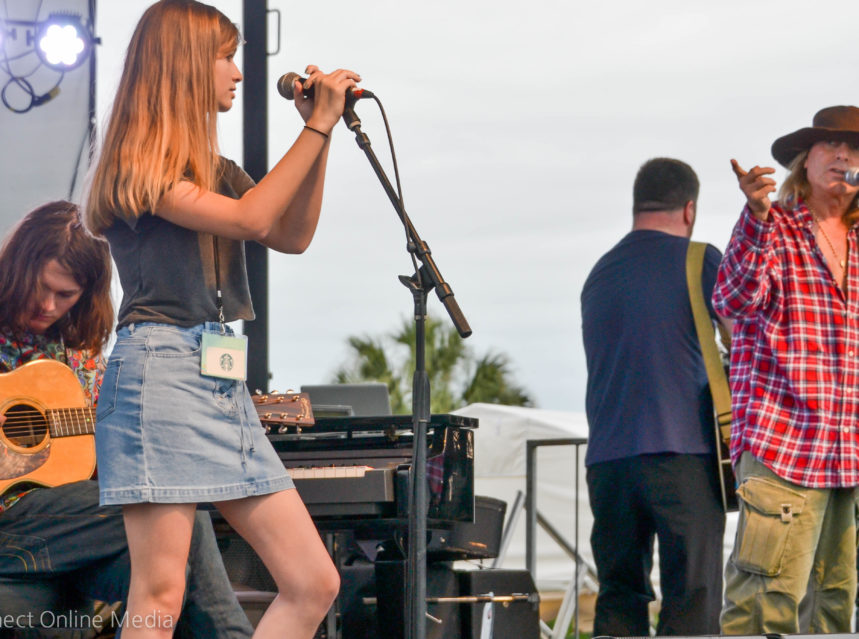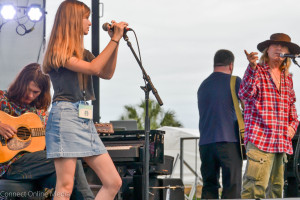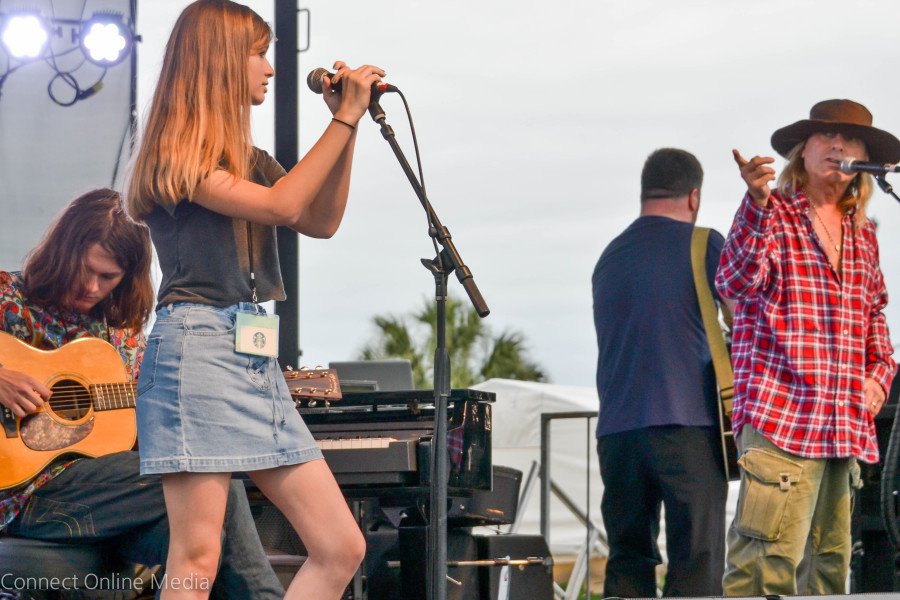 The 2016 Safety Harbor Songfest was being promoted on social media with the hashtag #songfestfamily.
The clever marketing campaign could be taken two ways: not only do festival organizers Kiaralinda and Todd Ramquist consider their legion of supporters, volunteers and collaborators as one big family, but many of the artists that played over the weekend were related, or at least connected, to each other somehow.
But amidst a lineup loaded with siblings, spouses and partners, it was Cheap Trick's Robin Zander who perhaps best represented the "we are family" theme, as the longtime Safety Harbor resident and soon-to-be Rock and Roll Hall of Fame inductee shared the stage with his son, Robin Taylor Zander, and daughter, Robin-Sailor Zander, for the first time ever on Saturday evening.
"That was incredible right here, because it was the first time we've all done that," Zander told Safety Harbor Connect immediately after his 75-minute set.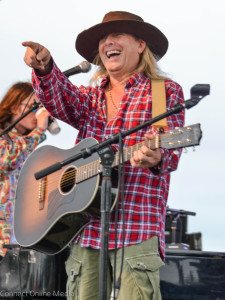 "We just threw it together today, and I think it worked out pretty good."
The collaboration drew load applause, and even some tears, from those who braved the dreary conditions for the first day of the third annual Songfest.
With his wife, in-laws, friends and fans in the audience at the city's Waterfront Park, Zander, who along with his band mates will be enshrined in Cleveland on Friday, and his talented offspring played a number of songs that touched on themes of family and community, things that are very dear to his heart.
"When I first moved here, I lived on Countryside Boulevard," the rocker, sporting his signature hat, told the crowd during the intro to one of his songs. "I always wanted to write a song called "Countryside Boulevard," but instead I wrote an album called Countryside Blvd!"
Zander proceeded to play a soulful track from that album called "Loves Comes", and by the time he closed out his set with a pair of Cheap Trick classics, "Surrender" and "I Want You to Want Me", with Robin Taylor, he had his adopted hometown in the palm of his hands.
"My son was born on Countryside Boulevard, I've lived here a long time, and this community has always been special to me," Zander said after signing autographs and posing for pictures behind the stage following his show.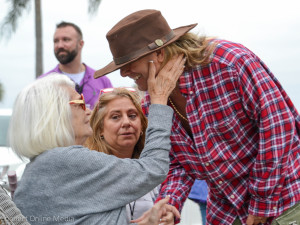 "It's just the total atmosphere," he said of his decision to live in the Harbor. "Great people, the wonderful bay. My wife's family lives here, and we really enjoy the community a lot and try to do our best to support everybody."
That support extended to Songfest organizers; Zander revealed he originally thought he would be unable to attend due to scheduling conflicts, but ultimately, he was able to make it.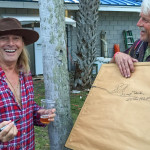 "My first reaction was I was busy, I couldn't do it," he said. "But I called Todd and Kiaralinda back and said what the hell, I'll do it. I'll make it work somehow. So I got on a plane in Chicago at 4 o'clock this morning and made it here in time to do this show with my son, who he flew in from Nashville just for this event."
While he was autographing a photo of the Hall of Fame for Ramquist, Zander said he was overwhelmed with Cheap Trick's inclusion with the greats of the industry.
"I think the Hall of Fame is a special thing, and it kind of took us by surprise," he admitted.
"I'm very proud of the band. I've never won anything before, so this is newfound respect, I think. I finally won something!"
Zander also expressed strong support for the Songfest.
"We support this event wholeheartedly, and we hope that it continues every year," he said. "Eventually were going to have a real strong music festival here every year. It's an art community that deserves something like this."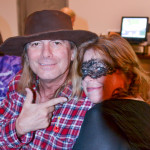 The first night of the festival closed with a raucous performance by Otis Taylor and Anne Harris, and afterwards, many artists and fans headed to Crooked Thumb Brewery for an after-party-slash-jam session.
While the likes of Chris Gelbuda, Tall Heights, David Jacobs-Strain and Dan Rodriguez played to a packed house, Zander quietly came in, sat with his family, posed for a few photos and chatted a while before leaving.
Asked how he could top this week, in which he shared the stage with his son and daughter for the first time, in the town where he's lived for more than 20 years, right before being elected into the Rock and Roll Hall of Fame, Zander had a very simple answer.
"You can't," he said. "You can't top it."
Related content: