Janet Hooper cleared of conflict by state ethics commission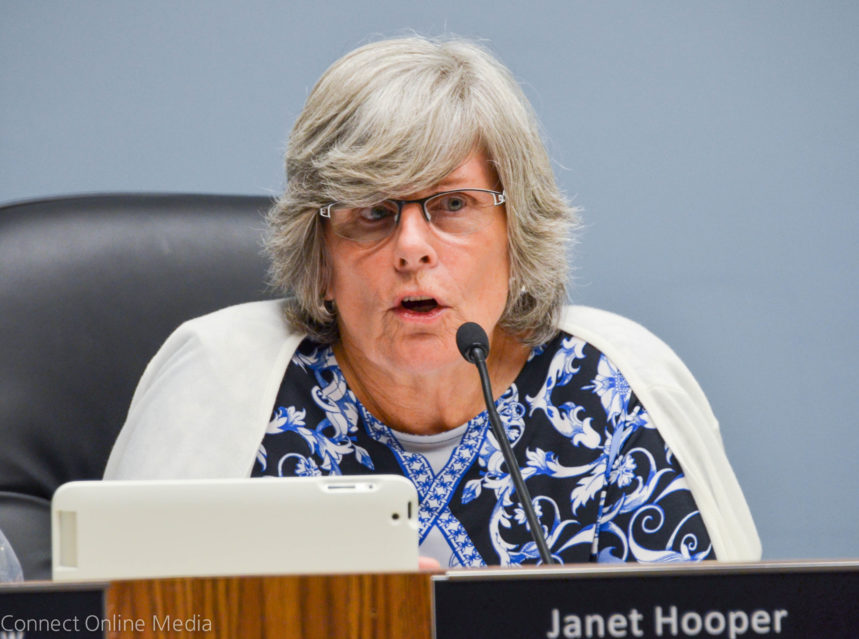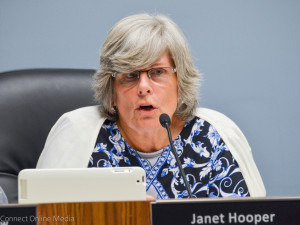 Before and after Janet Hooper was elected to the Safety Harbor City Commission last March, some residents raised questions as to a possible conflict of interest regarding her position as director of the Mattie Williams Neighborhood Family Center, since the City of Safety Harbor distibutes money annually to the local nonprofit.
Despite receiving assurances from the City Attorney Alan Zimmet, who reported that according to a state statue, elected officials are allowed to work for nonprofits as long as certain criteria, such as not voting on funding for the organization, are met, Hooper was forced to defend her position throughout a lengthy investigation conducted by the State of Florida Commission on Ethics.
Last week, Hooper, who during her election campaign and beyond insisted she wouldn't resign as director of the center, a position she has held for eight years, informed her fellow commissioners and the public about the results of the inquiry.
"For the last 10 months, I've had a matter hanging over my head, that five members of a faction decided to file an ethics complaint," Hooper said during her Commission Report on Feb. 1. "This matter has been fully investigated…and the commission on ethics found there's no basis of a conflict as alleged by the complainants, and that is has been dismissed."
"It cost a lot of money, a lot of taxpayer dollars, and personally, it took a toll on me," she added. "But it is now beyond us and we can move forward, and I can continue to serve as commissioner for the City. Thank you."
While the investigation may have been lengthy, the commission's ruling was brief. Here is a transcript of the findings, in their entirety: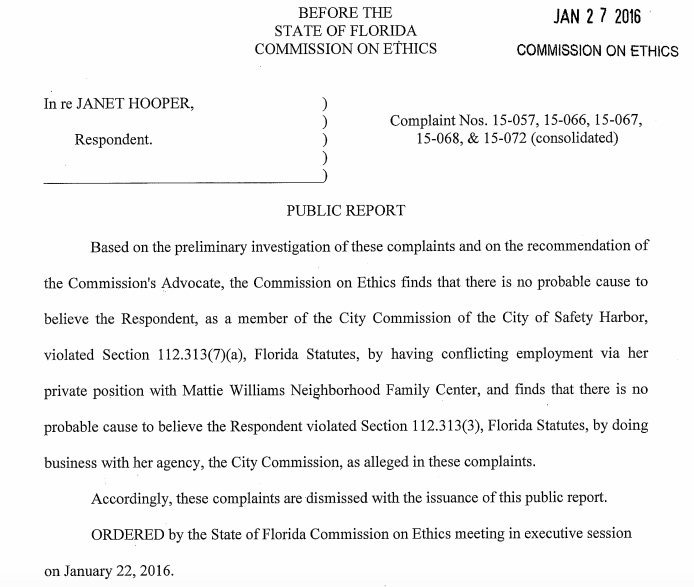 Following the meeting, Hooper expressed her desire to move on from the situation to Safety Harbor Connect.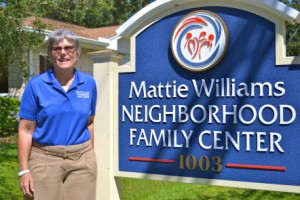 "The matter was fully investigated," Hooper wrote via email. "The Commission's Advocate from the Attorney General's Office recommended a finding of no probable cause; The Commission on Ethics found there was no basis of a conflict as a Commissioner as alleged by Complainants by having private employment with the Mattie Williams Neighborhood Family Center, or by the City doing business with the Center."
"The Commission on Ethics report should put this to rest," she continued. "I am looking forward to serving the residents as their Commissioner and providing leadership at the Mattie Williams Neighborhood Family Center going forward."
To view the results of the report regarding Janet Hooper's case, visit this section of the State of Florida Commission on Ethics website.
Related content: