Mattie Williams Center Continues Generous Holiday Traditions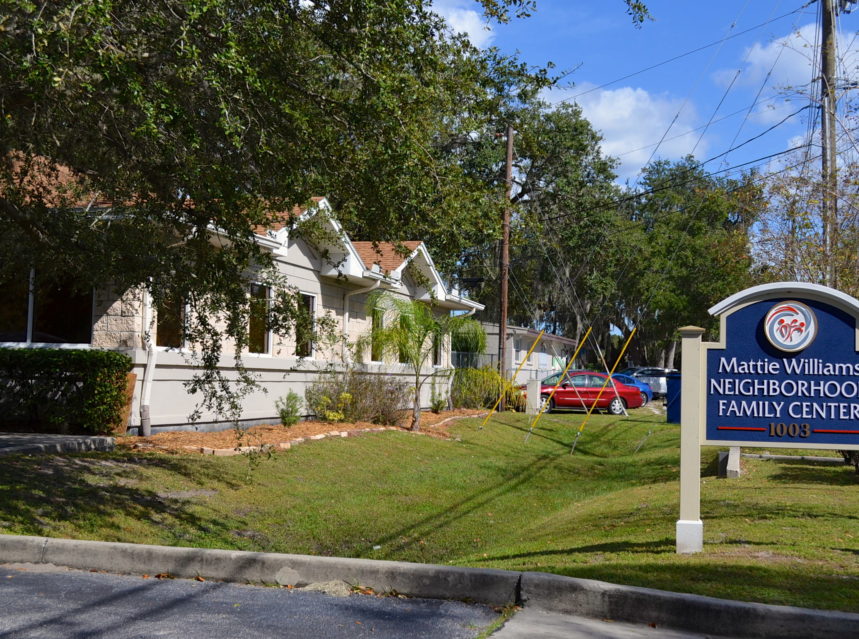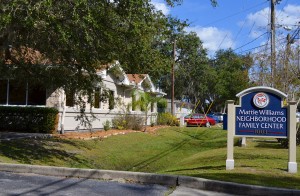 Thanksgiving is always a special time of year, as families and friends come together to celebrate a holiday that is marked by football, fixings and, of course, plenty of turkey.
One thing that makes Thanksgiving so special in Safety Harbor is the fact that people still have a place to go to eat a filling holiday meal, even if they don't have friends or family in the area.
The Mattie Williams Neighborhood Family Center will host its annual free Thanksgiving Day get together on Thursday, where anyone who lives in the area can come and enjoy a turkey feast with all the fixings, served on fine China with no strings attached.
"Thanksgiving Dinner at the Mattie Williams Neighborhood Family Center will be served from noon – 2:00 pm," facility director Janet Hooper told Safety Harbor Connect, noting the center is located at 1001 Dr. Martin Luther King Street North.
"It is free to anyone residing in Safety Harbor, Oldsmar, and north Clearwater who does not have a place to go this Thanksgiving."
Hooper stressed that the dinner isn't just for less fortunate members of the community the center normally serves; the purpose of the event is to unite anyone who has to spend the holiday alone.
"A lot of people come down here and their family is still up north, or their spouse passed away, or their families live too far away to see them on Thanksgiving," she explained.
"That's who this dinner is for. It's for anyone who doesn't want to eat a holiday meal alone."
Hooper asked that anyone who plans on attending the dinner RSVP to 727-791-8255 so organizers can get an accurate count of how many people they need to feed.
She said last year they had roughly 100 people attend the dinner, with the food being provided by the Safety Harbor Resort and Spa.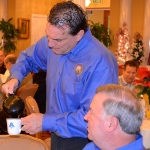 After the turkey day plates are cleared, that doesn't mean Hooper's duties are done.
In addition to the Thanksgiving dinner, the MWNFC hosts another pair of holiday events designed to generate donations for the nonprofit organization.
On Friday, December 5, the annual Mayor's Breakfast will be held at the Nielsen Center in Oldsmar beginning at 7:30 am.
The event brings the mayors of Safety Harbor and Oldsmar together to serve coffee to patrons who pay $25.00 per person ($250.00 for table of 8), with the proceeds going towards providing holiday gifts for children in need.
Tickets are available at the Safety Harbor Chamber of Commerce and the Mattie Williams Center.
The next night, Saturday, Dec. 6, the center will host its 8th annual Wreath, Toys and Joys event from 6:30-8:00 pm at the Safety Harbor Museum and Cultural Center.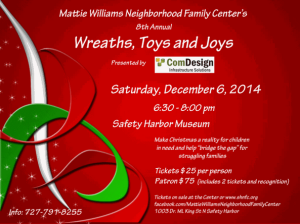 According to Hooper, the event features "great food donated by local restaurants, music, adult beverages, silent auction and live auction of wreaths decorated by local residents."
Again, proceeds go towards helping needy families during the holidays.
Tickets for Wreaths, Toys and Joys cost $25.00 and can be purchased at the center or online via its website or Facebook page.
Put all these events together and they add up to another busy holiday season for the Mattie Williams' staff.
But Hooper said the end results are worth the effort.
"It is all about the community, making Safety Harbor the best place to live," she said.
"We join together to help those who need it the most."
Related: