Safety Harbor Happenings: Paddle For Kids, Friday Bluesday
The weather has been unseasonably pleasant here in the greater Tampa Bay area this week, and if it continues, it should make for ideal conditions for the events happening in Safety Harbor this weekend.
On Saturday, May 2 from 10:00 a.m. – 5:00 p.m., the second annual Blake Real Estate Paddle For Kids event will take place at Safety Harbor Waterfront Park.
The event, which serves as a fundraiser for advanced newborn screenings, features three races — a Dolphin Dash for kids; a 3-mile Recreational Race; and a 7-mile elite race. In addition to the races there will be raffles, a silent auction, live entertainment, awards, a water slide and more.
"We're really excited about this year's Paddle For Kids event," Rick Blake, who owns Blake Real Estate as well as the parent company of Safety Harbor Connect, said.
"Last year we had terrific feedback, especially for a first year event, and this year we hope it will be even bigger so we can continue to help raise money and awareness for newborn screenings."
Entry fees for the three races are as follows:
Dolphin Dash – $5.00
Recreational Race – $35.00
Elite Race – $35.00
To register, go to paddleguru.com/races/BlakeRealEstatesPaddleforKids2015  by 8:00 p.m. on Friday, May 1. Note: There will be no on-site registration on race day; all registration must be done online.
The Blake Real Estate Paddle for Kids event starts at 10:00 a.m., but racers should arrive between 8:30 and 9:15 to drop off their boats/boards. Race Briefings with Gulf Coast Divers will be conducted at 9:30 before the 3-mile and 7-mile races kick off at 10:00.
After the initial races, lunch will be served courtesy of Poblano's Mexican Grill, and beer will be provided by Nolan's Pub. At around 12:30 the kids will take to the water in the Dolphin Dash, followed by the awards ceremony at 1:30 and the raffle and auction winners will be announced at 2:00.
Also, Boston Bill will be selling sunglasses and Good Vibes SUP will provide demo boards as well as selling cool paddle and beach gear.
For more information on the Blake Real Estate Paddle For Kids event, visit the event Facebook page.
To register by 8:00 p.m. on Friday, May 1,  visit paddleguru.com/blakerealestatepaddleforkids2015.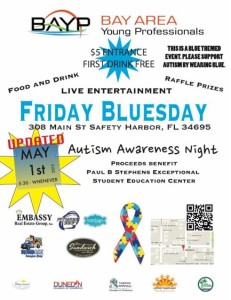 In addition to this sun-splashed event, there's another fun fundraiser taking place in Safety Harbor this weekend.
Friday, May 1, is now Friday Bluesday in town, as the autism awareness event hosted by the Bay Area Young Professionals was moved from Tuesday night to tonight.
"We moved the event from Tuesday due to the rain, and wouldn't you know it never rained!" Mercedes Ofalt, owner of the Sandwich on Main and the Safety Harbor BAYP rep, said.
"But we believe having the event on Friday will be a lot more and raise a lot more money for autism awareness."
Admission to the event is $5.00, and Ofalt said patrons are encouraged to wear blue to help raise autism awareness. Also, there will be live music by Ze' Band and food and drink provided by local Safety Harbor restaurants.
Here's what you need to know if you go to Friday Bluesday:
What: "

Friday

Bluesday", a blue-themed autism awareness event hosted by the Bay Area Young Professionals, a division of five local Chambers of Commerce
When:

Friday, May 1st at 5:30pm

Where: Outside of The Sandwich on Main, located at 308 Main St in downtown Safety Harbor
Details: All proceeds to benefit Paul B. Stephens School for Exceptional Students Multi Sensory Room. Entry fee good for 1 beverage and food; additional drinks will be available for purchase (cash only).
Cost: $5.00 admission
Info: Contact Mercedes Ofalt at 727-656-5868 or mercedesofalt@gmail.com
Great weather and fun events that benefit good causes – sounds like another fantastic weekend in Safety Harbor!
Related content: