Jolley Trolley to serve Safety Harbor for another year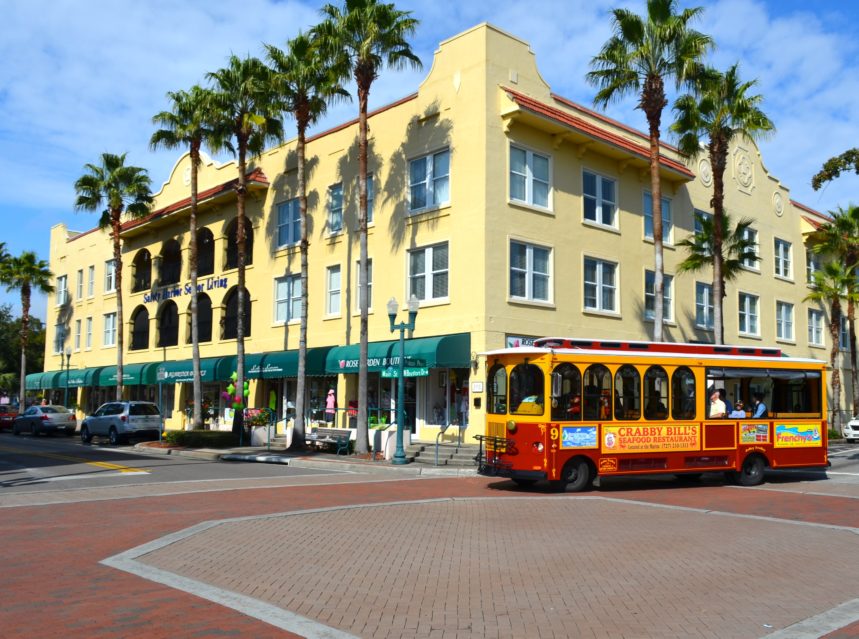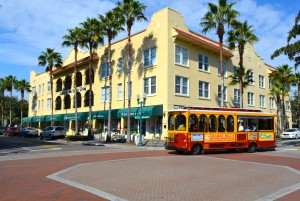 Last week, the Safety Harbor City Commission approved renewing its service agreement with the Clearwater based Jolley Trolley to continue the company's transit service in Safety Harbor for at least one more year.
After that, what happens is anybody's guess.
While they approved the FY 16 Jolley Trolley service agreement by a unanimous 5-0 vote, members the commission cautioned that if things like ridership numbers and advertising revenues don't improve, changes could be on the horizon.
"I think the Jolley Trolley is a great concept," Mayor Andy Steingold said when the item came up during the Sept. 21 commission meeting. "But every time I've looked when it goes by, I don't see anybody riding it," 
"This is something I was a big proponent for, and I'm still a big proponent," he added. "I think it's a great idea in concept. I guess time will tell how it pans out."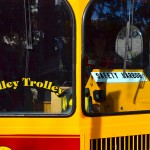 Most everyone affiliated with the subject agrees that the city's Jolley Trolley service, which started its Safety Harbor route in February of 2014, is at a crossroads.
Concerns about ridership numbers, advertising dollars and soon-to-be rising costs (a grant that funds the majority of the service is set to expire next year) have been expressed by officials and merchants since the city renewed the initial agreement last October.
In fact, officials for the newly formed Merchants of Safety Harbor, or MOSH, organization, which replaced the Safety Harbor Chamber of Commerce as an official partner in the agreement this year, have made improving the Jolley Trolley one of their top priorities.
"One of the things we find to be true is…advertising is not going on on the trolley," MOSH chairperson Mercedes Ofalt told the commission. "We referred to it just recently as the Frenchy's trolley, because that's all we see."
"So we are branding the merchants and taking this as a time to really advertise," she added. "That is probably one of the biggest obstacles that we see…and that is our main focus."
Ofalt said the only Safety Harbor merchant to advertise on the trolley is fellow MOSH board member and Tapping the Vine owner Howard Latham.
That lack of advertising revenue is problematic, as according to the agreement, part of the city's share comes from advertising costs.
(Note: The projected annual cost for FY 16 is $136,000, and it breaks down as follows: $40,000 – FDOT Service Grant; $30,226 – PSTA funding; $30,226 – City of Safety Harbor funding. Of the city's share, $20,226 comes from CRA funds, $5,000 is paid by the Safety Harbor Resort and Spa, and $6,250 is to be paid by the merchants, with $1,250 of that figure projected to come from advertising costs.)
Even more problematic is the fact that the FDOT grant that covers nearly a third of the trolley's funding is set to expire at the conclusion of this contract, meaning if revenues and ridership don't increase, the service in Safety Harbor could likely cease.
"FDOT is giving $40,000 and PSTA is giving $30,000, but after that three-year period, the three-year grant will be over…and all of a sudden the cost share is going to be potentially different," Commissioner Cliff Merz said.
"So at that time, it's going to cost more and make it more difficult to bring people on, because it's going to cost a lot more for the city and for everybody else," he added. "So this would be the time to make that push."
For her part, Ofalt said the merchants organization is going to do everything it can to make the Jolley Trolley service successful in Safety Harbor.
"I'm all for the Jolley Trolley, and there's ways we can show we're all for it," she said after a recent MOSH meeting.
"It's enhancing our city and enhancing our downtown, and it entices locals and and visitors to come here," she added. "I don't think we've given it a fair shake."
Related content: