Safety Harbor Jolley Trolley: What You Need To Know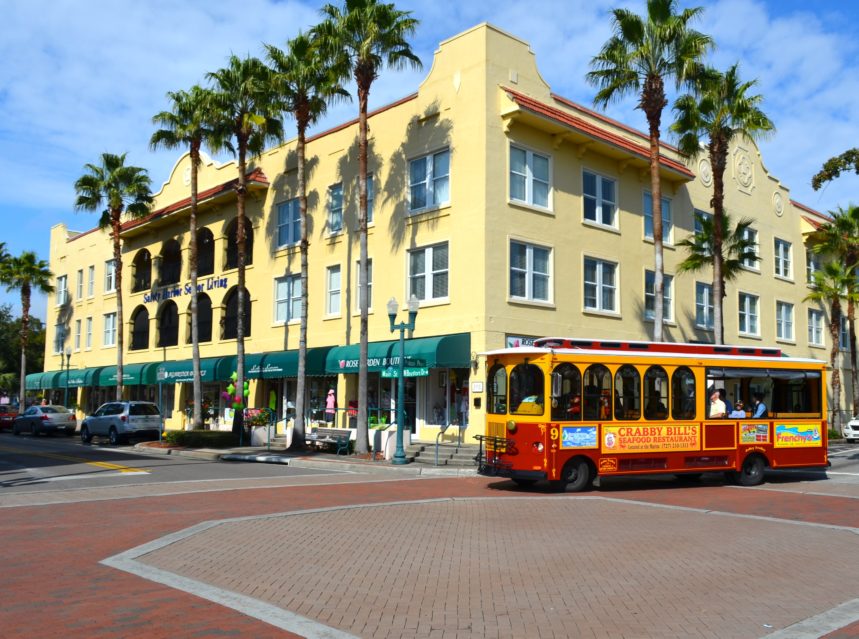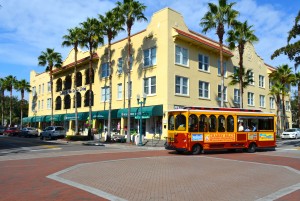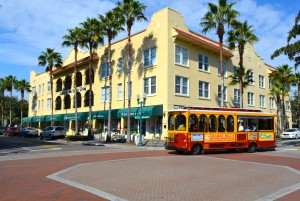 By all accounts, the City of Safety Harbor's partnership with the PSTA and the Clearwater based Jolley Trolley has been a success so far.
Two weeks in to the arrangement that will bring the bright red and yellow buses to town for at least the next eight months, officials are excited about the community's reaction to the service.
"We had 150 riders on the first Saturday," Jolley Trolley director Rosemary Longenecker told Safety Harbor Connect. "I heard early estimates were for about 70, so we more than doubled that."
"The phones have been ringing off the hook, and all the feedback has been positive. There has not been one negative comment," she added. "We're just really pleased and excited with the ridership and the response so far."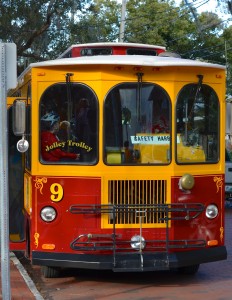 Longenecker shared the trolley ridership figures for the *first two weekends of service in Safety Harbor:
Saturday, 2/1 – 150 riders
Sunday, 2/2 – 11 riders
Friday, 2/7 – 25 riders
Saturday, 2/8 – 169 riders
(*Figures for Sunday, Feb, 9 were not available at the time of this publishing.)
City Manager Matt Spoor also said city officials are happy with the reaction to the trolley so far.
"We are pleased with the early support shown by our residents and Trolley enthusiasts," Spoor wrote via email. "The Safety Harbor Route looks to grow on our early successes and ridership figures."
Safety Harbor Connect recently asked our Facebook followers for questions and feedback about the trolley. Here are some of the responses:
-*My question is this: why is the safety harbor route not on the website? – Miles Griffin III

-Not everyone is online so you should also have hard copies of the schedule scattered around local businesses including The Westfield Countryside mall. Where can a person purchase passes? – Marie Szleszinski

-It is more important to be on the web-site because we are barely on their map due to the time of printing. It only has an arrow pointing to town. – Laura Macias Dent

-Where do we go to pick it up in SH? How often? – Danielle Ferreri

-We celebrated our friend's birthday Saturday nite worth a trip to Dunedin. We took the 5:28 trolley from the spa. The driver played happy birthday on the kazoo. It was awesome. We had 6:30 reservations at the smokehouse and were a little early so we stopped at the Living Room for drinks. We missed the 9 pm trolley so back to the Living Room for drinks and coffee and dessert. We got on the 10 pm trolley. When we got back to the harbor the driver told is she would be happy to stop anywhere in the main district of we wanted. A chant went up "Nolan's Nolan's". So in we went for drinks. I'm pretty sure this is what they envisioned and hoped for. – Susan Massarsky
In order to clarify any misconceptions and make sure residents are well informed about the service, Longenecker and Spoor answered the questions our readers posed in addition to other frequently asked questions.
(*Note: In regards to the map not being on the trolley website, Longenecker said the delay had to do with development deadlines with the company that handles their web content. She said she expected the online map to be updated with the Safety Harbor route information this afternoon.)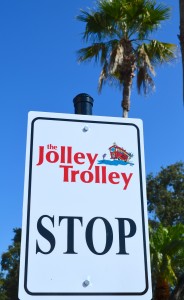 Q- What is the Safety Harbor Jolley Trolley route?
A-The Safety Harbor extension of the Jolley Trolley service runs from downtown Safety Harbor to downtown Dunedin, with a designated stop at Westfield Countryside Mall. (From downtown Dunedin, riders can take a connecting trolley that will take them to Clearwater Beach as well as other trolley destinations.)
Q- Where can I get on and off the Safety Harbor Jolley Trolley?
A- In town, the trolley has a designated stop at the Safety Harbor Resort and Spa and other PSTA stops along Main Street as well as one stop at SR 580 and McMullen Booth Road.
Also, Longenecker emphasized drivers will stop and pick up riders anywhere along Main Street and other downtown business districts, meaning passengers don't have to rush to specific stops to pick up the trolley.
Q- Where can I find the Safety Harbor Jolley Trolley route?
A- The trolley route is available online at clearwaterjolleytrolley.com under the "trolley route" heading. Click on the "Coastal Route" map to view the Safety Harbor route.
Q- Where Can I get a map of the Safety Harbor Jolley Trolley?
A- Printed maps are available in town at City Hall, the Spa and the Safety Harbor Chamber of Commerce. Also, the free, color maps can be placed at any local business or civic facility upon request.
Q- Where can I get Safety Harbor Jolley Trolley passes and tickets?
A-  Tickets for all service levels can be purchased on the trolley through the driver. Day passes only are available at the Chamber of Commerce. Drivers accept cash only and cannot make change. Longenecker suggested groups pool their money for fares, or riders could even pay a little extra if they don't have exact change since the Jolley Trolley is a non-profit organization.
Q- How much does the Safety Harbor Jolley Trolley cost?
A- Fares for the Jolley Trolley are $2.00 for a regular cash fare, $20.00 for a weekly fare and $65.00 for a monthly pass. There are also reduced rates for seniors, students and a "haul pass." Children 5 and under are free. Visit the "fares" section of the Jolley Trolley website for more information.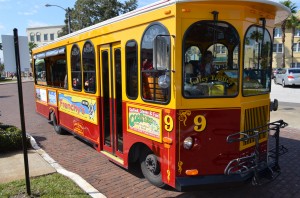 Q- When does the Safety Harbor Jolley Trolley run?
A- The trolley runs on weekends only in Safety Harbor during the eight month trial period, which ends on Sept. 30, 2014. Riders can catch the trolley in town on Fridays from 6:30 p.m. until 11:30 p.m. and Saturdays, Sundays and holidays from 11:30 a.m. to 11;30 p.m. Longenecker said the trolley has also added 7 non-weekend holidays to its 2014/2015 schedule. Those include: Mardi Gras; St. Patrick's Day; Cinco de Mayo; Memorial Day; Labor Day; New Years Eve; and New Years Day.
Q- How can I advertise on the Jolley Trolley?
A- Longenecker said advertising on the Jolley Trolley is inexpensive and effective. Rates start at $40/mo. for an inside ad on one trolley, and go up to $286/mo. for an exterior ad. There are currently 19 trolleys in the fleet, and Longenecker said she works with merchants to help ensure the best possible exposure and bang for the buck for her advertisers.
"We can accommodate most budgets when it comes to advertising," she said. "And we don't limit our signs to only one section, they run the whole route. So even when the trolley isn't running in your town, your ad is still getting additional exposure."
If you have any other questions about any aspect of the Safety Harbor Jolley Trolley service that is not covered here, please let us know in the comments below or email me at jeff@harborconnect.wpengine.com.
For more information on the Jolley Trolley and its Safety Harbor service, visit the Jolley Trolley website or call 727-445-1200. You can also contact Safety Harbor City Hall at 727-724-1555, or the Safety Harbor Chamber of Commerce at 727-726-2890.
Related: