Chat with Safety Harbor Mayor Joe Ayoub Saturday, Nov. 11 at the Paradise
Since being elected in March, Safety Harbor Mayor Joe Ayoub has presided over several items that have impacted the community, including development issues, defining the city's 'small-town charm' and deciding whether to ban medical marijuana dispensaries.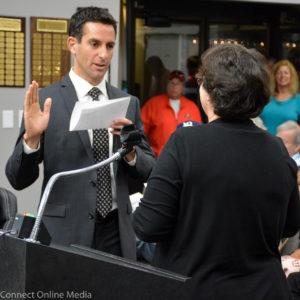 On Saturday morning, Harborites will have the opportunity to converse with the mayor on these and other subjects during the first Cup of Joe with Joe town hall meeting of his new tenure.
The event will be held at the Paradise Restaurant at 443 Main Street beginning at 9:00 a.m. and is scheduled to end at 10:30 a.m.
"I'm looking forward to giving our residents the opportunity to get further engaged in our process by coming to this event," Ayoub told Safety Harbor Connect, adding the event will also be streamed on Facebook Live.
"This will give people the opportunity to hear directly from me in a casual environment about the progress we have been making towards our goals and to ask me questions about any issue that may be on their mind."
Some of the issues up for discussion on Saturday include the proposed development at Second Avenue North and Main Street; the annexation of a parcel of city-owned land on State Road 590; the search for a solution to the city's reported economic struggles; and the commission's recent reversal from its earlier position regarding medical marijuana dispensaries.
Other topics could include downtown parking, the recent walking audit, basically anything affecting the city.
"I'll be there," Starlet Smith wrote on the mayor's Facebook post about the event, adding, "I have concern with the cars speeding on MLK we need to have a flashing light at the 4-way. Or add speed bumps."
If you go:
What: Cup of Joe with Mayor Joe Ayoub town hall meeting
When: Saturday, Nov. 11, 9-10:30 a.m.
Where: Paradise Restaurant, 443 Main St., Safety Harbor
Details: Safety Harbor Mayor Joe Ayoub will answer questions from residents about issues affecting the city in a casual environment away from the bright lights of City Hall.
Info: Visit the Major Joe Ayoub Facebook page