Safety Harbor officials attempt to define 'small-town charm'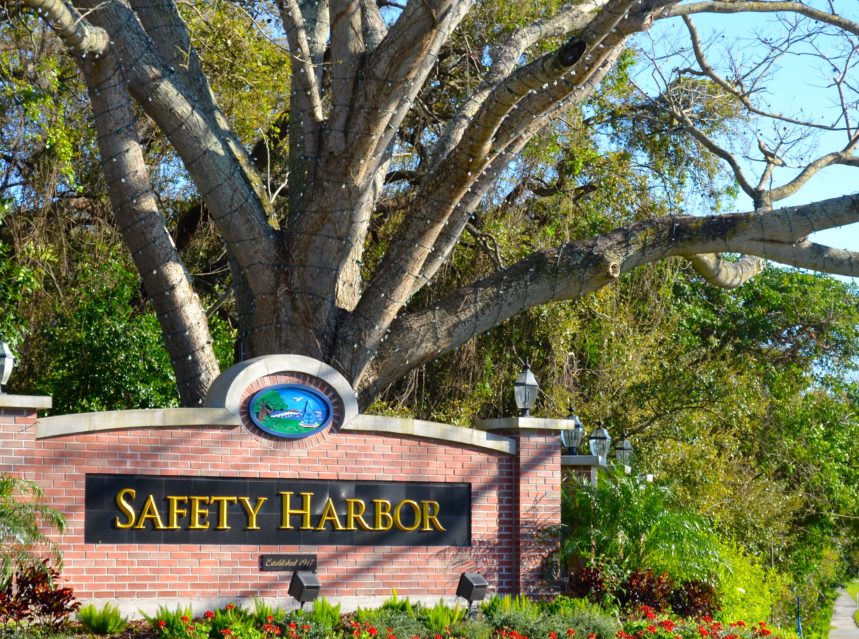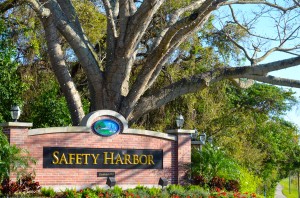 According to the English Language and Usage Stack Exchange, the phrase 'small-town charm' is typically used when "there is an implication that the charm comes from the relaxed, genuine or unpretentious characteristic of small towns."
For as long as most can remember, that term has been used to describe Safety Harbor, a city of 17,000 residents located in central Pinellas County that features a beautiful waterfront and a picturesque Main Street containing a Rockwell-like gazebo, plus historic buildings, abundant parkland and a century's worth of art, culture and community-building.
Now, Safety Harbor officials are attempting to enhance and preserve the city's small town charm by tasking the Planning and Zoning Board with clarifying and defining the phrase.
After the commission made it a priority during a goal setting session in April, P&Z board members set to work coming up with a list of recommendations as to how the city can retain its small-town charm by utilizing certain residential and commercial design elements.
"We identified a lot of the features that are important to Safety Harbor," P&Z board member Ella Crandall told the City Commission when the agenda item was addressed on Tuesday, Oct. 2.
"We have a shoreline, we have a beautiful waterfront, this is a great community if you have pets, for families, we're kind of traditional with Main Street, but we're innovative."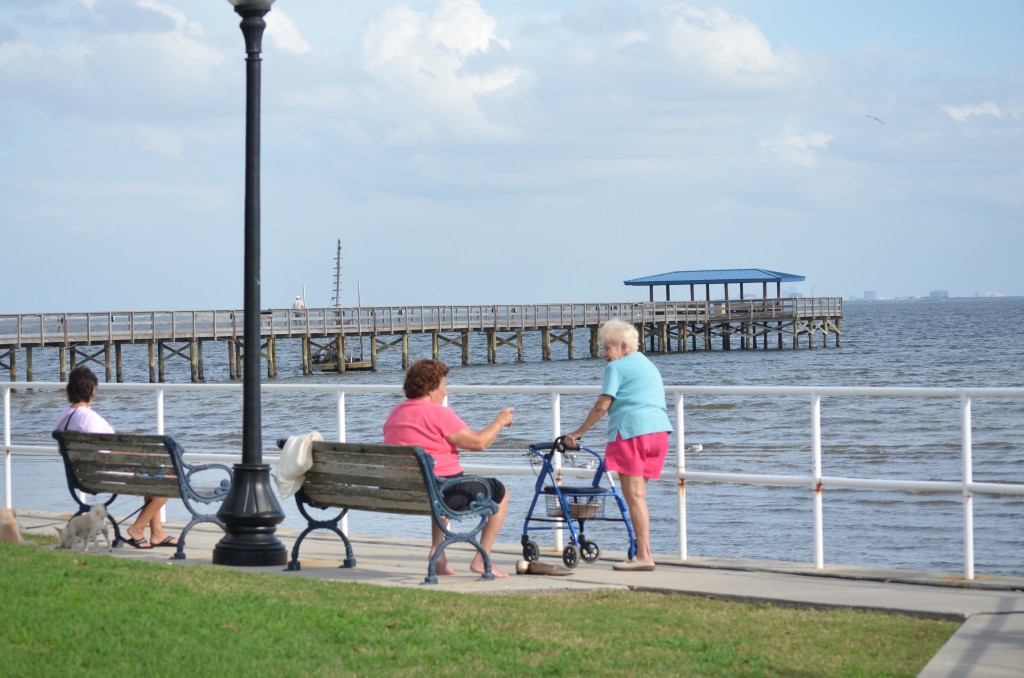 Crandall said they decided to eschew a traditional mission statement in favor of a word "tree" and she noted after much discussion, the board members realized what makes Safety Harbor special is "the people that we have living here."
"That is what shines through in our Main Street, in our side streets, in our neighborhood streets in our many, many, many local businesses, our bars, restaurants, breweries, shops, our arts and culture, our murals, our inter-mural softball league, our events," she said. "That is what makes Safety Harbor Safety Harbor."
The board members asked how they could "hope to influence this social environment when we primarily deal with our land development code?" Crandall said.
"The really important thing to realize is that the built environment influences our social environment. So, most of our recommendations tonight can really be boiled down to we are encouraging a built environment that is focused on people."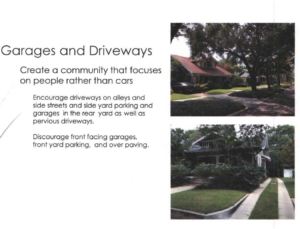 Crandall then outlined the board's recommendations, which included:
creating a voluntary design incentive program for residential and commercial developments throughout the entire city that would provide incentives and/or bonuses for those who designed and/or developed properties a certain way;
creating a brochure that would help highlight and communicate the idea behind the program
identifying design elements to focus on.
She explained the residential design elements would address:
driveways and garages (preferably located in the rear or side of residential property)
complexity of massing (utilize complex shapes and unique exterior features such as columns and other decorative details)
scaling (size in relation to surroundings); and utilizing high quality materials (e.g. no vinyl siding).
For commercial properties, Crandall said the focus should be on encouraging mixed-use buildings; using scaling to break larger structures into more relatable pieces; utilizing pervious pavement in driveways and parking lots; and employing overarching scaling and diversity techniques that would have building sizes and surfaces larger at Main Street and Philippe Parkway and decrease in a westerly direction.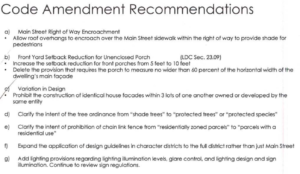 Crandall said the recommended code amendments included:
allowing roof hangings over the right of way on main Street to provide shade for pedestrians;
increasing the setback reductions for front porches from 5 to 10 feet;
prohibiting the construction of identical house facades within 3 lots of one another owned or developed by the same entity;
clarifying the intent of the tree ordinance from "shade trees' to "protected trees" or "protected species"
adding lighting provisions and continuing to review sign regulations
Additional recommendations included developing a comprehensive plan for parking within the Community Redevelopment District; enhancing bike-ability and bicycle facilities; and encouraging residents to be more prideful in maintaining their homes.
Crandall recommended city staff members develop the incentives and bonuses because "they have the best working knowledge of our code."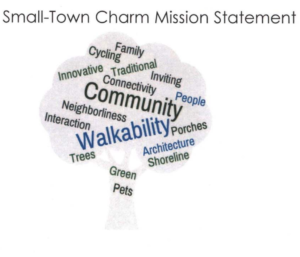 She added that since small town charm is important to every Safety Harbor resident, they recommended gathering public feedback, including having a candid conversation with representatives of the development community to find out if they agree with the proposals.
"After it's adopted, if we move forward with it…we revaluate it," Crandall said.
Following the presentation, Mayor Joe Ayoub asked what staff was looking for from the commissioners.
"We would like some motion, or some approval, from the commission, so that staff can then start to and prioritize and plan for what's going to be needed to accomplish each of these," City Manager Matt Spoor said. "That's our ask.
"Alright, well I'm excited about this," Ayoub answered.
"Just watching the presentation, looking at the pictures, seeing some of the ideas on paper, I like it. I'd like to move forward. I'm on board."
"I love all this. This is exactly what I was looking for," Cmmsr. Scott Long added, although he questioned the recommendation about prohibiting the construction of identical facades.
"Maybe some of the thought behind it is if you're, I don't want to like, be negative, but if you're building a lot of identical or cookie cutters, maybe you're not taking the time to be really thoughtful as to where you're building it, what town you're in," Crandall responded.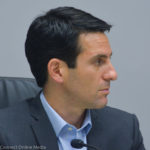 At that point, City Attorney Alan Zimmet questioned the potential legalities of such a clause, and Spoor said staff understood the intent of the recommendation and would take it into consideration when drafting the code amendments.
The commissioners then unanimously consented to allow Spoor to direct staff to move forward on the design incentive program and to present them with the code amendments for consideration.
Later, Ayoub elaborated about the task of defining Safety Harbor' small-town charm.
"I was very satisfied with the results of P&Z's many months of hard work to come up with some very good ideas to create incentives that will encourage people and businesses to make future projects in the city more architecturally pleasing and help to preserve our small town charm," Ayoub wrote via email last week.
"I think the use of a "word tree" was very creative and I'm looking forward to taking the next steps of working with our staff to get these ideas implemented.
"This just goes to show that if you empower people and encourage them to get creative you can get some good results."
Related content: