New Regime Takes Over Safety Harbor City Commission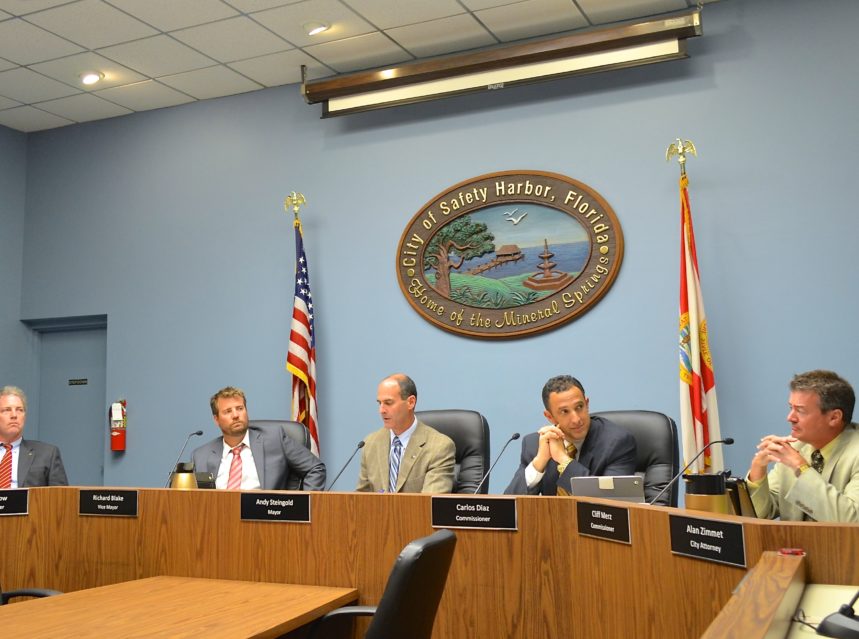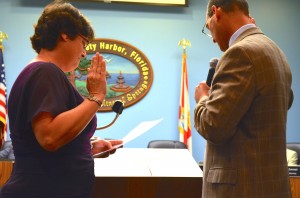 The term 'pomp and circumstance' is normally reserved for presidential elections, graduations and royal weddings.
But the phrase was certainly applicable on Monday night at Safety Harbor City Hall, as a new mayor and two new city commissioners were sworn into office during an unusually festive city commission meeting.
In addition to the swearing in ceremony, there were two live musical performances, an intermission for cake, and plenty of people congratulating Mayor Andy Steingold and Commissioners Carlos Diaz and Andy Zodrow for their recent election wins.
"I want to say congratulations to Andy, Andy and Carlos for getting elected," local developer Jim Barge said during the Audience to Be Heard portion of the meeting.
"I know it's important that you guys have great passion for the city, so congratulations and I hope you do a great job."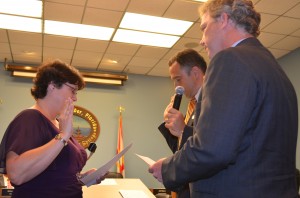 Prior to the audience comments Tennessee singer Kyshona Armstrong, who was in town for last weekend's Safety Harbor Singer Songwriter Festival, performed a soulful acoustic song for the standing room only audience, and afterwards kids from the Espiritu Santo Church Choir sang a few patriotic numbers.
Then it was time for the commission to tackle the regular agenda, which contained items ranging from the proposed hotel ordinance to appointing commissioners to various boards, committees and positions, including Vice Mayor (Cliff Merz was selected.)
Finally, the new members of the commission got a chance to address the public during their Commission Reports..
"I want to thank the residents of the City of Safety Harbor for the privilege to be able to serve the city once again as their mayor," Steingold, who was reelected in March after stepping down in 2012 to run for circuit court judge, said.
"I look forward to working with the staff and members of the City Commission to move the city forward in a positive direction."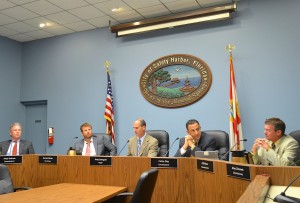 Commissioners Diaz and Zodrow echoed those sentiments.
"I just want to thank everybody for the election support," Zodrow said. "It was a very interesting process, and I look forward to working with everybody."
"I'm very happy I got elected commissioner, and I'm very enthusiastic about the position," Diaz added.
"We've got a great team here, I think, not only just keeping the positive progress going for Safety Harbor, but also bringing some initiatives to keep the city going in the right direction."
Here's a look at some of the sights from the celebratory Safety Harbor City Commission meeting: