Safety Harbor honors 100-year-old veteran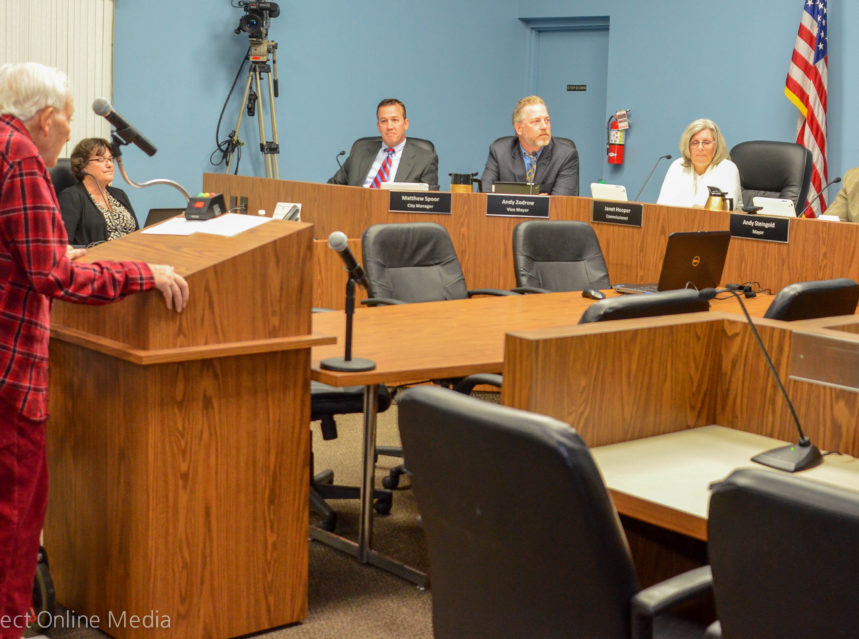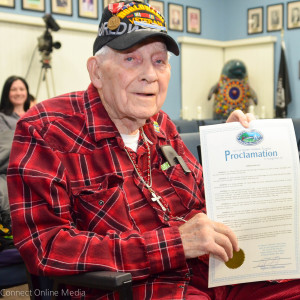 Edward Stacy has seen and done many interesting, and dangerous, things during his time on this earth, so it was only fitting the City of Safety Harbor honored the longtime resident and Army veteran on the occasion of his 100th birthday last week.
Stacy, who was born the year before Safety Harbor was incorporated, was recognized during the City Commission meeting on Feb. 15, as Mayor Andy Steingold read from a proclamation that was drafted in his name.
"Mr. Edward Stacy was born 100 years ago on February 13, 1916, in Camas, Washington and currently resides in Safety Harbor, Florida," the mayor read. "Mr. Stacy traveled across the country in a covered wagon as a very small child and mother and father and five siblings. The family settled in New Jersey."
"Mr. Stacy enlisted in the Army in 1941," he continued. "In April 1942 he was stationed in Hawaii as part of the 165th Infantry in the Pacific campaign. He fought in Macon Island and Saipan, receiving decorations and citations as follows: Asian-Pacific Campaign Medal; two Bronze Stars; Combat Infantryman Badge; Expert Infantryman Badge; Good Conduct Medal; and the American Defense Medal. He was honorably discharged in 1945."
The mayor stated that after leaving the army, Stacy returned to New Jersey and worked at a variety of jobs until his retirement in 1982; after settling in Safety Harbor, he has been socially active in the community and enjoys being with his family.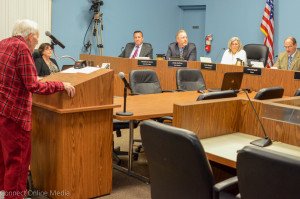 "Mr. Stacy enjoys going out and socializing. He is a parishioner of Espiritu Santo Catholic Church and a member of the Knights of the Columbus…He is also a life member of the VFW, where he plays bingo every Friday night," the mayor said.
"Mr. Stacy is a man of great faith, and it was that strong faith that carried him through his trials and tribulations. Therefore, I, Andy Steingold, Mayor of the City of Safety Harbor Florida, do herby proclaim February 13, 2016 as Edward Stacy Day in the City of Safety Harbor, Florida."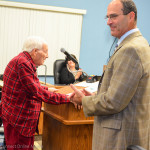 After receiving the proclamation, Stacy thanked city officials for bestowing the honor on him, and the centenarian explained how he made it to his triple-digit birthday.
"I did what I could to keep myself on a straight line and not go anywhere where I shouldn't go. I would go to school, and go to work, and stay off the whisky!" Stacy said, eliciting a laugh from the crowd. "I don't like it anyway, and and I don't care about smoking, either."
"Every once in a while I would exercise to keep in good condition, and eat what I should eat and everything like that. But other than that, I can't think of anything else."
"Well, thank you for the secrets," the mayor replied. "And thank you for coming here and sharing your wisdom with us."
Related content: