2017 Safety Harbor Songfest: What You Need to Know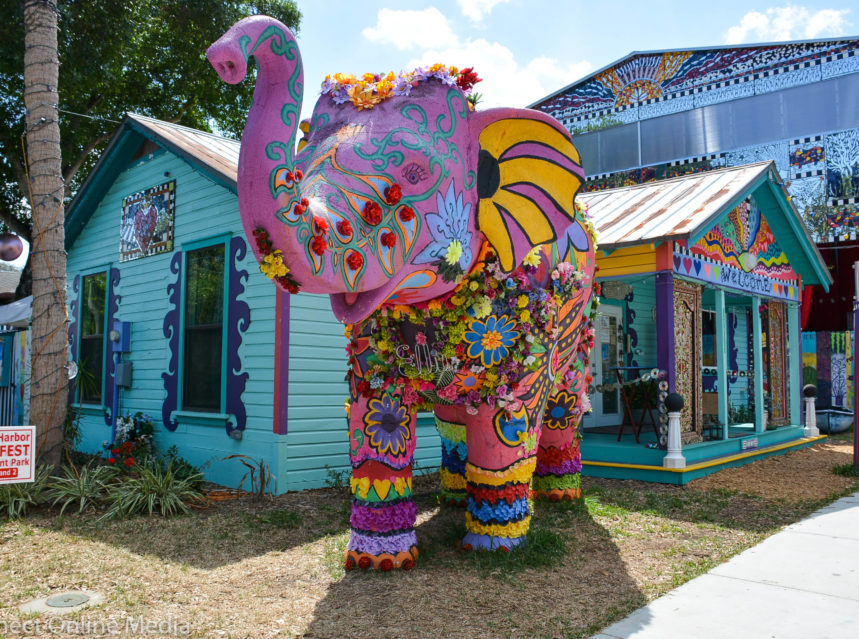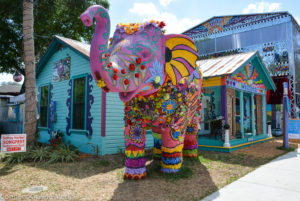 The 2017 Safety Harbor Songfest will take place at the city's Waterfront Park this Saturday, April 1, and Sunday, April 2, and judging by the lineup, the fourth edition of the blossoming art and music festival promises to be the biggest one yet.
Highlighted by recent Grammy winner Fantastic Negrito, a multi-faceted artist who grew up on the streets of Oakland dodging bullets and surviving a near-fatal car accident while honing his musical skills, the slate also includes several national acts, including the Wood Brothers, Rising Appalachia and Daphne Willis, as well as some under-the-radar talent that event founders Todd Ramquist and Kiaralinda have a knack of shining a deserved spotlight on.
"We are excited that Fantastic Negrito won a Grammy after we had booked him," Ramquist, wrote via email, adding, "Daphne Willis' new song is getting lots of attention for her cause, and Kina Grannis is one of the most successful YouTube artists."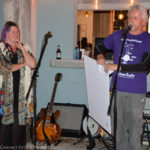 "And we are super excited to bring many other national acts that will be making their first Tampa Bay area stop," he continued, noting, "Magic Giant will be an act everyone will be able to say they saw them in Safety Harbor first."
In addition to the tunes that will be coming from the pair of festival stages, Songfest will feature plenty of fun and "playfulness," including giant kites, living art installations, morning yoga sessions, an umbrella parade and circus artists.
Oh and of course there will be food, drink, merchandise vendors and other colorful things to do, see and interact with on the festival grounds.
"Phenomenal musicianship playing on our stages, and playfulness abounds on the grounds," Kiaralinda said when asked to describe this year's event, the first since the grand opening of the Safety Harbor Art and Music Center in November.
After listing many of the aforementioned acts, many of them playing in town for the first time, Kiaralinda added, "We're so happy that everyone has been able to join our growing Songfest family!"
Here's what you need to know if you go to the 2017 Safety Harbor Songfest, including the complete festival lineup:
When: Saturday, Apr. 1, 11 a.m. – 9 p.m.; Sunday, Apr. 2, 11 a.m. – 7 p.m.
Where: Safety Harbor Waterfront Park, 110 Veterans Memorial Ln.
Details: The fourth edition of this growing art and music festival features its deepest and most diverse lineup yet, highlighted by Grammy award winner Fantastic Negrito and national acts Rising Appalachia, the Wood Brothers, Daphne Willis, Joe Craven, Emily Kopp, Chasing Lovely and more. In addition to food, drink and merchandise vendors, the city's scenic waterfront will serve as a backdrop for colorful activities such as giant kite flying, morning yoga sessions, circus artists, living art installations and an umbrella parade.
Cost: Two-day passes, $40 in advance ($50+fees at the gate); single day tickets, $30 in advance ($35+ fees/gate). Tickets are available for sale at the gate starting at 9:30 a.m. on festival days. All tickets are at will-call on day of event. No refunds—show will happen rain or shine. No pets, umbrellas or coolers. Folding chairs and blankets allowed. ATM available onsite. Ages 12 and under FREE with paid adult admission.
Parking: Public parking is allowed on side streets, where permitted, as well as several public lots, including one on the northwest corner of Main Street and Second Avenue North and another across from City Hall on Eighth Avenue South. Public parking is NOT permitted in the lot at the Harbour Pointe Complex on the corner of Main Street and Bayshore Boulevard.
Info: Visit safetyharborsongfest.com or Facebook.com/SafetyHarborSongfest; Songfest app available for download on iTunes and Google Play.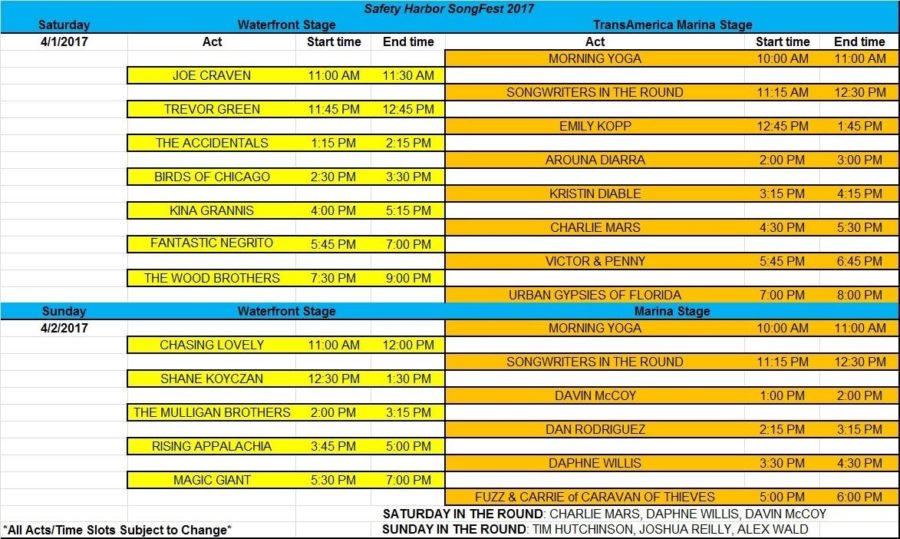 Related content: