Young Safety Harbor author receives letter from Obama
Ever wonder what it would be like to receive a letter from the President of the United States?
At 9 years old, Madison Jayanna of Safety Harbor already knows the answer to that question.
Jayanna, a two-time author who, along with her parents, Sid and Justine, have started a foundation dedicated to helping special needs children and their families, as well as other causes, recently received not only a personalized letter from president Barack Obama, but also autographed photos of the Commander in Chief, his family, even the First Dogs.
"I really want to meet him," the 10-year-old, who served as the grand marshal in the 2014 Safety Harbor Holiday Parade, said. "So I sent him a letter because I thought he would write back,"
While the motivation might have been simple, the process, and the response time, was anything but.
According to Justine Jayanna, Madison decided to write the letter last summer, while the family was in the midst of putting together the foundation's second book, a collaboration called Super Moms, Special Children.
But after realizing they had made a procedural error when drafting the letter, Maddie's mom thought they might never receive a reply from 1600 Pennsylvania Avenue.
"There are all these guidelines to writing a letter to the President, and one of them is it has to be done in ink," Justine explained.
"After Madison wrote her letter, I noticed it was in pencil. But it was too late to rewrite it, so I just went ahead and sent it."
Then, much to the Jayannas' surprise, a manilla envelope with a return address stamped "The White House" arrived at their north Safety Harbor home last month.
"When it finally came, I was so eager to open it," Madison said. "I couldn't believe it was actually here!"
"She was really surprised," Justine said. "And I was too!"
Since receiving the letter, along with the photos, of which the dog shots are her favorites, the always-smiling Madison has been positively glowing.
In fact, she's become somewhat of a minor celebrity at Safety Harbor Elementary School.
"My teacher said, wow, that's so amazing," the fourth-grader said. "And the lunch lady asked if I could get tickets to see the President!"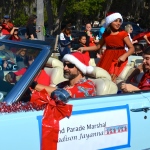 While meeting the President is one of Madison's top priorities, she also has bigger goals in mind when it comes to advancing GFC's causes.
"I want to do a movie about kids getting bullied," Madison said.
"I'm in a multi-cultural club where it's all different cultures, and we don't get bullied. But a lot of kids at my school do."
"We had "no name calling" week and it gave me the idea to do the movie," she added. "There's a lot of bullying going on in my class now, people calling names and touching people. One time I actually told one kid who was calling another one names to back off or I would tell the teacher."
"She came to me and said, dad, I don't want to be a part of this anymore," Sid Jayanna said.
"I said, you can stand up for them, and if you want to do something about it, let's do it. Because it's a big problem right now in our city, and our country."
As Madison prepares to embark on her latest campaign to help less fortunate and often overlooked members of our society, one thing is clear: If young Maddie keeps this up, she won't be receiving letters from the President, she'll be writing them herself!
Related content: