Tears flow at Chris Palmieri Celebration of Life ceremony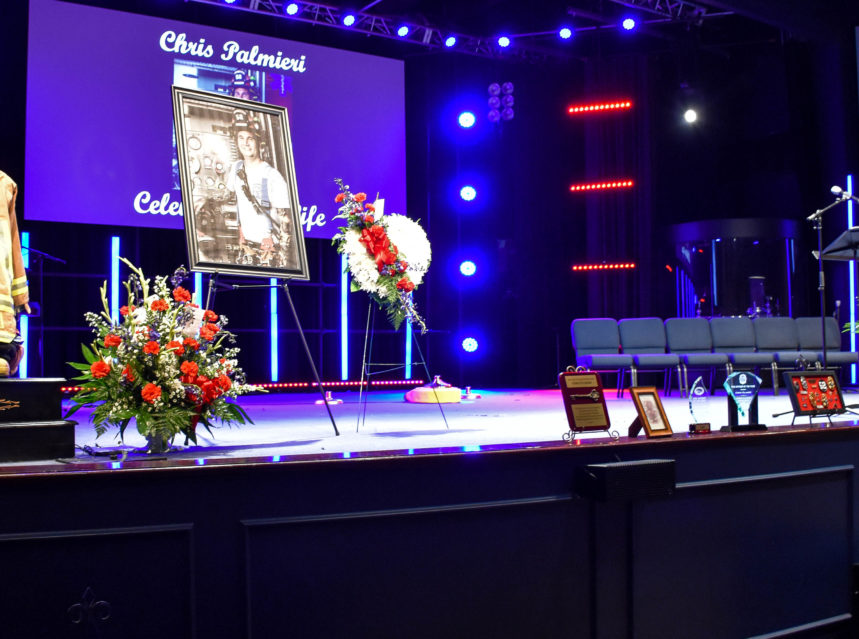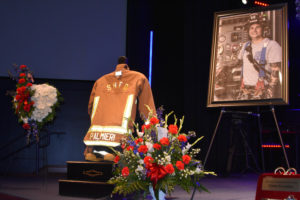 The memorial ceremony for longtime Safety Harbor Firefighter Chris Palmieri was meant to be a joyous celebration of the life of the department's district chief and honorary captain, who passed away on June 22 after a short bout with cancer.
The ceremony, held on Friday, August 3 at Harborside Christian Church, was filled with plenty of laughs and smiles as friends, family members and colleagues remembered the 41-year-old, 17-year SHFD veteran known for his infectious smile and unfailing willingness to help others.
But by the time the service concluded, there wasn't a dry eye among the 200-plus guests in attendance, as several guests spoke about the impact Palmieri made on everyone he met.
"This is a celebration of life service, but it's hard to be celebratory when we lost such a great person in the prime of his life," Safety Harbor Mayor Joe Ayoub said during his eulogy.
"But we can find comfort in knowing all the people Chris touched during his life, as evidenced by all of you gathered here today."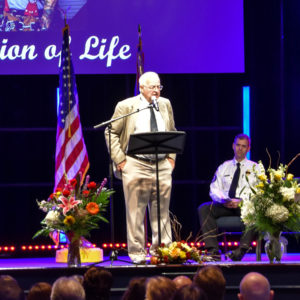 Indeed, the outpouring of love and support in the wake of Palmieri's sudden passing was immediately addressed by Chris' stepfather, Don Lavallee, a gifted storyteller who opened the service by thanking the Safety Harbor community for embracing the family throughout this difficult time.
"I have never in my life seen a community nearly as loving as this firefighter's community," Lavallee said.
"It's amazing…and we can't say anything but thank you."
Lavallee then spoke about Palmieri's outgoing personality and devotion to his profession and his family, noting "there's nobody who loved Chris who doesn't feel the sorrow I feel right now."
But he encouraged those in mourning to express their grief rather than suppress it.
"There's an old saying that tears are liquid love, and if you don't shed them, you're going to drown in their sorrow," Lavallee said.
Lavallee was followed by Mayor Ayoub, who recalled being intimidated by Palmieri when he first met him, only to quickly learn about his softer side.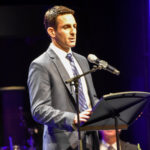 "I admit I was intimidated by Chris at first," Ayoub said. "He's a man's man, a firefighter, covered in tattoos," he said.
"So as I was sitting there in the restaurant waiting for him, I wondered what kind of sports car or pickup truck he might drive. But then he rolls up in a minivan and I was like, wow, this isn't what I expected!"
Ayoub related how Palmieri said he was a firefighter by profession, but his most important role was being a father, hence the practical and generally uncool vehicle choice.
"Chris went above and beyond the call of duty and he had the unique ability to make everybody feel like everything is going to be okay," he said.
"He touched a lot of lives. One thing he was known for was his infectious smile and he could lift anybody up and make their day better. He was a great guy to be around, and even though he's no longer with us, his spirit lives on through everyone he touched."
Former SHFD Chief Joe Accetta, current Chief Josh Stefancic and Palmieri's SHFD colleague, Charles Russell, all praised Chris' commitment to both of his families.
"Chris Palmieri had a second family, and that was the Safety Harbor Fire Department," Chief Accetta, who recently retired after 40 years with the department, recalled of his young recruit.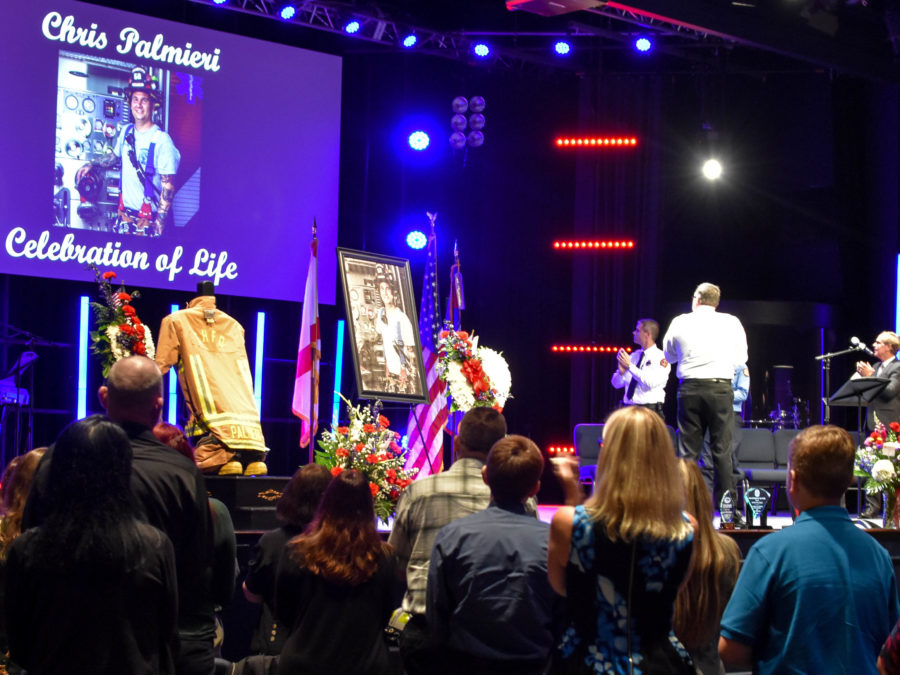 "Chris was a son, a father, a friend, a leader and a brother," he said as he led a standing ovation in Palmieri's memory, and the sentiment was echoed by Russell, one of Chris' "brothers" in the department.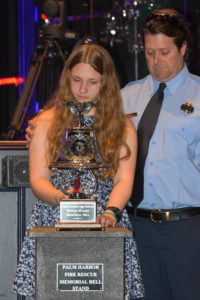 "Chris was a brother, a family member and a friend to all," an emotional Russell said.
"He took time to listen, and he was always someone you could ask for advice. He participated in everything, and he always looked for ways to give back to things he believed in.
"You are loved, my friend. May you rest in peace and never be forgotten."
The stirring speeches were followed by a touching slideshow of memorable moments from Palmieri's life, and then the presentation of gifts to Palmieri's family, including his 15-year-old daughter, Alexis.
Alexis was then led to ring the ceremonial final bell, and as a bagpiper played "Amazing Grace," the boxes of tissues supplied by the church quickly moved around the room.
The ceremony concluded with the dispatching of the last alarm and ended with these words:
"Chief Palmieri, you will never be forgotten. Rest in peace. We will take it from here."
At that point, scores of men, women and children—even news reporters—scrambled to find the remaining boxes of Kleenex.
To donate to the Alexis Lynn Palmieri Trust, mail checks, payable to the trust, to the Safety Harbor Professional Firefighters- Local 2267, PO Box 356, Safety Harbor, FL 34695.