Safety Harbor recognizes retiring Fire Chief Joe Accetta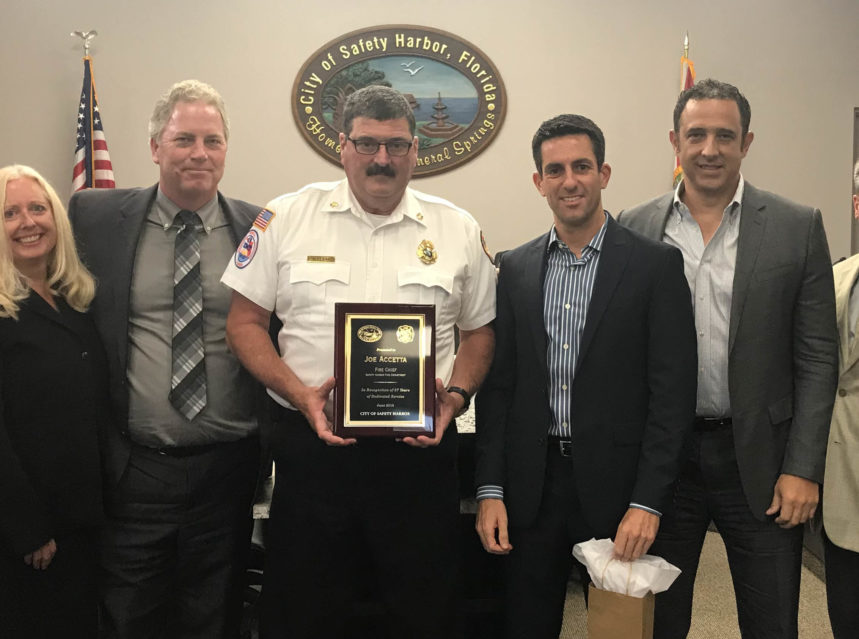 The Safety Harbor City Commission recently recognized longtime Fire Chief Joe Accetta, who retired on July 1, 2018 following nearly 40 years of service to the city.
Accetta, who started with the department in 1981, was known for his quiet demeanor and his unfailing dedication to his department and the residents of Safety Harbor.
During the City Commission meeting on June 18, officials played a lengthy highlight clip of images from the chief's tenure to the tune of "The Time of My Life" before Mayor Joe Ayoub read a list of Accetta's accomplishments and contributions to the community.
"During Joe's many years of service he has held numerous ranks in the fire service to include firefighter/EMT, driver captain, training chief, as well as his current position of fire chief," Ayoub said.
"Chief Accetta has a long list of accomplishments in involvement county wide," he continued, including training chief with the Pinellas County officer training group, instructor with St. Petersburg College fire academy, vice-president of the Fire Chiefs Association, union president and chair of the county's water rescue committee.
"When asked what he would do after his retirement, CA said I have a long honey-do list to start on July 1st!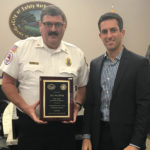 "So, congrats to Chief Accetta for your 37 years of dedication, devotion and service to our city. You will be extremely missed. Best of luck in your future endeavors, and we wish you and your wife, Claudia, the absolute very best."
After a lengthy ovation, Accetta, a self described "man of few words," briefly addressed the packed room.
"I've had a great ride. It's been a great career," he said.
"They say leave it better than you found it and I believe I did. We have some great people and I enjoyed working with every one of them. Mentored a lot of them. Now it's your new chief's job to take it forward."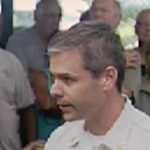 With that, Accetta introduced his successor, Josh Stefancic, who, according to City Manager Matt Spoor, has 17 years experience in industry, including the last several as chief of Largo's department of life and safety.
"I was so honored I was selected for this position," he said. "I knew when I met Mr. Spoor and we sat down to discuss the position that I wanted to be part of this city and community."
"As I meet the firefighters every day, I see it's a great work force and I look forward to leading them and picking up the axe that Chief Accetta has left behind. So thank you very much."