Comic convention invades Safety Harbor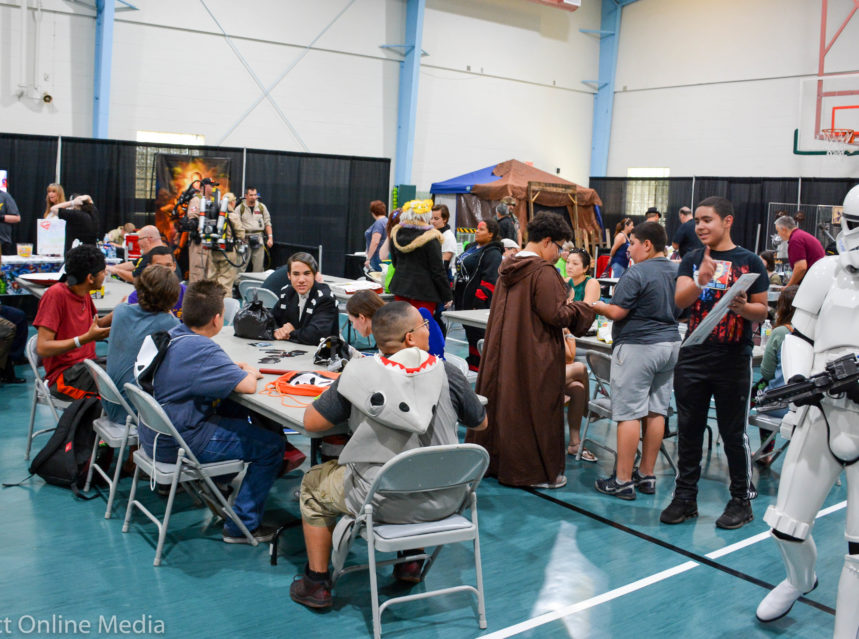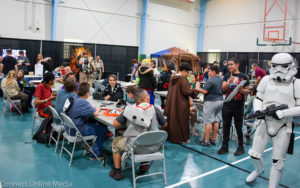 For a few hours last weekend, Safety Harbor set aside polarizing issues such as lot setbacks and parking problems, post offices and keeping poultry as pets to focus its energy on issues affecting a galaxy far, far away.
On Saturday, the Harbor was invaded by superheroes and aliens, Star Wars characters and wrestling legends, as the city hosted FusionCon 3 at the Safety Harbor Community Center.
And by all accounts, the city's first ever comics convention was considered a success.
"I'm excited to have the first show in Safety Harbor," promoter Mark Karoftis told Safety Harbor Connect during the seven-hour show.
"The kids all have smiles on their faces, and everybody seems to be pleased with the show. I think it's gone very well."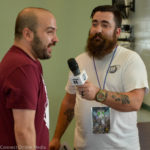 Karoftis noted he enjoyed having a good working relationship with city officials, staff and merchant organizations in getting the event off the ground.
"The city was happy to have us," he said, adding, "the leisure services staff and the people at MOSH and the Chamber were very supportive."
He said despite some typical first-time-event bugs, the experience was positive enough to warrant a return to town.
"The city was very happy to have us. Everybody was very helpful and supportive," he said. "I definitely hope to make this an annual event as we rotate the sites between here and New Port Richey."
If reactions from the FusionCon3 vendors and attendees is any indication, a return to the Harbor would certainly be welcomed; everyone we spoke to seemed to be enjoying the colorful sights, unique sounds and overall oddball pageantry that are hallmarks of comic conventions.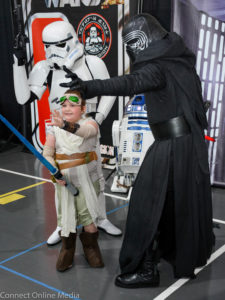 As they made their way from one side of the community center to another, passing booths stocked with artwork and memorabilia, tee shirts and more Funkos than you can shake a lightsaber at, David Allen, who was with his wife and 6-year-old daughter, Zoe, said he liked the size and scale of Safety Harbor's first comic convention.
"This is Zoe's first one, so we wanted to be smart about it," Allen, who is from Wesley Chapel, said.
"We didn't want to bring her to one of the bigger events like MegaCon for her first time, and she's just loving it. It's very well organized, there's plenty of space between booths to get around, and there's a good variety. Depending on what you're interested in, you'll definitely find something you'll like here."
While princesses and Poekmon, pixies and Predators roamed the 75+ booths, mingling with artists like Mark Texeira and Austin Janowsky and pro wrestlers including Lanny Poffo and April Hunter, one immensely popular character held court over the proceedings.
George Lowe, a Clearwater native and longtime voice actor who is best known for his role as Space Ghost on Cartoon Network's Adult Swim, may have been seated in a faraway corner of the FusionCon galaxy, but his irreverent humor and biting wit was on full display, much to the delight of his legion of fans.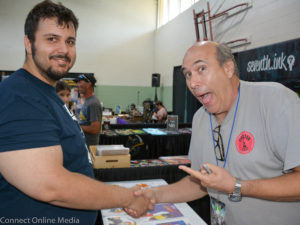 "When people ask me what I think of these shows, I always tell them they have three things in common—they smell like cold sweat, stale pizza and farts," Lowe, who currently lives in Lakeland taking care of his ailing mother, deadpanned.
"But seriously, this has been a good event," the longtime convention veteran added.
"It's been a little slow for me, honestly, because people would rather see superheroes in tights saving damsels in distress. But I have enjoyed being back here in the Clearwater area, even though I didn't recognize Safety Harbor when I was coming in. Holy cow, when did all these mansions go up? When I used to live around here, this place was a dump! Other than that, nothing's changed."
At that point, a man named JR, who said he owns a comics shop at Westfield Countryside mall, approached Lowe's booth with a mixture of wonder and awe.
As he chose an illustration for the legend to autograph, JR spoke about Lowe's influence on his life.
"I grew up watching Space Ghost when I wasn't supposed to be watching it," he said of the notoriously risqué, adult themed cartoon. "He's the reason why I loved Space Ghost and why I love comics and why I got into the comic store business."
"If it wasn't for George, I wouldn't be where I am today."
Enjoy this photo gallery of some of the colorful sights at FusionCon 3 at the Safety Harbor Community Center: