Bill Clinton visit "a historic moment in Safety Harbor's history"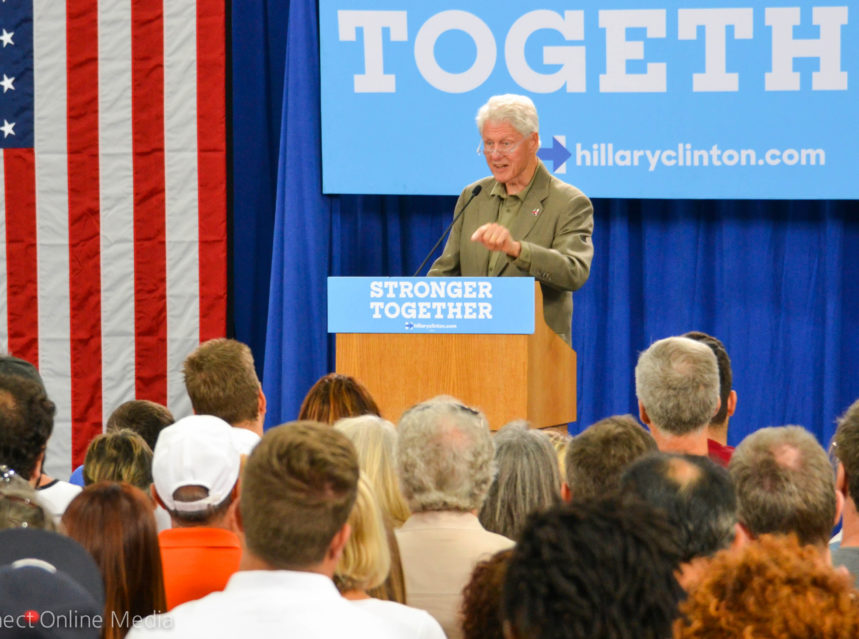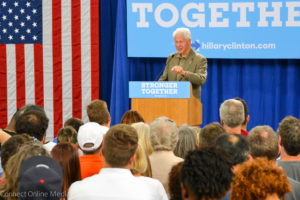 Former President Bill Clinton made a campaign stop in Safety Harbor while stumping for wife, Hillary's, 2016 presidential campaign on Tuesday, and Mayor Andy Steingold called the visit a historic moment in the city's 99-year history.
Clinton's appearance at the Safety Harbor Community Center was one of three Sunshine State stops on the day for the country's 42nd Commander in Chief, and before an intimate gathering of 150 in the auxiliary gym and an overflow crowd of roughly 400 listening in the main gym, the loquacious ex-governor of Arkansas did not disappoint those who waited upwards of five hours to get in.
After being introduced by former Florida governor Charlie Crist, Clinton began his 45-minute speech with a shout-out to Safety Harbor, saying he had never been to the city before, but after the contentious debate between Hillary and Republican candidate Donald Trump last weekend, he "felt like I needed to be here!"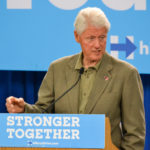 Clinton then thanked Steingold for "making him feel welcome in Safety Harbor," before launching into a wide-ranging speech that covered a variety of key election issues including global warming and climate change, opioid abuse and treatment, college tuition rates, small businesses, affordable child care and the importance of voting.
"Everyone knows that if Hillary wins Florida, she'll be named president, right?" Clinton asked, receiving loud cheers from the mainly partisan crowd.
"So if you don't vote, or you vote for one of these minor party candidates, you are giving the other guy half a vote. That's what you're doing."
Following the speech, which was scheduled at the last minute, leading to a day full of logistical headaches for organizers and attendees alike, Mayor Steingold spoke about the significance of Clinton's visit.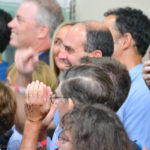 "It was pretty neat, pretty historic," Steingold told Safety Harbor Connect on Wednesday. "I'm a Republican, but when a former president of the United States comes to the City of Safety Harbor, I want to be there to welcome him. It's a momentous occasion."
"Quite frankly, it puts Safety Harbor in the national spotlight and brings a level of significance to the community," he added. "I think it's a historic moment in the City of Safety Harbor's history."
Other attendees supported the mayor's statement.
"This is probably the only time you'll ever get to see an ex-president in Safety Harbor," Safety Harbor Historical Society board member Joe Caisse said. "This was a historic event—I got to shake his hand a take a picture with him, and not many people in Safety Harbor are able say that."
"He's a very commanding speaker, very eloquent. It's hard not to be inspired," Mitch Shriber of Countryside said. "It's about the content, but also the way he delivers the words and the conviction behind them. Very powerful."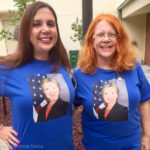 "He IS dynamic, and his speech was excellent," former Safety Harbor resident and undecided voter Cristine Kreplick, who was in the overflow room, said. "This election is bigger than one party or another, and I'm going to keep educating myself and exposing myself to as many views and constructive opinions until the last minute. Isn't that what we all should be doing?"
While the majority of attendees were either Democrats/Hillary supporters or undecided voters, there were some anti-Clinton/pro-Trump supporters in and around the venue.
Before the event, a small group of Trump supporters gathered across the street near City Park; when asked if that was how far away they were told to stay, they said no, they were remaining at a distance out of respect for the event.
However, things got a bit more testy inside after a young man waving a disparaging sign erupted in shouts near the end of Clinton's speech before he and a female protestor were escorted out of the room.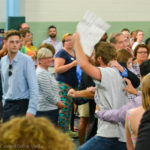 The incident didn't seem to faze the former president, though, as he quickly came up with a response to the brief interruption.
"Give him a hand, they've had a real bad week," Clinton quipped.
"A lot of people, in spite of what you see outside, they don't hate you, they think you don't care about them. They think you don't care about them, but we need them, too."
"All I ask you is, do not fight that fire with fire," he added. "It's easy to choose division over cooperation, to choose distraction over concentration, to choose all this over really constructive change..so you just tell 'em I'm gonna tear the totem pole down and take us all together into the future, and that's what I want you to say. We're all going together!"
Here's a look at some of the sights from the Bill Clinton speech in Safety Harbor on October 11, 2016: