Safety Harbor Jolley Trolley Makes Trial Run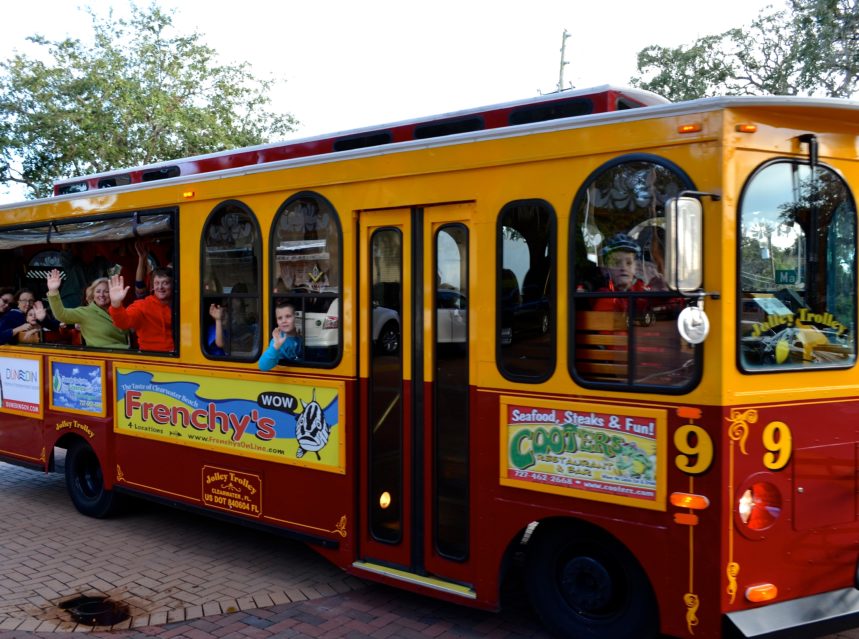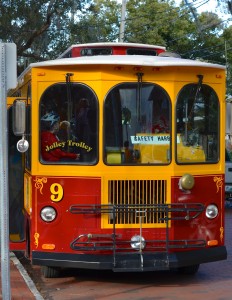 The City of Safety Harbor celebrated the impending start of its Jolley Trolley service with a ceremonial ride around town on Monday.
The trolley is scheduled to begin weekend service in Safety Harbor on February 1st as part of an 8-month trial run that was nearly a year in the making and paid for by local merchants as well as state and federal grants.
As a preview of the service, dozens of people gathered at John Wilson Park for a kickoff party that featured music, speeches by local and county officials and free drinks and cake, all capped off with a short cruise around the downtown district.
"This has been a long time coming for the City of Safety Harbor," Mayor Joe Ayoub said after thanking the many people and organizations responsible for bringing the service to town, including the Downtown Business Alliance, the Chamber of Commerce, the Safety Harbor Resort and Spa and city officials Cliff Merz and Matt Spoor.
"One of the commission's goals is to revitalize the downtown, and this service is an important step towards doing that."
Pinellas Suncoast Transit Authority head Brad Miller and County Commissioner Susan Latvala also spoke about the importance of bringing the Jolley Trolley service to Safety Harbor.
Miller was especially hopeful that the trolley could be coupled with the pending Greenlight Pinellas plan to significantly enhance access to and from the city.
"There is going to be a vote in Pinellas County in November of 2014 for a one percent sales tax to replace the current PSTA local funding source of property tax," Miller told Safety Harbor Connect. "So actually, for the average homeowner in Safety Harbor, this initiative will be cheaper and save people money…and they'll see a lot more Jolley Trolley service, and we've also got new commuter routes planned to have stops here in Safety Harbor."
"The Jolley Trolley is awesome for tourism and entertainment," he added, "and then we want commuter-oriented (services) for work trips and regular express services that will take people more quickly to their destinations both north/south and east/west."
Jolley Trolley executive director Rosemary Longenecker said the extension of the trolley service to Safety Harbor was a natural fit for her business.
After taking the inaugural ride, she said she was impressed at how hard city officials worked to bring the service to town and how excited everyone seems to be about having the trolley in Safety Harbor.
"It's really exciting to us to add this leg and branch off of our coastal service," Longenecker said. "This is a great community."
"Our negotiations with them have been top-notch, and there has been a lot of passion from the people here, which is exciting to us, too," she added. "It's always nice when you work with people in a community who have passion about what they do. So we're looking for a very successful start to this leg, and for it to continue on."
The trolley service is set to begin on Saturday, Feb. 1 and will run on weekends only through the 8-month trial period. It will run from 6 p.m. to midnight on Fridays, 11 a.m. to midnight on Saturdays, and noon to 6 p.m. on Sundays.
The service will run from Dunedin City Hall, stop at Countryside Mall, stop in Safety Harbor from Main Street to the Spa, and loop back to Dunedin.
Other stops will be included along the route, and Miller said people will be able to hail the trolley from anywhere in downtown and the driver will stop and pick them up.
If the trolley is considered a success, the city could enter a three-year deal with the participating organizations to continue the service.
For more information on the Safety Harbor Jolley Trolley, visit their website.
Related content:
–City Commission Approves Safety Harbor Jolley Trolley (12/17/13)
–Commission to Vote on Jolley Trolley Issue Tonight (12/16/13)
–Safety Harbor Jolley Trolley Deal Nears Completion (12/5/13)
–Safety Harbor Jolley Trolley Ready to Roll- Almost (11/26/13)