8th Annual Taste of Safety Harbor Tonight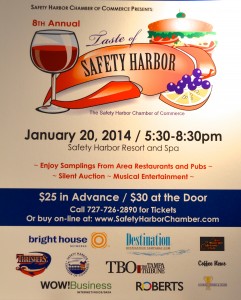 The 8th annual Taste of Safety Harbor takes place tonight at the Safety Harbor Resort and Spa, and it promises to be a spectacular event.
More than a dozen local establishments will participate in the city's annual foodfest, which also features art, music, raffles and a silent auction.
According to officials from the Safety Harbor Chamber of Commerce, which is sponsoring the event, tickets are still available for purchase, either beforehand or at the door. But you can save money by buying your ticket in advance.
"You can purchase your tickets at the Chamber by 2 p.m. on Monday to get the "in advance" price of $25.00," office manager Danielle Driscoll said. "After 2pm on Monday, tickets can only be purchased at the Safety Harbor Resort and Spa starting at 5:15 p.m. for $30.00"
Patrons will also have the chance to play a role in determining which bar or restaurant will be honored with the People's Choice Award by voting for their favorite establishment. The award will be presented at the end of the evening.
Here's what you need to know if you are going to the Taste of Safety Harbor:
What: 8th annual Taste of Safety Harbor 
When: Monday, Jan. 20, 5:30 p.m. – 8:30 p.m.
Where: Safety Harbor Resort and Spa, 105 N. Bayshore Blvd.
Info: Food and drink samples from more than a dozen area bars and restaurants, plus music, performances, art, raffles and a silent auction.
Parking: Free parking at the Spa.
Cost: Tickets are $25.00 in advance at the Chamber up until 2 p.m., $30.00 at the door beginning at 5:15 p.m.
Contact: Safety Harbor Chamber of Commerce, 727-726-2890

Here is a list of the establishments that are participating in the event:
8th Avenue Pub
Anthony's Coal Fired Pizza
Bar fly/Saltwater Grill
Bar Louie
Bella Kouzina
Cold Stone Creamery
Copperheads Taphouse
Crispers
Ed's Fine Wines
Famous Greek
Fit Life Foods
Fleur de Lis
Nantucket Bucket
Nolan's Pub
Safety Harbor Spa
Sam's Club
Sandwich on Main
Southern Fresh