New group determined to save Safety Harbor's African American Cemetery
Over the last 20 years, Safety Harbor resident Lou Claudio has been heavily involved with the ongoing efforts to save an historic African American cemetery on the outskirts of town that has basically been forgotten, due in part to its location, neglect and indifference.
But a recent infusion of new blood into the restoration efforts has Claudio, an avid historian, excited about the prospect of having the historical significance of the half-acre parcel, located at 2698 South Drive, finally getting the proper recognition and care it deserves.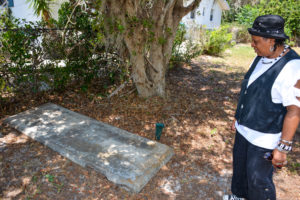 "This time we're doing it right," Claudio said recently from the site. "We're trying to get established as a nonprofit and firm up ownership of this place so it can be granted the legal protection it deserves."
"She is a fireball," he added. "And she's determined to get this done."
'She' is Jacqueline Hayes, granddaughter of one of Safety Harbor's first African American families, Charlie and Amanda Smith.
According to A Brief History of Safety Harbor, Florida, Charlie Smith laid some of the first bricks on Main Street, while Amanda worked as a housekeeper and nanny for many local families, including the McMullens.
Hayes' mother, Ruth Smith-Hayes, moved her to Boston when she was just a young girl, causing a rift between her mom and her grandfather that lasted for decades, but she moved back to Safety Harbor in 2014 to take care of family matters.
Earlier this year, Hayes met Claudio while she was giving a presentation for Black History Month at the Safety Harbor Museum and Cultural Center in what turned out to be a very fortuitous encounter.
"After talking to Lou at the museum, I told him I would help him, and we met at the Mattie Williams (Neighborhood Family) Center where I work," Hayes said of the February meeting.
"He had 20 years of records with him, and my family's name was all in it."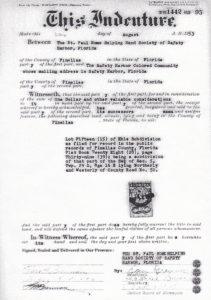 Indeed, historical records show the land was "designated for continued use as a resting place for the local African America community by Solomon Smith Coachman" in the early 20th century.
Eventually, the land was purchased by Alfred and Louisa Ehle, who subsequently created a subdivision in the neighborhood, but left Lot 15 open for continued use as the cemetery. In 1951, the ¾ acre parcel was sold to the St. Paul Home Helping Hand Society, which in turn sold it to the "Safety Harbor Colored Community" for one dollar in 1953.
After meeting Claudio, Hayes was shocked to learn one of the names listed on the deed was Charlie Smith's.
"When Lou showed me the deed to the land, and one of the names on the deed was my grandfather's, I was amazed," Hayes recalled.
"I never met my grandfather, but I knew he was an amazing man. I told Lou, 'I'm really gonna help you now!'"
Hayes, who is best described as a natural force of energy coupled with a healthy dose of New England swagger, immediately decided to attempt to not only preserve the property, but bring it the honor and respect it so rightfully deserves.
Over the decades, the parcel had undergone sporadic mowing and cleanup efforts, many spearheaded by Hayes' aunt, Goldie Banks, as well as other family members.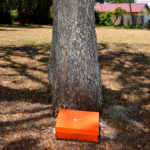 But the property, which is the final resting place of at least 120 men, women and children of color, including infants and veterans, has mostly been ignored, and at times, blatantly abused and disrespected. Recently, someone brought the remains of their cat and left it in a shoebox at the base of a tree in the center of the lot.
"There used to be kids playing golf, football and paintball here, homeless people camping out, drunks laying on the monuments," Tonya Barber, who has owned the home abutting the eastern side of the cemetery for 16 years, said, adding, "it was a dump."
"It was very disrespectful. I was just glad when they came out and mowed it once in a while."
Barber, who said she has also cleaned the property of bottles, trash and other debris over the years, said she is thrilled Hayes and her group appear to be serious about restoring the cemetery.
"It's great, but long overdue," she said. "I don't expect anything out of anyone any more, but I hope they keep it up. That would be great."
"You're talking over 100 years this pace has been here, for heaven's sake. It's a shame it's been pushed under the rug."
Claudio, who has done extensive research of similar cemeteries in the area, understands the difficulty of the task in front of them.
In addition to finding out who currently has ownership of the property, which is technically located in unincorporated Clearwater, properly identifying each grave and recording the names of all those buried there is going to be arduous.
"There are a lot of veterans buried here, so my first goal is to get veterans organizations involved with efforts," the New York native said.
"We're also looking into getting ground penetrating radar to find out exactly how many plots are here, because we know there's a lot more than are currently marked."
In addition to applying for 501c3 nonprofit status and starting a GoFundMe to help assist with the efforts, members of the newly formed Safety Harbor African American Cemetery Restoration Project organized the most recent cleanup of the site, which produced dozens of bags of trash and a pile of yard debris that Safety Harbor officials agreed to cart away for free.
In the future, Hayes also plans to have a fence erected around the property, install signage that identifies the significance of the land, and construct some type of memorial on the site for the many more whose identities will never be learned.
Despite the many obstacles in their way, according to Hayes, the era of neglect for the Safety Harbor African American cemetery is about to come to an end.
"We're an action group, and we have a vision of what we want it to look like," she said.
"This is a serious effort. If you drop out, you're not going to stop what we're doing. What we're doing is not about membership We're dedicated and committed to doing this because it's long overdue, and we are moving forward."
"I'm not from here, but I have deeper roots in this area than some people who are," Hayes added.
"There's a new sheriff in town, and I intend to get things done."
For more information on the Safety Harbor African American Cemetery Restoration Project, visit the organization's Facebook page.
Related content: