The Ghosts of Safety Harbor – by Marley S., age 8
There are lots of ghost stories in Safety Harbor.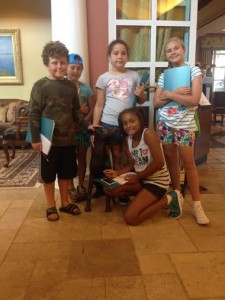 One ghost story that I particularly like is about Dr. Baranoff. He owned Safety Harbor Spa a long time ago, and he was against salt and liquor. People who worked at the Spa after he died say salt shakers would be mysteriously knocked over in the Baranoff Ballroom, and wine bottles would pop.
Another ghost story is about an orphanage on Main Street. Around where the orphanage was, businesses hear children's voices, but no child is around. And their spirits roam Safety Harbor.
I believe in ghosts and I think it is pretty cool to live in a town with great ghost stories.

  Sources: Jean Barraclough, Executive Administrator, Safety Harbor Resort and Spa; Laura Dent, Safety Harbor Ghost & History Tours