Forum Helps Clarify Safety Harbor Candidates' Positions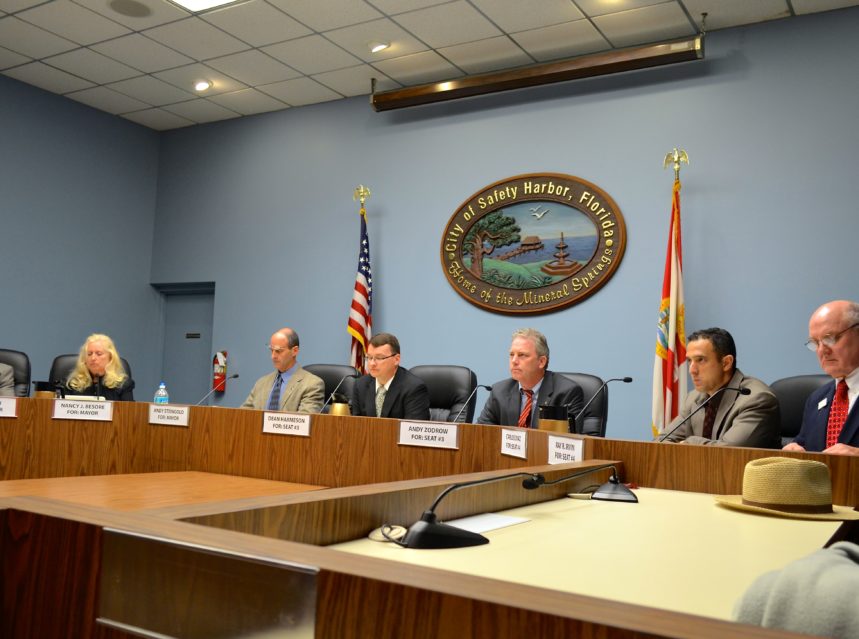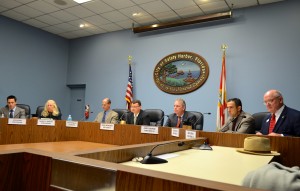 It was standing room only at City Hall Wednesday night, as the seven candidates vying for three Safety Harbor City Commission seats in March's municipal election were formally introduced to the community.
The candidate forum, sponsored by the Safety Harbor Chamber of Commerce and the League of Women Voters of North Pinellas County, was the first public opportunity for the residents and voters to hear where the candidates stood on the issues that are currently affecting the city.
After allowing each candidate a brief introductory statement, LWV official Marti Folwell asked a number questions culled from cards those in attendance had filled out beforehand; they represented a variety of subjects affecting Safety Harbor, including the waterfront park, downtown development, the makeup of city boards and what should be done about the issue of drugs in the community.
Every candidate was given two minutes respond to each particular question, and while they remained respectful and cordial to each other for the most part, it didn't take long – as in the first question – for sparks to fly between mayoral candidates Joe Ayoub and Andy Steingold.
"When we initially purchased the park, the idea was that it would be a 10-25 year project, that it would span over many subsequent commissions to come, not just one commission," former mayor Steingold said of the city's plans for the waterfront park.
"Based on the input I've heard in the community, what the residents want is they want access," he continued. "They want a trail, they want to be able to traverse the property….the property was not purchased for brick and mortar. It was the last bastion of green space…and the majority of people I've spoken to want it preserved, so it would be my intent to preserve it."
Current Safety Harbor Mayor Ayoub, who was up next to respond, immediately rebutted some points Steingold made in his opening remarks.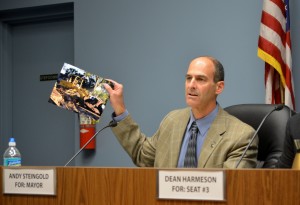 "While my opponent may be selling doom and gloom and showing dramatic pictures of trees and talking about the Safety Harbor Preservation Act, my question would be, you were on the Commission for eight years – if you cared so much about this preservation act, why didn't you do it when you were on the commission and why did you resign before your term was over if you cared so much about it?"
The reply brought a smattering of applause from the crowd, objections from Steingold, and an admonishment from the moderator to refrain from personal attacks.
Ayoub quickly went on to point out that the city has opened the park to the public as one part of its phased plan to develop the 13-acre parcel.
Another hot topic included the issues of trees being cut down in the city; according to findings, approximately 200 trees are cut down in Safety Harbor every year, a fact that didn't sit too well with many of the candidates.
"I'm all for the preservation of trees," Seat 4 candidate Carlos Diaz said. "I think it does set part of the character of Safety Harbor, and I think it's very important to preserve it as much as we can."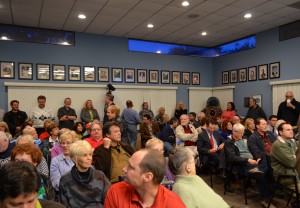 "I'm probably one of the few people in this room that has probably planted more than 20,000 trees," fellow Seat 4 candidate Ray R. Irvin said of his past experience in Indiana government. "I also wrote a tree program…where, for every child born in Indianapolis…we would include a certificate saying we planted a tree for that child in our park system in our community."
One question that received some intriguing answers had to do with the lack of diverse backgrounds of members of the city's Planning and Zoning board.
"I think what they may be referring to is maybe a certain person on our planning and zoning board who is developing quite a few areas around the city," Steingold said in a not-so-veiled reference to P&Z member and local developer Joe Faw. "So I think that question might be posed to one person only."
"There's no ethical violation, per se, I think there may be an appearance should the city contract with that individual who has a development company here in Safety Harbor," he added. "Perhaps he should no longer serve, or in the event that matters come before the board that he actually will review on his own behalf, perhaps he should recuse himself from reviewing that."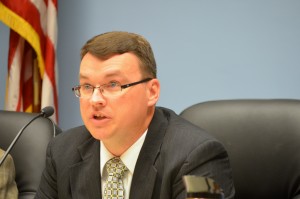 Current P&Z member and Seat 3 candidate Dean Harmeson countered the point.
"I do sit on the planning and zoning board and I'll let you know firsthand we do have a very diverse group of individuals…with regards to experience and expertise," he said. "And if we do have an individual that may have a potential conflict, they do recuse themselves and all of that is handled through legal."
The subject of the city's new single stream recycling service also brought divergent opinions from the candidates.
While few question the effectiveness of the new plan, some questioned where the savings are being reflected for residents.
"I'm so proud of Safety Harbor," mayoral candidate Nancy Besore said in regards to the city adopting the single stream system. "We are good stewards of our environment."
"I've heard a lot of people in the community come up to me and say, 'We have less service but we pay the same amount, what's the deal with that?'" Seat 3 candidate Andy Zodrow said. "When you have less service your cost should go down, and the residents should be getting a benefit out of that. And I'm not sure where that benefit has gone."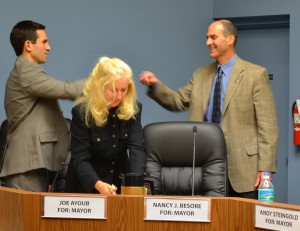 The evening concluded with the candidates making closing statements and then greeting those who remained in attendance.
And while there are no more official forums planned, one attendee said he would like to see the candidates get in front of the people at least one more time before the election.
"I liked the format, I thought it was really good," Russell Norman, an outspoken Safety Harbor resident, said afterwards.
"I was really impressed with all the candidates, with their backgrounds and experience."
"But I hope they do more of these before March 11, because they need more time to be able to present their messages," he added. "It's hard to get all your points across in two minutes!"
Note: The entire candidate forum can be viewed online on the City of Safety Harbor's website, as well as next week on the city government television channels.
Related Content: